Walt Disney World starts accepting Apple Pay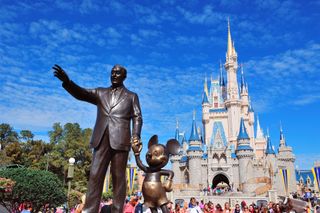 Disney announced that it would bring contactless payments to its resorts before Christmas, and is now rolling out the feature on December 24. Visitors heading to Walt Disney World will now be able to pay using Apple Pay from their iPhone 6 and iPhone 6 Plus.
Last year, Disney rolled out MyMagic+, through which customers could charge purchases made within the resort to their hotel room. The technology leveraged RFID and made use of wearable bands called MagicBand, which allowed customers to interact with contactless payments gateways within the resort.
Disney has stated that support for other forms of payments like Apple Pay and Google Wallet are designed to make it more convenient for customers visiting the resort to purchase merchandise and other goods. Here's where support for Apple Pay is currently available within the resort:
The locations that accept Apple Pay will feature the EMVCo symbol. Disney is expected to bring contactless payments to the Disneyland Resort in 2015.
Source: WDWMagic
Get the best of iMore in in your inbox, every day!
The clumsiest man in tech.
It's worth mentioning that they added support for Google Wallet as well. I know the article is on Android Central, but someone might come here to complain. Posted from the amazing whatever device I can afford because I'm a broke college kid.

How much is Forbes paying iMore to highjack our mobile browsers each and every time readers click on an article when using a mobile device?

Thanks for posting. I'm glad I'm not the only one. It's happened 4 times now. At first I figured I was mis-clicking an ad or something but after the 4th time I'm was thinking WTF is going on?

You are welcome. The problem certainly isn't you. iMore is benefiting from this ad monetarily. I encourage you to post my comment as often as you wish until they either remove the ad or execute delivery of the ad in a manner that doesn't lead one to believe their device has been compromised or is broken.

Adblock.. Use it. Posted via the iMore App for Android

I have since before I can remember and it works great..for PC's. I hope browser extensions are added to Safari in iOS 9!

Google'd Apple Pay and WDW and thought they accepted it starting on the 10th, but I've tried it at several places several times over the course of several weeks (I'm an annual pass holder) and it hasn't worked. I'll be there on the 24th to try it out! This makes my wife and my's frequent trips to Disney so convenient!
Thank you for signing up to iMore. You will receive a verification email shortly.
There was a problem. Please refresh the page and try again.