What happens to your iTunes library in macOS Catalina?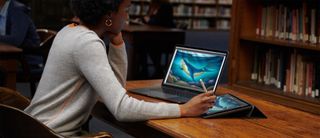 After 18 years, Apple is finally getting ready to break up iTunes into individual, dedicated apps. While it's hard to imagine iTunes being no more, nixing the app makes a lot of sense with the addition of the dedicated apps for podcasts and video content like TV shows and movies — not to mention the rise in popularity of music streaming on Apple Music. With iTunes going away the question remains, where does all your music, movies, and TV shows go?
Apple's official upcoming changes to iTunes on Mac
Apple's support webpage was updated to include information on the upcoming changes (opens in new tab) to iTunes on Mac in macOS Catalina. While most of the information is the same as we had previously heard, there a great list of important changes that Apple published.
Music that you've imported or purchased will be in the new Apple Music app.
The iTunes Store will still be available to buy music on Mac, iOS, PC, and Apple TV.
iPhone, iPad, and iPod backup, restore, and syncing will move to Finder.
Movies and TV shows that you purchased or rented from iTunes will be in the new Apple TV app.
Use the Apple TV app for Mac for future movie and TV purchases or rentals.
Podcasts that you subscribed to or added to iTunes will now be in the new Apple Podcasts app.
Audiobooks that you purchased from iTunes will now be in the updated Apple Books app.
Use Apple Books for Mac for future audiobook purchases.
iTunes Gift Cards and iTunes credits will be maintained and can be used with the new apps and the App Store.
Where's your iTunes library in macOS Catalina?
The good news is macOS Catalina should roll your entire iTunes library into the Music app. There you should be able to see any music you've purchased on iTunes, tracks you've ripped from CDs, MP3s you've imported into your library from outside sources, and any other files (like recordings) that you've had in your library. Nothing should be lost, just moved to a new centralized location in Music.
Same goes for your movies and TV shows, but in the TV app. You have a Library section in the TV app on Mac in Catalina that stores all of your purchased movies, ripped DVDs and Blue Ray discs, and movies you downloaded by other means. If it was in iTunes, it's now in the Library section of your TV app.
Syncing your iPhone or iPad to macOS Catalina
In prior versions of macOS, when you'd connect your iPhone or iPad to your Mac, iTunes would launch and you could check for updates, sync your information with your Mac, manage your data, and create backups. Instead of doing all this in iTunes, macOS Catalina instead moves this to Finder.
In Finder you'll see your iPhone or iPad pop up in the sidebar when you connect it to your Mac, and when you click on it, you'll see an interface very similar to the one that was in iTunes before. Here you can sync your iPhone or iPad, create backups, manage your data, and all of the other things you used to do through iTunes.
How to sync your iPhone and iPad to your Mac in macOS Catalina
What happens to iTunes on Windows?
iTunes was so popular and big that many people did and still do use it with Windows, so it begs the question how iTunes shutting down in macOS would affect those users using the software on other platforms. According to Ars Technica, they asked Apple at WWDC and there's wasn't a ton of information.
It appears for right now, iTunes in Windows will remain unaffected, but there's no clear indication of how long iTunes will continue to be supported on other platforms, now that Apple has decided to kill off the program for its own operating system.
Sad about iTunes leaving?
Are you sad about iTunes leaving? Let us know in the comments down below!
Updated September 2019: Updated for release of macOS Catalina.
Luke Filipowicz has been a writer at iMore, covering Apple for nearly a decade now. He writes a lot about Apple Watch and iPad but covers the iPhone and Mac as well. He often describes himself as an "Apple user on a budget" and firmly believes that great technology can be affordable if you know where to look. Luke also heads up the iMore Show — a weekly podcast focusing on Apple news, rumors, and products but likes to have some fun along the way.
Luke knows he spends more time on Twitter than he probably should, so feel free to follow him or give him a shout on social media @LukeFilipowicz.
Hoping that Wi-Fi sync still works in Finder. Though one of the pain points of it was devices just mysteriously ejecting / disappearing. Closing and reopening iTunes forced a "rediscovery" to run. Hope I don't now have to reboot my Mac to trigger device rediscovery, given you can't really truly close Finder.

There are two ways to close Finder. One is by running "killall Finder" without quotes in the terminal. Another is by running "defaults write com.apple.finder QuitMenuItem -bool true && killall Finder" without quotes in the terminal, which then gives you the "Exit" button in the menu bar on Finder and also allows you to quit it with the cmd+Q keyboard shortcut as well. I have the latter enabled

This article states: "Audiobooks that you purchased from iTunes will now be in the updated Apple Books app." But it makes no mention of the 640GB of audiobooks I have that are NOT purchased from iTunes, and are DRM free. From what I'm reading on other websites, anyone with many audiobooks find Catalina a nightmare scenario, where it tries to move all of your audiobooks into a hidden folder inside your user Library folder and will no longer let you fix the metadata on ones that have issues. And yes, it does this during the upgrade even if your iTunes Library is on an external drive because your Mac doesn't have that much free space. Apparently the upgrade to Cataline just fills your drive with the audiobooks until the machine is no longer usable. Apple seems to be clearly stating with this action that it wants people with large audiobook collections to find a different, non-apple ecosystem to use, which is a real shame.

I have upgraded to Catalina and I'm using the iTunes descendants for the forst time today. Immediately I encountered an overarching issue that's completely bonkers and should have been addressed from the start: it's no longer possible to assign a file to another category. In iTunes I could simply assign a home video file to become a music video and it would then pop over to the music section. I could do that between music, film and podcasts. No longer! So now I'm stuck with hundreds of files in the wrong places that can only be transferred from one library to another by hand, one by one:
- Show the file in the Finder
- Copy the file to a safe place (a duplication)
- Delete the file from its original library
- Import the copied file into the appropriate app
- Adjust the meta-data I used to be able to do that in large batches in iTunes with only a few clicks, now it has to be done the MS-way. Now this manual conversion might work, provided a large time investment, but Music.app will no longer import files from the Finder, although the option is in the File menu; a bug? Anyway, it would have been trivial for Apple to create cross-toss options in the three iTunes descendants to enable users to send wrongly placed files to the appropriate library; just like when iBooks was created with its own library back in the day. So please Apple: add this to all three iTunes descendants so users have the tools to sort out their media libraries.

Another issue with media files that I had expected to be resolved in Catalina but isn't: Movies still aren't synced via iCloud so I can view them on all my devices. Talk about bonkers! The crazy thing is that the movies I have in Photos do sync via iCloud, some 2000 of them, sized 60GB in total, and growing. Shoot a video on my iPhone and I can see it anywhere. Put a folder with movie files in iCloud Drive and I can view them on all my devices. Added bonus is that Mac OS will free up local space until I request a file that is then downloaded. So why wasn't iTunes able to do this and why can't the new Apple TV app do it? It's not as if I don't have the space on iCloud Drive. So I have taken all the movies I want to be available on all my devices out of iTunes and put them on iCloud Drive manually, some 1500 items, neatly sorted into folders, about 400GB worth and growing. I'll be bypassing the new Apple TV app the same way. It means no remembering where I left off in a movie, but that's minor. This is a sad state of affairs which should be fixed ASAP IMHO.

My recommendation to you is to set up a Plex server. That way you can have a beautiful interface and lots of great features to view and manage everything that Apple can't do.

I just found something completely silly in the new Apple TV app: I had selected "Home Movies", resulting in a long list of several hundreds of items. I wanted to search for anything with "disintegrator" in it. As soon as I clicked in the search field though, the app switched me to "Trending Movies" in the store. Turns out I can't search my own library. Duh! Would this be a Bug or a Feature? Anyways, this way there is no point for me to have any of my own movies in the Apple TV app. So I'll probably end up extracting all of my own video's and manually putting them on my iCloud Drive, leaving in the app just the movies I purchased in the store. To me this is more and more beginning to look like a botched product launch.

As I have been thinking here, there are several options/features in iTunes that I frequently use on the left hand sidebar. First, what has happened to all of the Streaming Radio Stations under the Library section. Second, under the Music Playlists section there are several features I frequently use such as Genius and custom categories where I have added Streaming Radio Stations I listen to most frequently and ripped CDs based on genre/artist/year. If this has gone away are there any other options 🎵. I take it then that extensions such as GrowlTunes and others will no longer work. This is something Catalina wide I suppose not just iTunes.
Thank you for signing up to iMore. You will receive a verification email shortly.
There was a problem. Please refresh the page and try again.