2022 may just be the Apple Watch's biggest year yet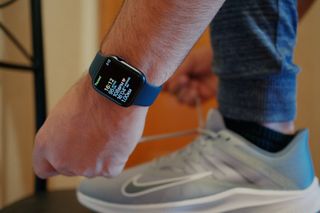 (Image credit: iMore)
It's near the end of the year, and naturally, that means the iMore team is thinking about what Apple has in store for its products in the coming year. I'm going to focus on the Apple Watch.
After the year Apple Watch had in 2021, it's likely going to be pretty easy to come up with a list of features I want. The best Apple Watch will always be the most useable and convenient watch, but there's plenty that could make it better.
I'm breaking this up into two sections; what I want to see and what I expect to see. What I want to see is where I get to dream big and suggest some changes that I may want but might not be a realistic expectation. What I expect to see is a more conservative guess at what we might actually see from the Apple Watch in 2022.
Now that 2021 is in the books let's throw caution into the wind as we guess what's in store for the Apple Watch in 2022.
What I want to see from Apple Watch in 2022
I know last year we got a lot of rumors about a redesigned Apple Watch that never came to fruition, and I wasn't necessarily super stoked on the direction the rumors were showing, but that doesn't mean that I don't think a redesign would be awesome.
The Apple Watch hasn't been significantly redesigned since its inception — outside of some increases in the case and screen size — so a new look for the Apple Watch would definitely make more than a few heads turn. I'm not necessarily going to guess exactly what the redesign would be, but whatever it is, needs to be more ergonomic. I don't want a big square edge hitting my wrist when I bend my wrist back and I'll welcome any design that changes that.
I want watchOS to be a much bigger update in 2022. It's not like watchOS 8 is bad, on the contrary, it allows you to get a lot more accomplished from your wrist than ever before. But, it was lacking any big breakout features that we've seen before.
Blood Glucose monitoring, a widely enhanced Mindfulness app, a redesigned Home screen that makes better use of the new size of the Apple Watch Series 7, are just a few directions I want apple to go in 2022 with it's Apple Watch software.
In any case, I want watchOS 9 to have big new features that make people's lives easier and help people keep a healthy mind and body.
My last big wish is that we do see the rumored Rugged Apple Watch. I know it's a smaller market, but people who do extreme sports would love to be able to track their sports in a safe and efficient way, and Apple certainly has the means to make it happen.
Before you say it, yes, I know you can buy rugged cases for your Apple Watch already, but imagine if a Rugged Apple Watch was built from the ground up with much better protection in mind. The water resistance could be increased, the design could be bigger and bulkier to accommodate a bigger battery, and yes, the Rugged Appel Watch could even come with different sensors that are better and track certain extreme sports.
I really think this is a market that Apple is currently missing from its lineup, and t could be really awesome if they decide to tackle it.
What I expect to see
I love the Apple Watch SE. It brings lots of the awesome utility of the Apple Watch to a lower price point, which I think is so important for a device that has the potential to save lives.
A two-year cycle for an Apple Watch SE refresh is a good timeline to ensure that the product stays relevant and updateable with the newest software and security updates. The Apple Watch SE 2 would likely feature an upgrade to the processor in the Apple Watch Series 7 (which is the same as the Series 6), but would likely be behind the Apple Watch Series 8.
I don't think the Apple Watch SE would change to much other than a processor change, and potentially a size upgrade to the new 41mm and 45mm case size, but even that wouldn't be necessary to make the Apple Watch SE 2 a stellar device.
watchOS 9 and Apple Watch Series 8: Blood Glucose monitoring
While i want to see a huge update and upgrade in 2022, I think it's much more realistic to expect one big new feature. I know the rumors surrounding it tend to be nebulous at best, but we likely can assume that Blood Glucose monitoring is being worked on for the Apple Watch.
If Apple manages to put Blood Glucose monitoring into the Apple Watch Series 8, that will not only be a huge accomplishment, it will likely mean a whole new app and interactions with the Health app will be the one big feature added to watchOS 9. That's not to say that some basic apps might not get a redesign or some improvement, but I expect watchOS 9 will focus heavily on that feature.
On top of that, it's likely what a lot of the Apple Watch Series 8 will be about too, since, my best guess is new sensors would need to be designed and put into the Apple Watch to make it a reality. Once again, I think this achievement would be so huge, that it's the only major upgrade we will see to the Apple Watch Series 8.
See you in 2022!
All in all, 2021 was a pretty good year for the Apple Watch, and 2022 has the potential to be even better! Happy New Year and we will see you in 2022!
Luke Filipowicz has been a writer at iMore, covering Apple for nearly a decade now. He writes a lot about Apple Watch and iPad but covers the iPhone and Mac as well. He often describes himself as an "Apple user on a budget" and firmly believes that great technology can be affordable if you know where to look. Luke also heads up the iMore Show — a weekly podcast focusing on Apple news, rumors, and products but likes to have some fun along the way.
Luke knows he spends more time on Twitter than he probably should, so feel free to follow him or give him a shout on social media @LukeFilipowicz.
I want a 48-50mm case, I want a flat glass, borderless screen, and I want edges like the iPad Air. I do not want the bubble screen like it currently has, and I hate the rounded edges. Also 45mm is still too small.

I get wanting more and more but there is a limit to what a small square strapped to the wrist can do. Blood glucose monitoring is something that will require a big leap. Maybe one day but I doubt it's series 8 or 9. Right now it still requires added devices which isn't likely to be Apple's direction. But People put the AirPods Pro in their ears. I can see adding features to the pro version such as temperature and maybe added pulmonary monitor possibilities. I think one health thing overlooked is algorithms. You have a device that measures BPM, O2, sleep, steadiness of walking, movement patterns, possibly temperature and possibly more. Now the trick is optimized algorithms that can review your data to give more precise recommendations and even alerts. Many Millions of people wear Apple Watches. What changes to measurements coincided with specific ultimate diagnoses? What measurement patterns were common? Being able to make that better is something all by itself is a major value add to the Watch. And I think the Apple Watch is already a great device.

Exactly right about subtleties of sensor data from wearables especially Apple Watch. This has now been studied, much by a Stanford professor, for more than 8 years, and is highly interesting. He recently spoke at an AI conference and showed his own personal data detecting infections a few days even before generally noticeable, or in some cases any, symptoms. His current study is at https://innovations.stanford.edu/wearables. Also, glucose sensing seems close, as terahertz sensors can discriminate percutaneous (without poking through skin) levels of blood glucose, and Apple is doing this, as far as anyone outside Apple can tell. 'Game changer' understates the fantastic benefit for, just in the US, 35M diabetics and 80M pre diabetics (about 70% will progress to DM over 10 years). Go Apple!
Thank you for signing up to iMore. You will receive a verification email shortly.
There was a problem. Please refresh the page and try again.