What iMore expects from Apple's 'Let us Loop you in' event!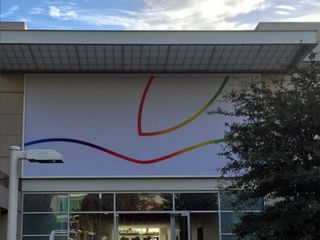 This is it. We're only a few days away from Apple's first keynote of 2016. Dubbed 'Let us loop you in', this annual spring event takes place on March 21, starting at 10am PT, in Apple's own Town Hall venue. We know what the rumors are — 4-inch iPhone SE, 9.7-inch iPad Pro, new Apple Watch bands, and all the new software updates — but what do we most want to see? Let's find out!
FBI vs. Apple: Will Tim Cook take it to the keynote stage and make his case in front of millions? If so, what would you like to hear?
Daniel: These are consumer-facing events, foremost about Apple's products. The FBI case, as passionate as Apple has been about it in certain public forums, is more a distraction than anything else. If Cook brings it up, it will be indirect, likely in a message about how important encryption is to the company's future.
Ren: Agreed with Daniel. We might get a slide about how Apple protects your privacy, and "the iPhone SE comes equipped with the Secure Enclave," but otherwise, I don't think so.
Lory: I really don't think Tim Cook will mention the encryption case at this event. In fact, I don't imagine Cook would bring the case up in any type of event. Even if he did talk about it, I feel like Cook and Apple have already said everything there is to say, publically.
Georgia: I highly doubt Tim Cook would use an Apple Event to discuss the case of with FBI. It would derail the main focus on the event, which is Apple products. No one, from the executives to shareholders would want anything upstaging new Apple devices.
That being said i do think that this is an exceptionally important matter and one which would benefit a large stage but just not this one.
Joe: Do I think he should bring it up? Yes. Will he? I doubt it. I would imagine that Cook, and the other Apple executives that take the stage could put a bigger emphasis on security and privacy.
Rene: Apple events are routinely among the most popular broadcasts on the internet, which means an audience of millions. On the eve of Apple's day in court, it's a huge stage for Tim Cook, and a huge pulpit for Apple's message.
But it's also a product event and, when Apple does those, they like to keep the focus on the products. Were Tim Cook to go off on the encryption case the way he did on 60 Minutes, that's what everyone would be talking about. Not the products Apple has spent months preparing for the spotlight.
iPhone SE. Are you ready for a new 4-inch iPhone? And what kind of 4-inch iPhone do you want to see?
Daniel: I'm more excited about the iPhone SE than I thought I'd be. While I've gone full-on Plus since the release of the iPhone 6s line, I have wanted to return to a combination of smaller phone/iPad for some of the tasks, like media consumption, where the Plus just isn't quite big enough for my liking. With the impending refresh of the 9.7-inch iPad, I think this could be the perfect time to revert to old habits.
Ren: I carried my 5s, 6s, and 6s Plus around Yosemite this week, and... out of all of them, I still think I like the 6s the best for day-to-day use, and the 6s Plus for photography. That said, I'm thrilled Apple is making a 4-inch phone again for those who prefer the smaller screen size — and pocket comfort. I'm also hoping that with Apple incorporating some of its 5s design cues in the SE, we might see a return to corners with the next version of the bigger iPhones. No more slippery backs!
Lory: I am so ready for an updated 4-inch iPhone. I want it to be just like the iPhone 6s, but small. I'd love to see all of the features of the larger handset, including 3D Touch, but I'm afraid I probably won't get everything that I want. I'd also love to get it as soon as possible.
Georgia: Never going back! After being using a larger, all-encompassing screen going on a year and a half now, anything smaller would feel cramped and constrained. I do like that Apple's updating the 4-inch iPhone. They're simply not doing it for me. :)
Joe: While I've grown fond of larger phones (an iPhone 6s Plus is my device of choice), a lot of my friends have been holding tightly to an iPhone 5 or 5s, hoping that Apple would release a new 4-inch model. I'd love to see Apple debut a device nearly on par with the iPhone 6s if at all possible, and as a personal fan of the iPhone 5s design, I hope to see something that looks a little more like that than the iPhone 6 and 6s.
Rene: I'm so thrilled Apple is doing this. Just like with the iPod touch last year, the company has customers who love these devices. Even if it's just 10% of the market, at Apple's scale, that's tens of millions of people. Given them the best experience possible with the device they love is so very Apple — and so very smart. When you get to a certain size, adding to the addressable market is the only way to grow.
Putting specs that are much closer to the iPhone 6s in a package that's essentially an iPhone 5s — and that's exactly what I'd love — makes everyone happy. It's the definition of win/win.
So, even if I can't see myself ever going back to so small, so claustrophobic a display size, I know some people dream of nothing but a new 4-inch iPhone. Come Monday, we can all be happy.
Should Apple bring the iPad Pro down to the 9.7-inch size and, if so, what should come with it?
Daniel: I'm unsure of a smaller iPad Pro's value. With Pencil and Smart Connector support, Apple could potentially open up additional revenue sources for its beleaguered tablet line, but I believe the success of the venture will be wholly contingent on price. At $499, the iPad Air 2 is a relatively inexpensive, powerful computer. With the iPad's average sale price (ASP) dropping in recent years as the iPad mini has gained in popularity, Apple will be trying to reverse that course with a smaller iPad Pro (presumably dropping the iPad Air 2 to $399 or so in the process), but I am still skeptical of the accessories' value on a smaller screen. We'll see.
Ren: While I've become a huge 12.9-inch screen supporter, selling a 9.7-inch iPad at the Pro level with support for Smart Connector accessories and the Pencil is a brilliant sales move from Apple. Not everyone is going to need the 12.9-inch screen, but just about everyone who's tried it wants the Pencil — and that will sell iPads. Price will be a factor, however, like Daniel said: If Apple dramatically bumps the selling point over the previous-generation Air 2, it might turn potential Pencil users off. I also wonder what will happen to the Air 2 — does it keep its branding? Will it now just be "The iPad"? My gut says we'll just see it drop in price and keep its current moniker, but you never know.
Lory: If Apple is just going to update the iPad Air with all of the same features as the iPad Pro, then it's cool with me. But, to me, "Pro" means bigger just like "mini" means smaller. If the iPad Air is going to get the bells and whistles of the larger tablet, I'd love Pencil support and a Smart Keyboard.
Georgia: It feels like the natural evolution of most of Apple's product lines is towards a range of sizes that include small, medium, and large. So, a medium-sized iPad with all the capabilities of the larger iPad Pro makes sense to me.
I hope Apple simplifies as well, though. I get that they leave older iPads on the market as a way to provide people, schools, and business with lower cost options, but the product line feels muddled these days.
Joe: If they can, then yes, they should absolutely introduce a 9.7-inch iPad with the features of the Pro. In particular, I hope to see the Smart Connector make an appearance, with its quick and easy connections. In fact, Apple, feel free to bring the Smart Connector to all of your devices. I won't stop you. Along that same line of thought, a smaller version of the Smart Keyboard would be welcome. I'd hope that support for the Apple Pencil would be included as well.
Rene: Yes they should and everything possible. What, you want more? Okay. The 9.7-inch size is the original. Sure, the mini is ultra-portable and the Pro ultra productive, but there really is a sweet spot in the middle.
It's such a sweet spot that people who bought the original, or the iPad 2 or iPad 3, have held on to them. They've been tablet enough for the majority. In order to get that massive install base to upgrade, absent hardware failure, Apple has to offer compelling new features.
Apple Pencil and Smart Keyboard support are compelling features for creatives. Four speakers and a much better camera may just be mildly compelling for the mainstream as well.
Either way, a 9.7-inch iPad Pro is likely to drive more upgrades than "just" an iPad Air 3.
If, like Daniel said, the price isn't a downer.
Apple Watch already has numerous finishes and a plethora of bands. What's still missing and what do you want to get?
Daniel: I'd love to see those rumoured NATO bands come to fruition. My wife wears a great nylon band from Monowear, but Apple's craftsmanship is far superior than the usual third-party rabble (as proven by its leather and metal options), and I'd spend good money on a long-lasting nylon band.
Ren: NATO bands! While Apple's fluoroelastomer materials are better than most silicon bands, I still know people who have an allergic reaction — having a classy nylon option for those folks would undoubtedly sell more Apple Watches. I also wouldn't mind more design-specific or fancier bands; while I love my Modern Buckle, more variety would be welcomed.
Lory: I'm unimpressed with the Sport band. I'd really like to see some variety here, maybe a nylon mesh band. I'd also like more options for the Space Gray models. If Apple made a rechargeable battery band, I'd snatch that up, real quick.
Georgia: I'd love a stylish and beautiful bracelet band for the Apple Watch, one that's slimmer and more elegant. Even the Milanese loop is too wide for me to wear with most of my dresses, and that leaves me without my Apple Watch when I go out, or with the Apple Watch but mismatched jewelry.
Also, partner with Swarovski please!
Joe: While I love my Midnight Blue sport band, I'm hoping for a wider range of band styles for the Apple Watch Sport. That includes bands in leather and other materials that attach using aluminum lugs.
Rene: Well, I've bought almost all the existing Apple Watch bands so clearly Apple has to release some new ones simply to keep me buying, right?
I've been waiting for the Space Black Milanese for almost a year already, so I'm delighted it's finally being released. And it will be mine. Oh, yes. I'm super interested in trying a NATO strap as well, since while Sport Band is great for exercise, I'm ready for some equally useful alternatives.
The biggest, most selfish question for me is whether or not I'll be able to buy any new Hermes bands that come out. I already have the Watch, I just might like some new leather.
Seriously? Seriously.
All the operating systems have been in beta for a while now, but is there anything from iOS 9.3, watchOS 2.2, or tvOS 9.2 you'd love to see on stage?
Daniel: I've been using the iOS 9.3 public beta for some time, and have grown to love Night Shift, along with improvements to 3D Touch-based text selection on my iPhone 6s Plus. Pipe dream stuff? Native GIF exporting for Live Photos (I know, I know) and some customization in Command Center.
Ren: It's likely to be an iPad/iPhone event, so while the Apple TV stuff is highly demonstratable, I don't think we're seeing it on stage Monday morning. Instead, expect to see a big push for Night Shift — remember, a lot of average users have never used a feature like this — and, given the iPad focus, information on iOS 9.3's education features. We might also see a bit about multiple Apple Watch pairing, but what I'd really like to see announced re: watchOS (but probably won't get)] is faster-launching apps.
Lory: I'd love to see the improvements that Apple has made to the Maps app for Apple Watch. I'm really looking forward to Night Shift for iPhone and iPad, so I'd like to see a demonstration of that on stage. As for Apple TV, show me the voice search function in the wild. It's wild.
Georgia: Night Shift is important. It increases the awareness of the side-effects of using technology at night. Many people are completely unaware that the light emitted by our electronic devices causes and what that does tour sleep patterns. I hope that Apple discusses not only why Night Shift is useful but the physiology behind it.
I would also like to see the new secure Notes app discussed, but in the context of greater security for all of our data.
Rene: The new Siri features for Apple TV feel like they'd be highly demonstrable. Same with Night shift for iOS 9.3. What I really want to see, though, is education. Google has a fairly compelling, if creepy — stop it, yes it is! — story for schools and students. Apple can show an alternative that may not be as ubiquitously accessible, but can stress privacy in a way Google's not able to.
The Mac. Will it get some keynote time or will it have to wait for WWDC? Which new Mac are you waiting on the most?
Daniel: It was just over a year ago Apple introduced the world to the MacBook, and I'm waiting impatiently for a refresh. As beautiful as it is, it's not a fast machine, and I'd love to do on it what I accomplish on my MacBook Pro.
Ren: I need a new Mac laptop, given that my old one took an unfortunate swim in a bottle of water. But this event appears to be far too jam-packed to launch a new Mac unless they're slipping in a Skylake update at the very end.
Lory: Since this event seems to be somewhat small, I have a feeling we won't be hearing anything about a Mac update. I'm not particularly anticipating anything for Mac since I recently upgraded to the 27-inch 5K Retina display iMac. I'm set.
Georgia: Fingers crossed for a clear-cased Mac Pro. What? You know you want it too!
Joe: While I suspect that we'll have to wait until WWDC to see an update, I'm curious about a possible second-generation Retina MacBook. While I expect eventual updates for the MacBook Pro and iMac, the MacBook is the first truly new laptop we've seen from Apple in some time, and I'd like to see how it's progressed in the year since its initial debut.
Rene: I'd love to see all the Skylake MacBooks, and I'd probably consider upgrading should any appear. But, focus.
Apple is really good at keeping its collective eye on the prize and it feels like Mac and OS X would just complicate the narrative this time around.
Maybe sometime soon. If not, like Joe, I suspect will see them at WWDC.
Any more things? Surprises, delights, unexpected new products or services? What else could we see?
Daniel: I love Beats 1, but it's a bit ramshackle (and EDM) for my liking. I'd love to see the launch of Beats 2, 3, 4 and 5.
Ren: Apple Music has gotten its fair share of angry op-eds and frustrated users, so this might be a good place to announce some improvements... but, again, we've got a jam-packed event coming. Not a lot of time.
Secretly: I want a new second-generation Apple Watch that has a better battery for 38mm users, and built-in GPS.
Lory: What if Apple introduced a virtual reality headset at this event? Wouldn't that blow your mind?
Georgia: Apple Motorcycle, because the Car is still a few years away!
Joe: While talks have supposedly fizzled, perhaps Apple could unveil its long-rumored TV streaming service.
Rene: Totally encrypted operating system running on a new ARM-based Mac Pro powered Apple Car with built-in streaming video service and VR heads-up display!
What?
Apple's spring event kicks off at 10am PT on Monday, March 21, 2016. iMore will be there to bring it to you live! In the meantime, what are you expecting?
Get more iMore in your inbox!
Our news, reviews, opinions, and easy to follow guides can turn any iPhone owner into an Apple aficionado
Daniel Bader is a Senior Editor at iMore, offering his Canadian analysis on Apple and its awesome products. In addition to writing and producing, Daniel regularly appears on Canadian networks CBC and CTV as a technology analyst.