Where to grab a cheap HDMI cable for your Apple TV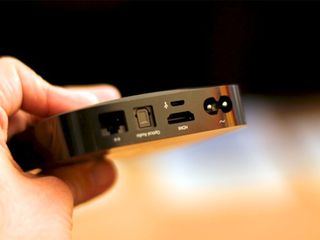 Apple doesn't include a HDMI cable with the Apple TV. The company does offer a 5.9ft HDMI cable for $20, though, that you can add to your order. Of course, there are cheaper options out there if you're willing to order separately. Here we've listed a few HDMI cables to use with your Apple TV that will cost you less and won't skimp on quality.
Twisted Veins 3ft HDMI Cable (3-pack)
If your Apple TV setup doesn't require much cable length you can score this 3-pack of braided HDMI cables from Twisted Veins for under 10 bucks. They support ethernet, audio return, 3D, 4K, and feature gold connectors at each end. Also included is a 90-degree adapter for tight fits and a few 6-inch velcro ties to keep things tidy. You can pick up the Twisted Veins 3ft HDMI Cable (3-pack) for about $9.
See at Amazon (opens in new tab)
AmazonBasics 6-foot HDMI Cable
This 6-foot HDMI cable from AmazonBasics is a solid substitute that will go great with your Apple TV and only cost roughly $7. It supports Ethernet, 3D, 4K video, and audio return — meeting HDMI 1.4 specifications. The gold-plated connectors at each end offer excellent conductivity and are resistant to corrosion. As a bonus, this cable comes with a 1-year limited warranty.
See at Amazon (opens in new tab)
Mediabridge 25ft HDMI Cable
Supporting HDMI 2.0 functions, the Mediabridge HDMI cable provides a 18Gbps transfer speed, 4K video, UHD, 3D, 48-bit deep color, and audio return. Ideal for setups that require more length, this triple-shielded 28AWG HDMI cable reaches 25ft and features gold-plated connectors.
Due to its length, the cable will cost you a little more, but at $15, it's still a cheaper option than Apple's cable.
Monoprice 6ft HDMI Cable
This ultra-thin HDMI cable from Monoprice features RedMere technology and supports Ethernet, 3D, 4K and audio return. It's priced a bit higher than the rest due to the cable's thin design that uses a RedMere chip on one end. Since these cables are directional, each end is labeled — source and TV — helping to make sure your connection is right the first time around.
You can pick up the Monoprice 6ft HDMI Cable for around $13.
See at Amazon (opens in new tab)
Updated September 2017: Updated to include cables that will carry a 4K HDR signal so you can use them with the new Apple TV 4K!
○ Apple TV 4K Review
○ Apple TV buyers guide
○ Apple TV users guide
○ Apple TV news
○ Apple TV discussion
○ Buy at Apple (opens in new tab)
○ Buy at Amazon (opens in new tab)

Your friendly neighborhood accessories guru
I know there is no advantage to gold-plated HDMI cables over cheaper models. But are there special 4K cables, or cables that don't support 4K? Can you tell which is which once they are separated from their packaging?
Thank you for signing up to iMore. You will receive a verification email shortly.
There was a problem. Please refresh the page and try again.