Which U.K. iPhone carrier and plan should you get?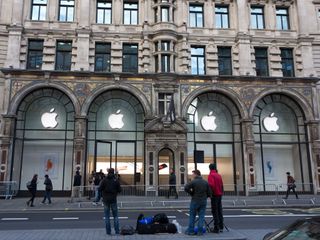 If you're in the UK, choosing a carrier for your new iPhone is as tough as ever. Buying an iPhone is a serious investment, whether you go down the subsidized route or buy SIM-free and get a less committed cellular plan. It's a messy world, so here we're trying to help you break it all down so you can make the best decision for you.
The big carriers
LTE coverage used to be a major factor in deciding which carrier to put your iPhone on. Thankfully those days are gone, with the issue now being back to where you get the most for your money.
All the major carriers will sell you an iPhone attached to a 2-year agreement. They'll also all offer much lower priced SIM-only alternatives if you buy the phone outright, say from Apple direct.
There are advantages to each carrier, not least of which includes whether you get good service where you live and how much you're getting from them for your monthly outlay. All the carriers will offer large amounts of data nowadays, but the prices can be pretty steep for this. EE will do up to 50GB, for example. Comparing across the carriers can be time consuming with much to consider. Like O2 will sell you a phone and a contract with separate 'chunks' on its Refresh plan, allowing you to pay off the cost of the phone to leave your contract early.
One trick is to use Carphone Warehouse. Believe it or not you'll more often than not find a better deal on the carriers going through this third-party than you will going direct. The exception is Three, who don't deal with Carphone Warehouse, but the other big three carriers all do and can be compared at point of purchase. The contract deals will frequently change, but the link below is the best place to keep an eye on. Examples at the time of writing include an 11GB data allowance from Vodafone with a £36 a month contract and a £79.99 up front fee for the phone.
iPhone 6s and 6s Plus deals at Carphone Warehouse (opens in new tab)
Three, on the other hand, still caters for the truly data-hungry mobile user. Despite changes to its tethering allowances, it's one of the only places to get an "all you can eat" data allowance. You'll be looking at £49 a month and a fairly heavy initial payment for the phone, but it's there if you want it. Three also has great roaming agreements with a number of countries, allowing you to use your iPhone free of charge.
Something else worth considering is Wi-Fi calling. Introduced back with iOS 8, Vodafone (opens in new tab) and EE support native Wi-Fi calling, while Three and O2 will also allow you to do the same, though you need to download a separate application to allow you to do it.
Buying your iPhone without a contract
Given the enormous lineups at Apple Stores on launch mornings, it's fair to say a lot of people go down the route of buying a phone without a cellular contract attached to it. Buying SIM-free pretty much guarantees you're going to pay full retail price for the phone, since Apple doesn't do deals and it's unlikely that other official retailers will offer much, if any discount.
Current prices put you at paying either £539, £599 or £699 for an iPhone 6s or £619, £699 or £789 for an iPhone 6s Plus.
You can also go to somewhere like Carphone Warehouse. The beauty here is that you can price up a SIM-only contract alongside purchasing your iPhone, rather than having to do it at a later date. And Carphone Warehouse physical stores are much more prevalent than Apple Stores.
All colors and storages sizes are available from Carphone Warehouse. The iPhone 6s will set you back £539, £599 or £699 for the 16, 64 and 128GB models respectively. The iPhone 6s Plus is available in all colors but only the 128GB model in SIM-free form, here. It'll cost you £789.
The MVNOs
There are numerous smaller MVNO carriers in the UK, but two of biggest to consider are Virgin Media and GiffGaff. Both offer good signal, with GiffGaff using the O2 network and Virgin using EE. You can also get decent SIM-only deals to put in your iPhone without the necessity for a minimum contract term.
GiffGaff will also sell you an iPhone, either by way of monthly installments or a one-off payment that is actually a mild discount on the likes of the Apple Store and Carphone Warehouse. SIM-wise you'll be looking at £12 to get 2GB of data with 500 minutes of calls and unlimited SMS. Up your outlay to £20 a month and you can get unlimited everything. At intervals between these two prices you can get 4GB or 6GB of data. But very competitively priced, with the added bonus that GiffGaff lets you earn referral credits you can use towards paying your bill.
Virgin Media offers a range of packages but as ever those who are already customers on one of the suppliers TV or broadband packages will get the best deals. As such, Virgin is probably only worth really considering if you fall into this category. If you want to get an iPhone from the carrier, with a 2GB data allowance you're looking at £39 a month with no upfront cost for an iPhone 6s. That's fairly steep and can be beaten by shopping around. The only real draw here is the zero-down for the phone.
Network availability
Then there's coverage to take into account. After all, there's little point paying out if you're not going to be getting what you're paying for. Generally the big four all have excellent coverage nationwide, with the usual blackspots to be expected. The best thing to do is to check out the coverage maps at the links below for each of them.
And, since two of the bigger MVNOs, Virgin and GiffGaff that we mentioned above, use EE and O2 signal respectively, check out those carriers maps for more information on those.
Who should get their iPhone on O2?
One of the strengths here is O2 Refresh, where the phone and the cellular connection are split apart from each other. Each incurs a cost that combines to make one monthly payment, but the net result is a potentially cheaper way to upgrade next year to the next iPhone. You won't have to buy out your whole remaining contract, just the amount you still owe on the phone, and then you get to start all over again.
On the SIM-only (opens in new tab) front, O2 isn't the most expensive option and you can find a good compromise of data packages at reasonable prices should you be willing to lock in for 12 months.
See iPhone at O2 (opens in new tab)
Who should get their iPhone on EE?
EE has some of the strongest LTE coverage in the UK and has even rolled out double-speed data in certain locations such as London and Birmingham. Buying on-contract you'll be locked into a traditional 2-year, phone plus tariff agreement which you'll have to pay the sum total of to end early. But, for the data hungry EE does offer some great tariffs with high data allowances going up to as much as 50GB. There's also the family plan where you're able to combine more than one line into one shared bucket of data and monthly payment.
See iPhone at EE (opens in new tab)
Who should get their iPhone on Vodafone?
Vodafone is no longer one of the most expensive, lesser value options for your new iPhone. In particular, if you're happy to shop around at places like Carphone Warehouse you can find yourself an even better deal. You can get data allowances up to 20GB on plans that don't cost the earth, and Vodafone also has decent roaming agreements too, should you need to travel.
Signal has traditionally been an issue in some areas, though, so be sure to check that out before pulling the trigger.
See iPhone at Vodafone (opens in new tab)
Who should get their iPhone on Three?
If you want proper unlimited data, then Three is still the one to beat. New customers still get unlimited mobile data but it no longer includes unlimited tethering. Only customers on an existing contract will be grandfathered in to that (for now), so if it's important to you you're probably better off buying a new iPhone outright. There's a misconception that Three signal isn't great, but those days are over with the majority of the UK now covered with LTE.
New contracts are limited on tethering, which is one of the few downsides. If you're a frequent traveller, too, it's worth checking out where Three's free roaming program, "Feel at Home" works. In places like Australia, Hong Kong, the U.S. and several countries in Europe you can use your data, calls and texts allowance for no extra charge. But you can't use it for tethering. Three is a great choice for the data hungry iPhone owner.
See iPhone at Three (opens in new tab)
Who should get their iPhone on Virgin or GiffGaff?
If you can afford to buy an iPhone outright from an Apple Store, there's no reason not to look at one of these two. Signal is pretty great and without the phone to worry about paying for your monthly bill will be much lower than on one of the big four carriers who want to sell you the phone as well. On a SIM-only basis both are extremely competitive without requiring you to be locked into a contract for more than 30 days at a time.
Still undecided?
If you're still not sure about which UK carrier to get for your new iPhone jump into our iPhone discussion forums and the best community in mobile will happily help you out. Then let me know - which one did you go with and why?
Three network always had been my choice. I've got All you can eat data,300 mins (I use about 50 mins a month), 3000 text for £15 a money pay as you go. And I also pay £15 a month rolling 30 day contract for 10gb data on my iPad Mini with retina. Excellent coverage in Middlesbrough & across the uk in my experience.

Engadget are reporting that GiffGaff are imposing caps on two of their three formerly unlimited goody bags. The £13 and £15 plans will have a 3GB and 5GB cap on them. Those remaining on unlimited plans will be throttled to 300kpbs at peak times. http://www.engadget.com/2014/09/11/giffgaff-scrapping-unlimited-bundles/

"There's a misconception that Three signal isn't great, but those days are over with the majority of the UK now covered." I really disagree with this. I've travelled about a lot in the UK over the past few years and I've found Three to be pretty much useless outside cities and major towns. Even in towns coverage is often weak to non existent. In the plus column, they're cheap (I pay £12 a month for unlimited data), and you get free roaming in a bunch of countries.

I disagree with your disagreement :) Before I joined Mobile Nations full time I worked in all corners of the UK and Three's biggest issue was working in some of our buildings. But no carriers worked inside our buildings. Data speeds were often ridiculously fast in more rural areas.

I disagree with your disagreement of someone else's disagreement.. I've been with Vodafone for 5 or 6 years now and cannot fault them. Prices are in line with O2 and EE and coverage cannot be faulted. I travelled from London down to Brighton last summer and then along the south coast into Cornwall. From there back into North Wales and then over into the Peak District. Vodafone was solid as a rock and streaming Spotify in the car was 100% the whole journey - I didn't lose signal once, not even in Snowdonia or the Peak District! My wife's iPhone on 3 however, was sketchy in smaller towns, dropped calls on the road in otherwise seemingly good signal areas and was non existent in the more rural parts Snowdonia. The best way to describe it is 'unreliable'.. Since then, she's switched to Vodafone. Sent from the iMore App

I guess it comes down to how bothered you are by industrial scale tax evasion. Vodafone scammed UK tax payers out of many millions, so I would personally never give them a penny. They're criminals and belong in jail.

I never see Visual Voicemail support in these comparisons, but only O2 and EE support it. I use it so much it's actually deal breaker for me. Why can't other carriers support this too.. don't they make enough money from iPhone users to install the system?

Vodafone is the 1st one to blink.. EE/O2/Three's shops are all down/not showing any prices till later. https://www.imore.com/e?link=https2F2Fcread.php%3Fa...

I REALLY missed visual voicemail when I left o2 but have found third party apps that work very well. Libon is a good one Posted via iMore App

I have my own iPhone6 through EE on Sim only 4G double speed and I also have a work iPhone6 on Vodafone. I travel all over the UK regularly from cities to rural areas and have only found one area where EE is not available but Vodafone was. Vodafone call signal falls out constantly and has many blackspots and poor signal areas where data coverage is pitiful. I can tether my work laptop to my own EE iPhone6 and regularly do this without any issues. I have 4GB data plan and can't get near to using it all up (I don't stream videos or feels this way) Summary - EE every day, pay for what you get... But remember EE won't be EE for long as they have been bought out. Sent from the iMore App

Between me and my wife we have been on most carriers over the last few years and are now both on Vodafone. O2 - avoid like the plague. Terrible signal and they accidentally took £600 out of my account once and told me I had to wait 3 months to get it back because of their backlog of admin work! EE - good customer service and great outdoor signal. Indoor signal is horrendous. Three - good all round signal and 4G speeds. Vodafone - excellent signal 99% of the time. Only time I lose signal is out in the middle of the country but that's rare.
Great 4G speeds. Sent from the iMore App

Thanks for your really comprehensive article Richard. I have been with Three a while now. I think their 4G speeds in London are patchy compared to EE. I am also uncertain about whether they are so cheap - I am now paying £60 per month for 8gb data +unlimited everything else, although admittedly for a 64gb 6 plus. I think that the company's entry-level tariffs are good but I do think they have raised the costs for its core users - those who like powerful devices and who use lots of data. I am increasingly coming to think that I value speed and reliability over price (especially given that Three is in my opinion becoming very pricey) and so may switch to EE on a sim only plan once my contract expires and see if I can buy the new iPhone outright. For that to happen, I really hope Apple's upgrade programme comes to the UK. Sent from the iMore App
Get the best of iMore in in your inbox, every day!