Yes, AirPods will stay in your ears while you run 🙌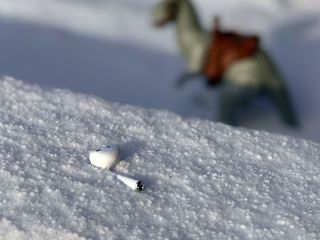 Alright folks, I've got to admit something to you: I love to dance. And I'm not talking about swaying-back-and-forth-calmly-while-bobbing-my-head dancing …
I'm talking about serious arm-flailing, hip-gyrating, leg-wobbling dancing …
And because of that, I was genuinely worried AirPods wouldn't be a good fit for me (pun intended). I'm not big on the design, shape, and feel of Apple's EarPods (mostly because they always fall out of my ears), so you can imagine my feels re: AirPods. Regardless of my feels, though, I was — and am — super excited about the technology packed into the little ear sticks, so I knew I had to have them.
That didn't stop me worrying about the fit — until this video, first shared by 9to5Mac: Wind, mountains, sprinting, jogging — this marathon runner put Apple's AirPods through their stay-in-ear paces, and the AirPods came out victorious!
If AirPods can stay firmly in place during all this, they should be fine withstanding my Hamilton Musical / Beyoncé's Lemonade playlist … for the most part, at least.
Wanna learn more about AirPods? You MUST check out Rene Ritchie's review:
AirPods review: The future of wireless with some present pain
○ Everything you need to know about AirPods
○ AirPods, Beats X, or PowerBeats 3?
○ Best way to buy AirPods
○ How to personalize AirPods
○ How to pair AirPods with W1
○ How to pair AirPods with Bluetooth
○ How to configure AirPods
○ How to use AirPods
○ How to use AirPods offline
○ How to clean AirPods
○ How to find lost AirPods

Get the best of iMore in your inbox, every day!
Mikah Sargent is Senior Editor at Mobile Nations. When he's not bothering his chihuahuas, Mikah spends entirely too much time and money on HomeKit products. You can follow him on Twitter at @mikahsargent if you're so inclined.
Next time a couple more goofy gifs to fill the page because of lack of content would be great.. Thanks.

This is in fact a serious question people have and I think it fits the readership and the internet in general. I believe this sarcasm is unwarranted. The GIFs were entertaining because it was a simple answer. I feel the GIFs also didn't get to the level of a Buzzfeed or similar clickbait-y sight and were tasteful enough to be lighthearted. Also, several thousand points to Mikah for the Star Wars reference in the title banner. Love the TaunTaun!

So you think because they stay in one persons ears they will stay in all ears? Ridiculous as the gifs. And if these airpods are like all other apple speakers they will fill with sweat and stop working.

They will if you put them in correctly, not loosely. As for the sweat I can't comment on this because I've not used them during exercise

pics and content go hand in hand... if u have too many pics the article becomes goofy... If u have more content and not enough gifs, u stop reading half way through, unless it's interesting to all.. Gotta find that balance :)

This is false! Apple said the same thing about our current headphones and GOSH, would you believe me if I said they DON'T! Whenever I use them (last resort) I have to keep readjusting them to stay in place.

They'll write whatever apple says as gospel. Posted via the iMore App for Android

The Apple earbuds have never fit my ears. I'll pass on these too!

Thanks for letting us all know!

...and i never used them long enough to see :) so that makes us even

It fits in this guy's ears, but make a video with a bunch of people, probably Mobile Nations' staff and just have them do something active. I think this article would've been a lot better instead of just being a post that borrows a video from one guy that others have already posted.

A one user testimonial! Great work crack iMore team! Great insight into the half baked research you put into products lol. Posted via the iMore App for Android

I have the Airpods as well as my wife and we tried hard to knock them out of our ears and they won't come out so I see where your negative comment comes from and it's because you're comment was sent from an Android device, you actually don't own one so you shouldn't comment on them if you haven't tried them so sssshhh!

Three people! I'm sold!! Except the review on 9 to 5 talks about sync lag and other issues including the lower sound quality (equivalent to ear pods). I will wait for more real reviews and not the crap that circulates by apologists. Posted via the iMore App for Android

They're not the best sound quality, they're tiny earphones. If you want proper audio quality, get a pair of Sennheiser headphones or something. But yes, they don't fall out, plenty of people have tried them, they don't. There's no wires to tug them out, so they stay in nicely

That's cmdacos for you. He's one of the biggest trolls here

Only to an extent though. He has a point about apologist though. Reality is everyone's ears are different and there are in fact a few people in this world who simply can't make earphones work for them. Does this mean it is the products fault though?? Of course not, but to say that they won't fall off anyone's ears no matter what is stretching that statement just a tad bit.

Are they waterproof? Since the picture is in the snow?

So explain the dozen or so other videos on youtube that show them falling off while doing far less demanding activities?

Facts have no place here Posted via the iMore App for Android

Can you do a segment on using AirPods with Apple Watch? Like if I receive notification for FaceTime audio call on my Watch can I just answer call on AirPods directly and not Watch speaker? Do you also tap once or twice to answer a call?

I've never been able to use Apple earbuds.. I can do the mannequin challenge, and the darn things will still fall out within 60 seconds....