Comic: 2015 is going to be a huge year for Apple fans!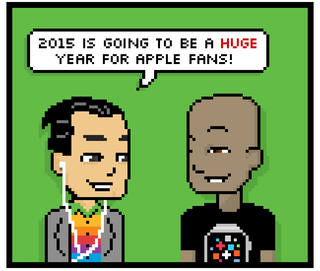 Ed: When the staff's away, it's time for some play. We're excited to introduce The Pixel Project: a weekly comic from Diesel Sweeties' Rich Stevens on Apple, technology, and everything in-between. This week: Product (and excitement) lifecycles. (All too fitting for CES week.)
Now, I'm not saying the run-up to the Apple Watch feels familiar, but...
Read more comics from the Pixel Project here
Get the best of iMore in your inbox, every day!
Pixel lover and cartoonist. Still have my original Apple IIgs. See more at clango.org or follow him on Twitter @rstevens.
I love this! I love anything pixel art and this was great! More of these!

And then developers and hardware manufacturers would start adding layers of functionality that would make the product useful for a variety of users And then competitors will anticipate the imminent success of the apple product, and jump in with their own version. Sometimes even apple rumours is enough for competition to create an entire product lineup. And then that product industry would become booming because people who
would have never bought that product, would start buying it, just because it is an alternative to an Apple product. And by that time, there would be tons of apps and accessories, all by companies who primarily targeted apple users, but would expand to its competition too. And then Apple would have reinvented yet another industry. PS: Competitors are praying that the Apple watch would succeed, so that they can sell their own products by bashing the Apple Watch.

Hilarious! They must be true Apple fans.

Hilarious ! I hope they wouldn't do a new generation every year. I'm not buying it. Maybe a different version it's different functionalities but nothing to make people upgrade there watch !! Personally I don't see the need in a smart watch ! Just me though Sent from the iMore App

They will have one every year. All about the $$ Sent from the iMore App

I always wait for second generation Apple devices. Posted via the Tardis database

But don't you have an iPhone 6?

That would be way past first gen device though.. Sent from the iMore App

I'm guessing he thinks of each numbered model (3G, 4, 5, 6) as the first generation and the subsequent year's S model as the second gen.

True. I I think each new design is like a new generation, and has had their own problems new and distinct from the generation previous.

I like the ending. "Of course I'm going to buy every consecutive version of any Apple product so I don't have any early adopter regret."

Buy this year's model today and sell it next year to apply to the cost of the new one. Apple products have a fairly high resale value. I usually get $300-$350 for 2 year old iPhones. Sent from the iMore App

I guess phone wise, but not new design wise. I see what you're saying now though.

Why only Apple watch why? lol

LOL Hilarious and totally on point!!!!!