Rumor: 32 and 37-inch Apple Television coming in late 2012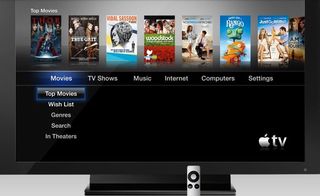 Randomly accurate rumor site, Digitimes has word from "industry sources" that suppliers are starting to build materials for 32- and 37-inch Apple Televisions for release in the second or third quarter of 2012.
Steve Jobs mentioned in his official biography that he'd finally "cracked" the television, and we've heard rumors that Apple was recently in talks with media executives about a television set product. However, Apple is no doubt working on a lot of new products in the lab, so keep this filed this in your "expect it when you see it" folder for now.
Source: Digitimes
Andrew Wray is a Salt Lake City, Utah based writer who focuses on news, how-tos, and jailbreak. Andrew also enjoys running, spending time with his daughter, and jamming out on his guitar. He works in a management position for Unisys Technical Services, a subsidiary of Unisys Corporation.
I don't want an Apple branded TV - I already spent $1k+ on the one I have. What I really want is an iTunes app in that TV that connects to iCloud (or a tiny, $100 set-top box) where I can buy episodes of Game of Thrones a week after they air on HBO.
It's the last paragraph that's important. Netflix failed in this area. I truly think Apple will do for video content what they did for music. No other company on the planet has the ability (or cash) to disrupt Hollywood.
Finally, Apple is a software company first. Yes they sell a lot of iPhones but it's the software that sets them apart.

37"? That's the biggest? Apparently they're not aiming for 50% of the market then. I don't know if I buy into this one.

If be happy with a 37" although I would prefer 47".
Anything over 50" is oversized if you ask me.
I am willing to bet that even YOU will buy this one, cause its not just about the TV size, but what it will be capable to do, which will make the rest of the industry follow Apple within the next couple years ;)

Thats what all the girls say, LOL, it's oversized. LOLOLOL

Man you drinking the koolaid before its even prepared. You snorting it.

I guess Apple might be able to sell it to people who live in small apartments but... They were on a much better course with the separate appliance (just needed to figure out apps) I doubt there is much market for small overpriced TVs.
Personally I think their time would be better spent figuring out how to handle live data apps (widgets), LTE and a 4" screen on the iPhone 5 and getting a retina display on iPad 3

They made the wrong choice on size if they want to sell it to the masses. 32-37" will only be good for the students out there in cramped spaces. They should have gone with a minimum of 40-46" for the rest of the market who will probably have the money to spend on it since it'll probably have a premium price tag on it once released. No one will buy this if it's not under 1k, which is what TV's of this size are considerably under. Seriously, were they thinking people would buy this to put in their kitchens? :crazy:

Boy! I have been waiting on this news, can we get the gaming console packaged with it please?

Too small for me. When it's time to replace the 60" Sony, the new TV will need to be about 60".
Having said that, if the 32" and 37" screens are actually going to be used in iMacs with Apple-designed TV features, it's almost a no-brainer to get one. (DIgitimes has been wrong occasionally, as we all know.) It would be easy for Apple to put the Apple TV circuit board into an iMac, and easy to make a bigger-screen iMac.
This would be a safe and sane way to move Apple TV to the next level: integrated into a device that has a TV-sized screen. And that would pave the way for bigger Apple television sets in the future. If Apple really wants to do it at all. Still not convinced they do.

Let me guess... It will be 720p max??
No way I'm replacing my new 80" with that... Just bring me a 1080p apple tv box and I'm good.

The cost? Will you have to replace it in two to three years, because the hardware/software is no longer supported? It will have to compete with largeer screens that will cost much less.

This is based on a rumor, let's not jump to conclusions. Further, if true, does anyone really expect Apple to release multiple sizes
as they enter a new category? This strategy makes sense and allows them to enter cautiously. Patience....
Get the best of iMore in in your inbox, every day!
Thank you for signing up to iMore. You will receive a verification email shortly.
There was a problem. Please refresh the page and try again.