Apple's retail vision is to bring 'surprise and delight' to every Apple customer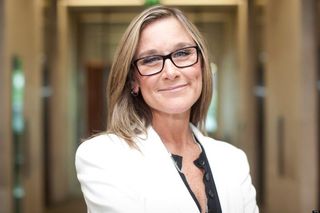 Apple Senior VP of Retail and Online Stores Angela Ahrendts had recently sent out her first memo to retail employees, outlining Apple's vision for retail ahead while also asking for employee feedback to improve the experience in stores.
"Looking forward to the future, I feel our greatest opportunity will be continuing to focus on and evolve the consumer journey online and in our stores," Ahrendts said. "Although technology is rapidly changing how customers shop, they will still want to feel surprised and delighted by the personalized Apple experience we provide at every turn." This shouldn't come as a surprise given Apple's late CEO Steve Jobs had considered Apple to be at the intersection of technology and the humanities.
"That's what makes us unique. Keeping the customer experience as simple as any other Apple product will also be critical as we expand into new markets, integrate our platforms, and develop new technologies."
What changes do you want to see Ahrendts make to the Apple shopping experience? Are you happy buying your Apple products at an Apple store? Sound off in the comments.
Source: 9to5 Mac
What would surprise and delight me the most is to go into an Apple Store and buy something cheaply.
No, I'm not being facetious.

It's been a while but can you use your itunes account/ credit card to shop in the apple online store? Like easy pay in the retail store app? Sent from the iMore App

I've never visited an Apple store in my life, so don't know. Maybe these stores exist somewhere -- I mean, not just on paper?

I am excited to see what Ahrendts will bring to the table! With experience in luxury goods she understands the importance of the experience when it comes to purchasing. When you visit any high end retailer you are not paying only for the product, but for the entire experience that comes with it. I believe that Ahrendts will do this for Apple Retail and help Apple and enhance the Apple retail experience.

Ok, now let's bring down prices? Sent from the iMore App

When I've shooed at Apple Stores in Southern California, they've been crowded and it took forever to get any service and these were at non-holiday-season experiences. It kind of sucked. It felt like being a zoo kind of and not like spending $1-2k in merchandise at Bloomingdales or something, although that was what I spent at the Apple Stores. :-(

I enjoy the experience of shopping in an Apple store. I'd like to see more interactive displays such as in car technology, home systems, etc. Sent from the iMore App

I would like big slogans on the walls and windows, comic sans please. 'The Intersection of Technology and the Humanities', or 'Surprise and Delight to Every Customer'. That sort of thing cracks me up. Unless I worked there, then it would be humiliating.
Get the best of iMore in in your inbox, every day!
Thank you for signing up to iMore. You will receive a verification email shortly.
There was a problem. Please refresh the page and try again.