These are all the amazing things you can do with Animoji and Memoji!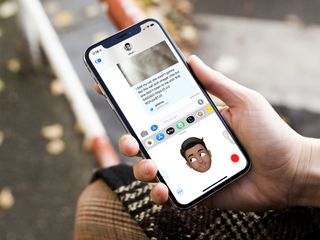 (Image credit: iMore)
If you've been on social media in the last couple of months, chances are you've seen a glimpse of an Animoji somewhere on your timeline or feed — and even more recently, Apple has introduced Memoji, an avatar that looks just like you!
Whether it's using Animoji or Memoji for some fun-time karaoke, using Animoji or Memoji as the perfect reaction GIF, or even pairing Animoji or Memoji with your favorite movie scenes of all time, people are getting creative with the exclusive iPhone X features in more and more ways every single day.
Here are all the amazing things people are doing with Animoji and Memojiso far!
Animoji and Memoji karaoke! (Does that rhyme? Kinda…)
What's your favorite song of all time? I bet there's a tune that's going through your head right now. You might even be tapping your foot to the beat. Maybe you just looked it up on YouTube (wouldn't it be freaky if you did?! Like I'm some sort of computer witch that's watching your every move? OOOOH FEAR MEEEEE.)
You know what's better than listening to your favorite tunes? Listening to them from the beak of a chicken or the mouth of a unicorn or your quirky little avatar via Animoji or Memoji!
There are plenty of videos online right now that show off the epicness of Animoji and Memoji karaoke, with everything from Bohemian Rhapsody to Star Wars accapella Animoji to Smashmouth Animoji and so, so much more.
If you're one of the lucky people to have your iPhone X already, go ahead and use your Animoji or Memoji to record your favorite tunes and post them on Twitter! (You can even tag iMore so we can sing along with 'em!)
Movies + Animoji / Memoji = 🙌🏼
What's your favorite movie quote of all time? Mine's probably from Goodfellas:
Now as much as I adore that movie, it would probably be about 100x better if it was a robot Ray Liotta and a fox Joe Pesci knifing that poor guy in the trunk of their car, don't you agree? With Animoji or Memoji, that's totally, 100% possible!
Pairing your favorite movie scenes, quotes, and clips with an Animoji or Memoji is the perfect way to spice up your movie watching experience (especially if it's a film you've seen a billion times).
Get creative and assign certain Animoji or Memoji to certain characters depending on their personalities, or even film a good chunk of your favorite flick with Animoji or Memoji to spice up your social media game. Just get creative!
Make your own reaction GIFs!
One of the best things to come out of the whole GIFs getting popular saga was the birth of the reaction GIF: and nothing pairs better with reaction GIFs than Animoji or Memoji.
If you're someone who likes to make their own reaction GIFs, then this feature is 100% for you. You can record a shocked reaction with the monkey, a screaming GIF with your Memoji, or a cute-but-psycho GIF with the cat.
Subsequently if you don't have an iPhone X and really want to start using Animoji or Memoji as reaction GIFs, keep an eye on GIPHY and other GIF-based sites for people uploading their own interpretations of reaction GIFs.
How do you Animoji / Memoji?
Is there a particular creative use you've found for Animoji or Memoji? Is there an Animoji or Memoji fad that you're absolutely head-over-heels for on social media?
Let us know what you love most about Animoji in the comments below!
Updated July 2018: This article has been updated to include Memoji!
Master your iPhone in minutes
iMore offers spot-on advice and guidance from our team of experts, with decades of Apple device experience to lean on. Learn more with iMore!
Cella writes for iMore on social and photography. She's a true crime enthusiast, bestselling horror author, lipstick collector, buzzkill, and Sicilian. Follow her on Twitter and Instagram: @hellorousseau