Animal Crossing: New Horizons — All updates and patch notes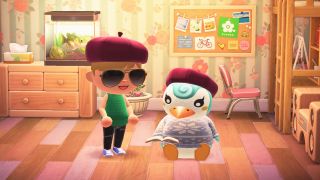 (Image credit: iMore)
There have been several updates to Animal Crossing: New Horizons since it was first released on April 20, 2020. Many of these updates fixed glitches while others were in response to the Animal Crossing community. Here are all of the updates that New Horizons has received so far along with an explaination of what was patched.
All updates and patch notes
The game hasn't been out very long, but there have already be several updates. Here they all are:
Update 1.2.0 - April 22, 2020
Leif the sloth can now visit your island. He has a gardening store where players can purchase shrubs and flower seeds.
Redd the art dealer will now make visits to your island with his boat. Players can purchase art from him, but some of them are fakes.
Two new items can be purchased from the Nook Miles program — Isabelle's aloha shirt and Timmy and Tommy's aloha shirt.
The following seaonal events were added to the game:
Here are the official patch notes for update 1.2.0
Update 1.1.4 - April 6, 2020
Main takeaways:
During the 2020 Bunny Day event, the appearance rate of some eggs has been adjusted so they don't appear as frequently. They will be easier to collect on on April 12, 2020, the last day of the Bunny Day event.
Addressed a bug related to commissioning a Scarab Beetle bug model from Flick.
Here are the official patch notes for update 1.1.4.
Update 1.1.3 - April 3, 2020
Main takeaway:
This update released the day after update 1.1.2. It fixed a balloon glitch, which wouldn't allow people to obtain anymore balloons after they'd popped 300 of them with a slingshot.
Here are the official patch notes for update 1.1.3.
Update 1.1.2 - April 2, 2020
Main takeaways:
Fixes bug where inviting a villager can cause an existing one to glitch
Fixes bug which causes Tom Nook to not invite new villagers
Fixes bug where it was impossible to move buildings
Fixes bug where Wilbur took bells for items
Here are the official patch notes for update 1.1.2.
Update 1.1.1 - March 26, 2020
Main takeaways:
Allowed players to experience seasonal events. This was an update that released shortly after the game came out.
This update also allowed players to experience multiplayer via online or local communication.
Here are the official patch notes for update 1.1.1.
Up to date
Those are all of the updates that Animal Crossing: New Horizons has received so far. Considering that Nintendo has been quick to address fan responses and that the game features in-game events that correspond with real-life holidays, we're sure to see several more updates as the months go by. We'll continue to update as time goes on.
○ Zelda outfits for Animal Crossing
○ How to make money fast
○ Multiplayer guide
○ How to become best friends
○ The NookPhone explained
○ What is NookLink?
○ Can you play Animal Crossing on Nintendo Switch Lite?
○ Every Animal Crossing amiibo
○ Best Animal Crossing Switch accessories

Rebecca Spear is the dedicated gaming editor for iMore who loves playing games on Switch and iOS. She is a Zelda nut through and through and can also talk for hours about her favorite Pokémon games. She's written hundreds of guides and reviews over the last six years to the point that if you get stuck in a game somewhere, she can help you out. On any given day, you'll find her following the latest tech, digitally drawing with her iPad Air and Apple Pencil, reading a good book, or - you guessed it - playing video games. Follow her on Twitter @rrspear (opens in new tab) to see her post about her corgi, foster kitties, art, and favorite video game characters.
Get the best of iMore in in your inbox, every day!
Thank you for signing up to iMore. You will receive a verification email shortly.
There was a problem. Please refresh the page and try again.