Apple announces the 9.7-inch iPad Pro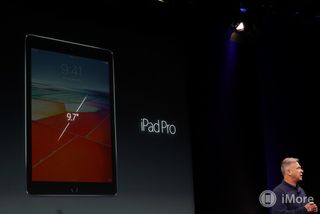 Apple has announced a smaller iPad Pro during its March 2016 event. It features a 9.7-inch Retina display, and weighs less than one pound. Apple is billing this new iPad Pro as a device that's big enough to display all of your work, but small enough to take wherever you go. The new iPad Pro comes in space gray, silver, gold, and rose gold color options.
Like the 12.9-inch iPad Pro, the 9.7-inch model is powered by an Apple A9X system-on-a-chip, and has 12 graphics cores with 1 teraflop of processing power. It also features the M9 motion co-processor found in the iPhone SE, 6s, and 6s Plus, which enables "Hey Siri" support. It also supports the Apple Pencil,
The Retina display on the new iPad Pro is an Oxide TFT display with a custom timing controller for variable refresh rate, which helps improve battery life. The display is also 40% less reflective than that of the iPad Air 2, as well as 25% brighter. The iPad Pro features four speakers, like its big brother, and is twice as loud as the iPad Air 2. It also has a 12-megapixel rear iSight camera, and a 5-megapixel front-facing FaceTime camera.
The 9.7-inch iPad Pro will go up for pre-order on March 24 starting at $599, with shipments starting on March 31.
See at Apple (opens in new tab)
Apple Introduces 9.7-inch iPad Pro
Breakthrough Pro Features & Advanced Display Technologies Come to the Most Popular iPad Size
CUPERTINO, California — March 21, 2016 — Apple® today introduced the all-new 9.7-inch iPad Pro™ — at just under one pound it features a new pro Retina® display with greater brightness, wider color gamut, lower reflectivity, Night Shift™ mode and introduces new True Tone® display technology to dynamically adjust white balance. The new iPad Pro delivers incredible performance with the 64-bit A9X chip that rivals most portable PCs, along with a four-speaker audio system that is twice as powerful,¹ new 12-megapixel iSight® camera for shooting Live Photos™ and 4K video, 5-megapixel FaceTime® HD camera, and faster wireless technologies. And iPad Pro includes support for the breakthrough Apple Pencil™ and a new Smart Keyboard™ cover designed to fit the new 9.7-inch iPad Pro.
"iPad Pro is a new generation of iPad that is indispensable and immersive, enabling people to be more productive and more creative. It's incredibly fast, extremely portable, and completely natural to use with your fingers, Apple Pencil and Smart Keyboard. And now it comes in two sizes," said Philip Schiller, Apple's senior vice president of Worldwide Marketing. "The 9.7-inch iPad Pro has a new Retina display with True Tone technology, four-speaker audio system, blazing fast A9X chip, 12-megapixel iSight camera, 5-megapixel FaceTime HD camera, faster wireless, and support for Apple Pencil and Smart Keyboard. It is the ultimate upgrade for existing iPad users and replacement for PC users."
Designers, illustrators and businesses have quickly adopted iPad Pro and it's changing the way they work:
"People don't realize how much hand drawing is needed to produce computer animation," said John Lasseter, Chief Creative Officer, Pixar and Walt Disney Animation Studios. "iPad Pro and Apple Pencil are the closest we've ever been able to get in the digital world to actually drawing on paper."
"I've done everything including designing the latest cycling collection on iPad Pro," said Alex Valdman, Head of Design for Rapha. "It goes with me everywhere, and has not only replaced my laptop, but my paper notebook as well. For the Rapha design team, iPad Pro will become standard issue."
"At Citi, iPad Pro is truly transforming how we work," said Stephen Gates, U.S. Head of Design for Citi Global Consumer Banking. "iPad Pro and Apple Pencil have played a huge part in the new Citi Design team's work to create new innovative customer experiences. We use iPad Pro for sketching out new design concepts, presenting our work, answering our emails, working with our design files on Adobe Creative Cloud and participating in FaceTime meetings with our other design teams all over the world."
Pro display
The 9.7-inch iPad Pro features advanced display technologies, including a True Tone display, which uses new four-channel sensors to dynamically adjust the white balance of the display to match the light around you for a more natural and accurate, paper-white viewing experience. The advanced Retina display is 25 percent brighter and 40 percent less reflective than iPad Air® 2, making content even easier to see indoors and out. It uses the same wider color gamut as the iMac® with Retina 5K display, delivering 25 percent greater color saturation¹ for more vivid colors. A custom timing controller, photo alignment and oxide TFT deliver incredible color, contrast and clarity. Night Shift in iOS 9.3 uses iPad Pro's clock and geolocation to automatically adjust the colors in the display to the warmer end of the spectrum after dark and may even help you get a better night's sleep.
Pro performance
The new iPad Pro is just 6.1mm thin and weighs just under one pound, yet delivers groundbreaking performance, connectivity and versatility so you can tackle the most demanding tasks wherever you go. The powerful A9X chip with third-generation 64-bit architecture provides performance that rivals many laptops and console-class graphics, while also delivering all-day battery life.² Ultrafast wireless connectivity keeps you connected wherever you go with 802.11ac Wi-Fi with MIMO technology, support for even faster LTE Advanced with up to 50 percent faster cellular connectivity³ and the most LTE bands supported by any tablet.⁴ Now with Apple SIM embedded directly in the new iPad Pro, it's even easier to connect to wireless data plans right from your device when traveling in more than 100 countries and territories.5
iPad Pro has an advanced 12-megapixel iSight camera sensor featuring Focus Pixels for fast focusing, an Apple-designed image signal processor, advanced noise reduction, third-generation local tone mapping and better face detection, all resulting in sharp, detailed images, 63-megapixel panoramas and Live Photos. A True Tone flash improves low light shots and document scanning. The new iSight camera shoots 4K video, making the new iPad Pro the perfect device to shoot, edit and share pro-quality video. The improved 5-megapixel, front-facing FaceTime HD camera makes the new iPad Pro perfect for videoconferencing or connecting with loved ones.
Pro audio
The four-speaker audio system provides powerful, clear and rich stereo sound for more than twice the audio output.¹ Built-in sensors automatically adjust and optimize the audio no matter which way you're using it. iOS 9.3 also adds support for playing video encoded with Dolby Digital Plus audio streams with support for multichannel output using the Apple Lightning® Digital AV Adapter.
Pro accessories
Apple Pencil and Smart Keyboard, available for purchase separately, bring breakthrough levels of precision and utility to iPad Pro. Advanced sensors in Apple Pencil measure both pressure and tilt for a natural drawing, annotating and note-taking experience. A new Smart Keyboard is custom-designed for the 9.7-inch iPad Pro, offering a thin yet durable keyboard that never needs to be charged or paired over Bluetooth and is easily foldable into a protective Smart Cover®. The new Lightning to SD Card Camera Reader and Lightning to USB 3 Camera Adapter make it easy to download photos and videos from a digital camera to iPad Pro, while a new Lightning to USB-C Cable and Apple's 29W USB-C Power Adapter enable faster charging.
Pricing & Availability
The 9.7-inch iPad Pro comes in silver, space gray, gold and a new rose gold metallic finish, and starts at $599 (US) for the 32GB with Wi-Fi model and $729 (US) for the 32GB Wi-Fi + Cellular model. Both iPad Pro sizes are available in offerings of 32GB, 128GB and a new 256GB capacity, the highest of any iOS device. For more information, please visit www.apple.com/ipad.
The 9.7-inch iPad Pro will be available to order beginning Thursday, March 24, from Apple.com, and in Apple's retail stores, through select carriers and Apple Authorized Resellers on Thursday, March 31, in Australia, Canada, China (Wi-Fi models only), France, Germany, Hong Kong, Japan, New Zealand, Puerto Rico, Singapore, the UK, US Virgin Islands and the US.
The 9.7-inch iPad Pro will be available in early April in Albania, Anguilla, Antigua and Barbuda, Austria, Belgium, Bosnia, Bulgaria, Cayman Islands, Croatia, Czech Republic, Denmark, El Salvador, Estonia, Finland, Greece, Greenland, Guam, Guatemala, Hungary, Iceland, India, Ireland, Isle of Man, Italy, Kosovo, Latvia, Lichtenstein, Lithuania, Luxembourg, Macedonia, Macau (Wi-Fi models only), Monaco, Montenegro, Netherlands, Norway, Poland, Portugal, Romania, Russia, Slovakia, Slovenia, Spain, Sweden, Switzerland, Thailand (Wi-Fi models only), Turkey and UAE.
Apple Pencil is available for $99 (US) and Smart Keyboard in charcoal gray for $149 (US). The Polyurethane iPad Pro Smart Cover and Silicone Cases for the 9.7-inch iPad Pro are available for $49 (US) and $69 (US), respectively, in a range of new vibrant colors.
The Lightning to SD Card Camera Reader is available for $29 (US), Lightning to USB 3 Camera Adapter for $39 (US), Apple 29W USB-C Power Adapter for $49 (US), Lightning to USB-C Cable (1 m.) for $25 (US) and Lightning to USB-C Cable (2 m.) for $35 (US).
Every customer who buys an iPad Pro from Apple will be offered free Personal Setup, in-store or online, to help them customize their iPad Pro by setting up email, showing them new apps from the App Store® and more.
Anyone who wants to learn more about the new iPad Pro or iOS 9 can register for the free workshops offered at every Apple Store®.
Get More iPad
(opens in new tab)
Joseph Keller is the former Editor in Chief of iMore. An Apple user for almost 20 years, he spends his time learning the ins and outs of iOS and macOS, always finding ways of getting the most out of his iPhone, iPad, Apple Watch, and Mac.
It seems like Apple is pushing the prices up on iPads and justifying it by calling it a "PC Replacement". While it is too much for me, it is bound to sell really well.

The iPad Pro is only a $100 price increase than the iPad Air 2 and it has a lot more to offer. It's the Post-PC era, that's why the Surface can't match the iPad in innovation or sales.

There is nothing Post-PC about this area. Yes there are people who use chromebooks or iPads instead of a typical PC, but those are still few and far in between. EDIT: starts at 32GB...erased part of my comment. Surface has done many things innovative, more so than the iPad if you ask me. That said, those two devices really fill different markets.

The sweet spot for me was the 64GB iPad. 32GB was not enough. Now I'm looking at a $150 MSRP increase. I don't see any significant advantage for me of all the pro features. I'll just pick up a 64GB Air 2 for $500. They're always $100 off somewhere.

No cellular models? Or did I miss something.

My bad. They're on the website. Add $130 to them.

You got it why they are not in presentation :-)

and how exactly its going to replace a PC/laptop without a USB connectivity port?

Calling this thing an iPad Pro was a mistake - it muddies their lineup horribly. The only thing really distinguishing between the iPads is screen size. Yes you can try and argue specs and other such bullshit, but that filters through eventually anyway. The 7.9 inch version is the Mini, the 9.7 inch version the Air, and the 12.9 inch version is the Pro. For the general consumer that makes sense. I honestly didn't think that they'd be stupid enough to go with the branding that was reunited. More fool me ... Sent from the iMore App

And that price ...! Ooophf .... Sent from the iMore App

No different than the Macbook Pros. Although the 15" does have a separate graphics card.

The future of personal computing :( not for me. I've tried but I really can't move from a proper laptop or desktop to an ipad as my prime working machine. Sad that there were no Mac announcements and I hope that Mac still has a future.

did I see no options with cell service? All just said "Wi-Fi"

Does anyone actually give a **** about a smaller iPad pro? Such a waste of resource Apple! What a waste of an event. We need updated MacBook Pro. Something that a business user can actually use, with a real OS not a tablet OS Sent from the iMore App

It will be hard for the iPad Pro to replace my Mac laptop. I can do quite a bit with my older iPad and not sure the iPad Pro will be that replacement. It is getting closer tho'.

Did anyone else notice the protruding camera on the 9.7" iPad pro??
Get the best of iMore in in your inbox, every day!
Thank you for signing up to iMore. You will receive a verification email shortly.
There was a problem. Please refresh the page and try again.