Apple cutting out restocking fees, adding setup centers starting January 11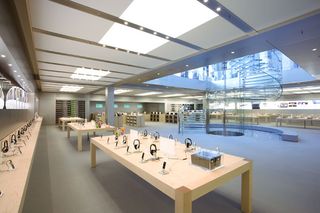 Apple Retail Stores are set to put an end to restocking fees starting Tuesday January 11, and will also be adding new setup areas for Macs, iPhones, and iPads.
Previously when returning a product to your Apple Retail Store you get hit with a 10 percent restocking fee but this will no longer be the case starting tomorrow. Of course the standard 14 day window will still apply for returns. The setup areas will be for those who need extra help getting started with their new Mac, iPhone, or iPad while leaving the Genius Bar clear to handle more technical support issues.
It seems fairly interesting that Apple chose Tuesday January 11 as the date to put an end to restocking fees and open their new setup areas, but maybe we will learn why tomorrow as Verizon holds their big press conference.
Either way do we really have to ask -- are you going to be taking advantage of the no-restoking fees or setup area any time soo
Get the best of iMore in your inbox, every day!
Let the WHITE Verizon iPhone rumors begin........

Yay to ending restocking fees. I know companies might like them, but they suck for consumers, and Apple is the only place I've ever bought a device where the company had a restocking fee in place. I originally bought an original iPhone in January 2008. A week later they announced and increase in capacity for the iPhone. I called the store and it was okay to swap out one size for a larger one and pay the difference and no restocking fee. When I went to the store, the rep tried to make me pay a restock fee. I convinced to waiv the fee him since I had the name of the other rep and she said it was okay.
Restocking fees are just a barrier that consumers should not have to tolerate. I'm glad Apple is doing the right thing here.

Interesting...Best Buy just did this days before Christmas. It's a great deal for the customer...try it before you buy it.

That's stupid though, I would never go it acceptable to 'trial run' and electronic like that as a consumer. Especially when you can already try them in the store.