Apple debuts QuickType in iOS 8 keyboard at WWDC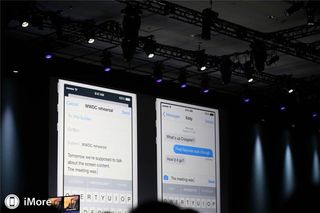 Apple's Craig Federighi showed off new intelligent typing features in iOS 8 at the WWDC keynote today. Dubbed QuickType, the new iOS 8 keyboard is context-sensitive and introduces predictive word suggestions.
A new row added to the top of the keyboard allows you to pick from predictions for your next word, and this is sensitive to the context of the message and the person you're talking to, with communication styles adjusted accordingly.
For instance, today's demo showed off messages about going for dinner or a movie, and showed that word predictions changed to show "dinner" and "movie" for new messages in the thread.
The new keyboard features in QuickType will support fourteen regions — U.S., U.K., Canadian and Australian English, Brazilian Portuguese, Chinese (including Hong Kong and Taiwan), French, German, Italian, Japanese, Spanish and Thai.
About time! Sent from the iMore App

+1 iMore App via Nexus 5.

Welcome to 2011! Can't believe it took them this long to come up with this. There are still much better predictive text options out there.

They should have just opened the keyboard realm up for SwiftKey. Agreed that there are a ton of awesome keyboard apps out there in the non-Apple world.

Just freaking buy SwiftKey already!! I hate typing on iOS.

I saw this same functionality on the windows phone before I switched to my iphone Sent from the iMore App

I saw this same functionality on the windows phone before I switched to my iphone Sent from the iMore App

That's amazing! I can't believe it! So cool! (That's what I said 3 years ago when I first started using Swiftkey on Android).

Did they also patent it? Since nobody has obviously done this before, they must have. Revolutionary!

Funny they bash android, yet gush over all these features android has had for years. So glad they finally added this Sent from the iMore App

The comments are so predictable. :)

I am just glad they finally are going to get these features.

Not Swedish keyboard? Fail... Sent from the iMore App

Chill guys... It means now that Apple has found several ways you could add third party keyboards, and at the same time, the iOS would always be stable, free of malware, security tight.... Just chill.... Yes on android they already have this feature, but does the OS stable? I doubt it... Sent from the iMore App

I don't want this post to seem exciting when the feature is so old. I mean even Windows Phone has had this for a while. I still prefer Swype. iMore App via Nexus 5.
Get the best of iMore in in your inbox, every day!
Thank you for signing up to iMore. You will receive a verification email shortly.
There was a problem. Please refresh the page and try again.