Apple giving backdoor cellular access to Indian military?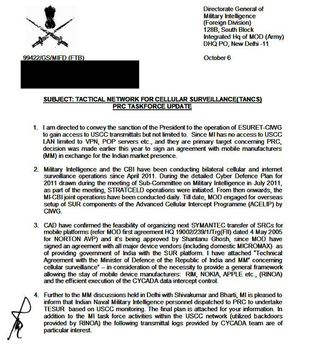 According to a group of hackers in India, Apple, RIM and Nokia could be providing backdoor access to the Indian government, allowing them to monitor user data. The Indian government might be insisting on this access in exchange for allowing Apple and other smartphone vendors to offer their products and services in India, they have allegedly given them access to cellular communications. The agreement appears to be called RINOA (Rim, Nokia, Apple).
Several documents have been found referring to RINOA and how information was gathered from some of these government bodies. I know India is a large country but I'm not quite sure what is more damaging -- not having a presence there at all or betraying your customers' trust by allowing the local government to access data without your knowledge.
Source: ZDNet
iMore senior editor from 2011 to 2015.
Hey Beavis...heh heh heh..she said backdoor access..heh heh heh.

WTF? That's like rowing a boat! You have no input on where you're going.

I know you were trying to be witty but that makes no sense. That is all.

I don't see any problem with this, unlike other countries India has more people who betray their country. To fight terrorism and corruption if this helps, then no one should have any problem.

Its true, having lived and born there. India has serious problem with corruption and terrorism. Don't forget the Mumbai and many other incidents.

Curruption or not, invading everyone's privacy is not the sulotion. If its currpted then terrorists will bribe military personnel who have access to people files and have confidential information from anyone in India.

It's a balance..excuse of " Privacy" cannot over ride security of nation and all rest. Every country monitors data for security including USA and EU.

"They who can give up essential liberty to obtain a little temporary safety, deserve neither liberty nor safety." attributed to Benjamin Franklin and to Richard Jackson

Very true, but Franklin was not living in 2012 .. Society has changed and with necessities to maintain safety.

This isn't anything new. Having spent time in India, you have to register your cells with the government. It is a hassle to even get one over there unless you are going to be there for longer than a couple of months. And yes, it is to fight terrorism. India doesn't control 2/3 of the country and don't forget 26/11 (the Mumbai attacks).

I find it very hard to believe the corruption is any worse there than here in the US. We are just better at covering our tracks in the US.

You are correct but upto an extent. Corruption exists in every country, including USA but it's not all pervasive as in other. You can get day to day work done without bribing, not so in some other countries.

If you look closely at all mobile service agreements for eu (and I'd guess US have similar in place) they clearly describe how all network data is monitored and that it will be shared with intelligence agencies to prevent terrorism. The only thing that provides any real privacy is the sheer volume of information exchanged.

Let's all keep in mind that these documents have been confirmed by no one and ZDNet themselves (the source of this article) question the validity.

This occurs, to one extent or another, with all governments, including the most "open, free, and democratic" countries in the world. And that includes the USA, even if people don't want to admit or acknowledge so. Especially after the Patriot Act, among other things, took effect after 9-11.
I figure that it's here to stay and may become even more pronounced. Since this is the case, and I'm not involved with this type of activities, I have nothing to hide. So I hope our govermental officials keep the bad elements under control. Same as all other governments want to do.

Music Will Change... Foreverwww.musicwillchangeforever.com

I believe this is among the so much significant info for me. And i'm glad studying your article. However wanna statement on some normal things, The website style is perfect, the articles is in reality nice : D. Good task, cheers
Get the best of iMore in in your inbox, every day!
Thank you for signing up to iMore. You will receive a verification email shortly.
There was a problem. Please refresh the page and try again.