Apple Gobbling Up NAND Flash Memory Again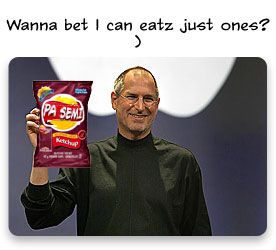 According to AppleInsider, Apple is once again leading the way for a worldwide NAND Flash memory shortage... again:
<
blockquote>"Taiwan-based memory module houses are moving to diversify their NAND flash suppliers to minimize procurement risk, according to industry sources," the report said. "NAND flash supply has reportedly become tighter as major chip producers Samsung Electronics, Toshiba, Micron and Hynix Semiconductor favor demand for Apple devices."
With the release of the iPhone 3GS, new iPod Nano/Touch, and the iTablet device rumored to be released sometime in the first half of 2010 - it's no wonder this current shortage exists. One thing is for sure, the chip producers bend over backwards to make sure Apple gets all of the memory they need and for good reason. Even if it means less for other companies, as long as they keep Apple happy.
At least they aren't stagnant, and they are always coming out with new products. I wonder what its for this time. iTablet likely.

@ Fake Jose
you're giving me a bad name.

They got to keep the best costumer happy (apple)
because they know they won't sell that many chips to the other companies, cuase the demand
for other phones is not to the standards of the Cupertino company.

Fantastic beat ! I would like to apprentice whilst you amend your site, how could i subscribe for a weblog website? The account helped me a acceptable deal. I were a little bit acquainted of this your broadcast offered shiny transparent concept
Thank you for signing up to iMore. You will receive a verification email shortly.
There was a problem. Please refresh the page and try again.