Are Apple and Google both trying to acquire BOKU?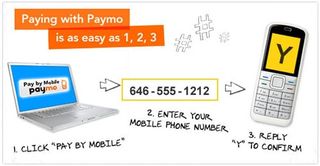 TechCrunch is reporting that both Apple and Google may be interested in acquiring start-up company BOKU (opens in new tab), which allows users to purchase goods on their mobile phones.
All users would have to do is simply enter in their mobile phone number and your product would be ordered and put onto your mobile bill. As of now BOKU is partnering with major carriers all over the world and they claim they are already capable of servicing over 1.6 billion users. They also claim that all major US carriers are supported already.
Talks are still in the early stages and neither company is willing to make comments on the talks that have occurred at this time. It appears as if both Apple and Google are serious about getting their hands into the mobile payment business and this acquisition would make purchasing easier than ever.
Are you interested in purchasing items on your iPhone and having it billed to your mobile bill or would you rather just pay for it on your credit card and not have to worry about paying a larger phone bill? We want to know your thoughts in the comments section.
[ TechCrunch (opens in new tab) ]
Get the best of iMore in your inbox, every day!
Cool concept. Don't most people pay their mobile bills with a credit card anyways? I'd use it!

I wouldn't want this because I'm on a family plan and my dad would freak. I like using my credit cards. It means I can buy things without potentially giving my dad a heart attack.

Oh cool but I usually just ask my mom for permission in buying things

I think I would still prefer my credit card, but I am not a fan of either Apple or Google buying such a company. To justify the outlay, either would (be tempted to) put it in their own OS and freeze it out of others. The last thing merchants or consumers need is each mobile ecosystem having their own unique and incompatible way to pay.

Just what my 12 year-old needs - the ability to pay for stuff without having the money. I sure hope that I can block this.

You know there would just be more problems then you already have with your cell phone bill. Just imagine the information that then would be on the bill overtime mins, total mins, total cost etc. Then reading the bill to find your credit card info and finding bad credits and such would be a lot.

but hey.. it's not only for kids! I would love to use it as when I want to buy something it takes ages to pay by debit/credit card and this way would be much quicker and better. I love the way how you can buy applications on my Iphone - quick and stress free.