Apple introduces Passbook as part of iOS 6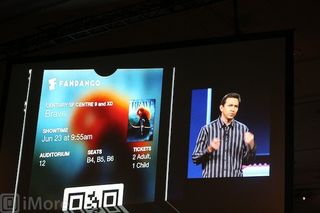 Today at WWDC Apple introduces the Passbook app as part of iOS 6. Passbook is the new way to store airline apps, boarding passes, starbucks app, movie tickets.
Passbook is the easiest way to get all your important tickets and information into one place.
Let's say you want to buy movie tickets via Fandango. Purchase your tickets, and as soon as you get to the theatre - your tickets just pop right up on the screen.
Apple demoed different passes that are available with the new Passbook app including a target card, starbucks card, baseball tickets, app store gift card, boarding passes and more.
Passbook will also work for expres check ins to Hotels as well as coupons for local stores. Get to your destination - and what you need just pops up on the screen.
When you use the coupon or ticket or are ready to delete - the app "shreds" the card for security purposes.
More to come! Keep watching our liveblog!
Get the best of iMore in your inbox, every day!
So - I'm guessing that means the app store will be getting into the gift card business as well. Grocery and drug stores are going to love Apple for taking away a chunk of this lucrative business.
That said - as a consumer - I would love to be able to open up the App Store and quickly send a gift card or movie passes to someone.
Oh crap! It's Gary's birthday! He loves P.F. Changs. Click, click - problem solved.

Great work! This is the type of info that are meant to be shared across the web. Shame on the search engines for now not positioning this publish upper! Come on over and consult with my website . Thanks =)