46% of Apple mobile devices now running iOS 8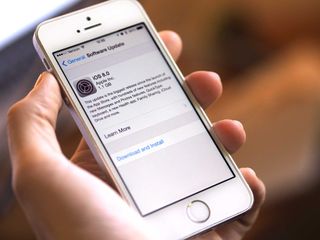 Apple recently released iOS 8 and now the company has shared some details on just how the update is performing with regards to platform penetration. According to data from Apple, 46 percent of consumers have updated to iOS 8.
As of September 21, while iOS 8 sits comfortably on 46 percent, iOS 7 still rules the land on 49 percent and 5 percent of consumers are on older versions of the operating system. Considering the update has only been out for less than a week, the numbers are very promising indeed.
Ready to upgrade to iOS 8? Check out our in-depth guide on how to get this done through iTunes.
Source: iClarified, via: TechCrunch
Get the best of iMore in in your inbox, every day!
Yeah, I'm part of the 54%.....I think waiting until 8.1......

Good idea Sent from the iMore App

I don't understand why people don't want to update. I have found it to be more stable the iOS 7.1.2 and it has loads of extra features! Sent from the iMore App

Jailbreak. I updated and wish I hadn't... Sent from the iMore App

I kept my jailbreak for my 5s and updated my iPad mini. I wish I hadn't updated my iPad mini tho... Sent from the iMore App

It does have some bugs, odd ones .. ones that seem to only impact those upgrading ... they don't seem an issue if you just restore and use a fresh iOS and DONT restore.. Something thats hanging over from iOS 7 could be the cause.. after many re-images, I'm fairly certain now.. If I restore a backup, WiFi and battery become an issue. It could be a miss-behaving App that's not been updated to support iOS 8 yet..... grr.. wish it was easier to track.. I hate resetting up, I just want my backup to work! lol!

So, Solamar, are you saying that a fresh install is free from the WiFi problem? Sent from the iMore App

I am on iOS 8 and liking it so far. Few misses here and there but I can live with them. Sent from the iMore App

How was iOS 7 doing during the same time period?

Yup same shit Sent from the iMore App

I was curious too. Looked it up and it says it was well over 60% after a week and over 50% after the first weekend so adoption is slower for this one. Probably due to the big visual change last year.

Not planning to ruin my iPad 2.. will stay safe on iOS 7

I have iPhone 6 so naturally I'm on 8 but my wife has a 5s and wishes to keep her jailbreak features so its 7.0.4 for her. Also both our ipads version 2 and 4 are running ios8 smoothly.

I have a 5S and running the latest iOS 8 and the keyboard sucks. Some times while in landscape while typing, it won't work.

I've noticed that in portrait too. Sent from the iMore App

Same Sent from the iMore App

Test the third party keyboards: Sent from the iMore App

In the 4 days I've been using iOS 8, I've found several bugs. Stupid simple stuff that should never have been an issue.
1) on ipads, the cellular chips fails to wake up from sleep.
2) Guided access no longer functions. Am I'm not the only one with these issues.

46% of all idevices ever sold? That's pretty good. Or of devices that still go online enough to check in somewhere? Good too. There's probably several right answers that could fit in the headline.

The numbers would likely have been higher, had iOS 8 been compatible with iPhone 4 Sent from the iMore App

Good thing it's not. It's already quite lagging on my 4s. To the point where I wish I didn't upgrade. And seeing that I can't get the continuity I was mainly looking forward to on the 4s anyways. I'm just gonna get a 6 plus. Sent from the iMore App

Haven't updated my 5C & Mini yet. Will do it this weekend.

I'm the 5%, still running 6.1.2 and happy with it!

Updated the iPhone, not gonna update the iPad until there's a jailbreak. My iPad being my go-to mobile device for media, I need the ability to make a third-party browser the default one, the flexibility Activator brings, f.lux, etc.

I'm part of the 49%. Keeping my jailbreak Sent from the iMore App
Thank you for signing up to iMore. You will receive a verification email shortly.
There was a problem. Please refresh the page and try again.