Apple looks to fix iPhone 6s shutdown woes with battery replacement program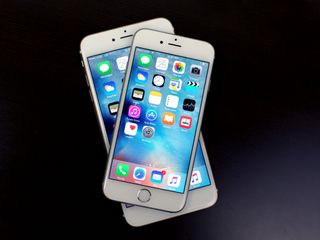 If your iPhone 6s has been shutting down unexpectedly, Apple has a new service program aimed at fixing the problem. The company says that it only affects a limited range of iPhones manufactured between September and October 2015.
From Apple (opens in new tab):
Note that you must go to an Apple Retail store or authorized service provider, as wireless carriers are not participating in this program. Before you take your iPhone in for this battery replacement service, you'll want to back up your iPhone to iTunes or iCloud, as you'll need to erase the data and settings on your phone and turn it off.
Joseph Keller is the former Editor in Chief of iMore. An Apple user for almost 20 years, he spends his time learning the ins and outs of iOS and macOS, always finding ways of getting the most out of his iPhone, iPad, Apple Watch, and Mac.
Wow - hadn't heard mention of this before. Is this for the 6s only? (no issues with 6s Plus?)

Remember that only iPhones manufactured during the months of September and October 2015 are covered by this program. Don't assume your iPhone will be included outside that small window.

Hmm... I've never had this problem with my 6s.

Enough people have, such that they need this program. Be thankful they don't charge you $149 for it.

I've been having this issue for the last couple of months. Phone would shut off and die with anywhere between 10 and 40% battery life remaining. Saw this post this morning, and immediatly made an appointment at my genius bar for today. Took it in, turns out I had one of the affected phones. Replaced battery, hopefully this will cure the issue! Thanks iMore!

Are you using the regular 6s pr the plus model? And when you open camera app, do yoi notice a huge battery drain?

Mine was the 6s, not the Plus model. Apple only calls out the 6s, not 6sPlus in their release. Although, I'm unsure. I haven't noticed huge battery drain with the camera app, but overall my battery was draining very quickly (crazy fast with Snapchat and Pokemon Go). Since this new battery was installed yesterday at the Apple store, it's been a very noticeable difference.

I'm having this problem too, but I'm disappointed (and surprised) that I need to bring the phone in to identify whether the serial number matches phones covered under the replacement program. Why not save your customers a trip to the Apple store and provide this info online?

EXACTLY what I was hoping for... if it's just a serial number lookup, can't they just publish it to a web page like they've done with similar things for MacBooks?

Thanks iMore! Mine also happened to be one of the ones in that small batch.

I need to take mine in. Been doing the same!

No, just the 6 Plus. Apple modified the 6S Plus chassis to counter the problem (whilst simultaneously denying the problem existed).

Well done Apple. Hopefully this is a change in policy from Cupertino, moving away from burying their heads in the sand and listening to their customers and feedback from the Genius Bars. Posted via the iMore App

If you click on the link it takes you to Apple's page where you can enter your serial number for eligibility. Unfortunately it doesn't seem like their range of effected devices is properly expanded to cover all defective units. My wife's phone was bought in January, so it should have been made sometime around the indicated time, and it is shutting down unexpectedly anywhere from 7-22% battery left. Glad I found the serial number checker on the site before I made the hour drive to the Apple store.
Thank you for signing up to iMore. You will receive a verification email shortly.
There was a problem. Please refresh the page and try again.