Apple may launch new iPod models later today, including a gold iPod touch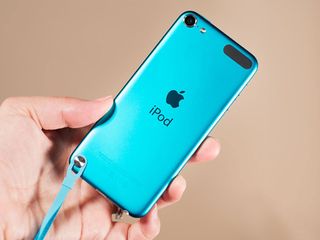 Apple is set to launch a new lineup of iPods today, according to 9to5Mac sources. This new information confirms reports we've previously covered, hinting at Apple plans to roll out new iPods as early as this week. iPod nano and iPod shuffle will reportedly be receiving new color options, while the iPod touch will see upgraded internals and be made available in gold.
9to5Mac shared what they believe will be included as part of the internal upgrades for the iPod touch. According to their sources, the camera will be bumped to 8-MP, a new 64-bit chip will be installed, as well as the "M" chip from the iPhone for fitness functionality, and iOS 8.4 will be pre-loaded.
Pricing was also touched on, with the new 128GB model to be priced at $399, $299 for 64GB and $199 for 16GB. We'll be sure to keep you all posted should Apple launch the refreshed iPod lineups.
Source: 9to5Mac
Get the best of iMore in in your inbox, every day!
I would definitely go with the iPod 128GB, if they make it in the same size as the iPhone 6.
I still use my iPod classic daily, that I've bought 8-9 years ago, but this could make me consider finally getting the iPod Touch...

Based on the prices listed in this article. It'll be the same 4" screen. A larger screen would up the price. None of the rumours posted on the new iPods have listed the screen size changing either.

256GB and smaller screen and no camera. A touch screen iPod. Please.

It's getting harder to see the need for a separate consumption device when our phones are capable of doing the same and more than them. However I can still see a use for people who like myself use another OS but still love some of the built in apps like iMovie and some other great apps only available on iOS that don't want to spend the money on an iPhone. The 16gb version would be absolutely perfect for my needs especially at only $200. Posted via the iMore App for Android

Don't forget your kids. The iPod touch is a great device for those kids ready for a consumption device but not a phone. Ipad could be expensive and large for their small hands compared to the touch also. I think it definately has a place. Posted via the iMore App for Android

And you are absolutely right on that and I didn't even think of that. I would be far more comfortable handing my two and one year old my iPod touch than my phone. Makes it all the more a sellable purchase to my wife who always says I have too many gadgets. Posted via the iMore App for Android

I used to use my iPhone in the car for both phone calls via Bluetooth and music via USB cable. It worked really, really well until two things happened: (1) With the Apple Watch paired to the phone and the phone paired to the car, strange things would happen when I took a call via the hands-free connection in the car like music playing during the phone call.
(2) With iOS 8.3 (or 8.2, I can't recall), music no longer worked reliably. Sometimes the car would say that there are no media files present, sometimes the car would not do anything, and sometimes the previous and next controls wouldn't work. So, I am in the market for an iPod that works with the car via USB and supports Sound Check via USB (which, believe it or not, is not supported in older iPods such as the Nano and the Classic). So, my only choice is the iPod Touch. Roll on 128GB!

As an FYI the Apple Online store is down now. https://www.imore.com/e?link=https2F2Fc2F4...

I wonder if the iPod shuffle and iPod nano can receive Apple Music content via iTunes? It would make those devices compelling. Sent from the iMore App

Oh well, I notice it's only available for the iPod touch. Sent from the iMore App

I was hoping they would slim down the iPod line a bit and release new ones. I still really miss the Classic and would be nice with flash storage. I hope the base storage will go up to 32BG and no more 16. Prices are high but something with more storage and focused on music and priced similar to the old Classic would be so nice. I find its easier to listen to music on a device that only does music. Helps to be less distracting and lets me enjoy the music more.

There're up there. Stores back online.

I would like to have an ipod it is exellent u all are i hope i win it pleaee
Thank you for signing up to iMore. You will receive a verification email shortly.
There was a problem. Please refresh the page and try again.