Apple News Format now allows all publishers to optimize content for iOS 9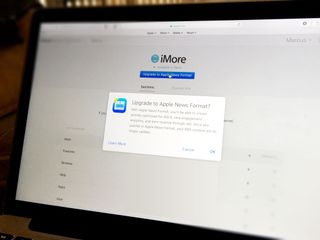 Apple has opened up its Apple News Format for all publishers, extending the tools to publish media-rich stories formatted and optimized for the iOS News app. Prior to its extension, Apple News Format was only available to select publishers, while others were restricted to more basic RSS imports.
Once a publisher opts to upgrade to the Apple News Format, they will be greeted with the following dialogue describing the benefits of switching and indicating that the move away from RSS is permanent:
Apple News launched in September 2015 as part of iOS 9. Recently, it was reported that Apple may soon add sponsored content to Apple News as well.
Get the best of iMore in in your inbox, every day!
Someone doesn't want their press-pass revoked ;-) To spin this as an 'optimization' pretty much defines the term 'lipstick-on-a-pig'. This is nothing more/nothing less than the implementation of more widely available advertising in the News app. No biggie, it is what is is. The News app is a punishment for those who haven't adopted RSS feeds. For me personally, on my iPhone, nothing can top Newsify teamed up with my Feedly account. Newsify: https://itunes.apple.com/us/app/newsify-your-news-blog-rss/id510153374?m...

There is a news app on my 6S+ ? ....

I'm not a Fan of this news app. I've been using flipboards for a year. This News app is dated and lacks many stories and decent content. Sent from the iMore App

The News app looks nice but I but prefer RSS. Better control over sorting and sharing and way more content. Adding sources in News is cumbersome and some don't show up at all. I also dislike that I have to subscribe to curated content just to use the app.
Thank you for signing up to iMore. You will receive a verification email shortly.
There was a problem. Please refresh the page and try again.