Apple releases iOS 8.1: Here's Apple Pay, Continuity, and more!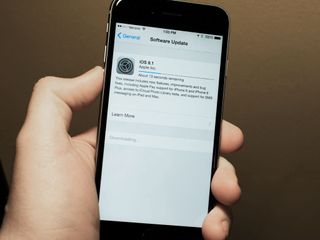 Apple has released iOS 8.1, which adds important new features, including Apple Pay. You can update your device either over the air or through iTunes.
Apple Pay will allow iPhone 6 and iPhone 6 Plus owners pay securely using their phones at participating retailers. Additionally, some merchant apps will allow you to pay for goods and services using Apple Pay.
iOS 8.1 will also see the beta of iCloud Photo Library become available for all users. iCloud Photo Library syncs your photos across all of your devices, and uses you iCloud Drive storage space. Those users that have been missing their Camera Roll will be happy to find that it has made a return with iOS 8.1.
SMS relay, which allows you to view your iPhone's standard SMS and MMS messages on your iPad or Mac, will also be available with iOS 8.1.
Have you updated to iOS 8.1 yet, and if so, what do you think? Let us know below in the comments.
Joseph Keller is the former Editor in Chief of iMore. An Apple user for almost 20 years, he spends his time learning the ins and outs of iOS and macOS, always finding ways of getting the most out of his iPhone, iPad, Apple Watch, and Mac.
Is it working? Don't want to do the same thing that I did with 8.0.1

Am downloading right now.... am about 60% - 70% done. Will check in when its completed and installed.

I'm getting error message "Unable to Check for Update!" Sent from the iMore App

60 seconds to download it but *forever* for it to prepare the update. Where forever is defined as 18 minutes. Boy that was a long time.

Ya... same here... mine is stalled out on "Preparing Update"... it is moving in skips vs. a smooth flow. I have a feeling the server is being hit pretty hard right now and this will take a while.

Wow, you weren't kidding!!!

Hi
So what you suggest?
Is 8.1 good please let me know thanks

No kidding. It took my iPod Touch many many minutes to download a 80MB(?) update from 8.0.2, and even more to prepare. OTA updates really put your iOS device on sabbatical for an hour or so.

Got it. It's preparing now.... Posted via the iMore App for Android

Preparing update, about 90% done

Crossing my fingers this fixes the Bluetooth car issue some of us have had!!!!!

It does, its on the release notes

Apple Pay not available in Canada till 2015 Sent from the iMore App

Just wanted to say john, I feel like we are brothers in arms with our avatars!

Random: But I'm really mad they're now in Carolina...

Rebooting now! finally after 10 mins of preparing

Trying to use iTunes, got message that IOS 8.0.2 is the current version

That was going to be my question/issue. Are you all doing OTA? Seems as though it's not ready using iTunes. Can anyone else confirm?

OTA for me on both my iPhone 6 and my iPad

iTunes servers are taking a major hit. It will say "unable to connect to server." Try doing OTA.

Wouldn't you think it's the other way around? Don't you think most people find it easier to do on-device rather than through iTunes? Anyway, yes, "Unable to connect to server" is the current error.

maybe its a different server. Or they have more OTA servers rather than itunes servers.

Now doing update OTA for iPhone...tried iTunes again (this time w/iPad) and now it's saying unable to contact server

your best bet is doing OTA but if you want to use itunes i suggest you do it late evening. Right now a lot of people are trying to update over itunes.

Apple TV update just posted... not sure what it fixes or does new.

It's been out since 12:59pm and has been saying 6 minutes to go for 20 minutes now. It'll go down to 3 minutes then to 10 minutes. Blah, blah, blah. Hurry up already!!!!!!! Sent from the iMore App

All is well. iOS 8.1 installed. Novelty has worn off. Now back to real life. Sent from the iMore App

OTA update for me, downloading now and preparing. Might have to finish install later. Update: installing now, Verifying Update.

Doing on my iPad Mini gen 1 first before my 5s. Only a ~65mb DL on my ipad. Doing this one via OTA/wifi. iPhone 5s reports a DL of (IIRC) ~155mb. Most excited for SMS/Continuity and Camera roll. Well, actually, I think my biggest curiosity will be if this version actually makes my iPad Mini 1 perform better. It may not, but I am still curious.

hey jlb21 how does it perform in 8.1? I upgraded to 8 but switched back to 7.1.2 before Apple stopped the code signing, as the lag was really noticeable.

I honestly don't remeber exactly how my Mini performed on iOS 7. But I really do feel like this uodste has made my ipad mini 1 very usable again. Seems more zippy.

I can't get my iPhone or my Mac to connect to the update server.

Installed and everything seems to be perfect so far.

Done deal... updated fine... no issues. I don't see the Apple Pay function however... is it a separate App in the App Store?

I see the Passbook and Apple Pay now in Settings.... Should be interesting to try it out at my local Starbucks.

If you live in Canada Apple pays not supported yet Sent from the iMore App

Took about 15 minutes OTA to download and install. Set up Apple Pay in Passbook. Used camera to capture card name and #....done

Update Pt. 2: It is now showing the Apple Logo and the bar underneath. So installing now.

Last update: Installed, rebooted and logged in. Saying 8.1.

Time to rebrick 90% of the iPhones again? Posted via the iMore App for Android

Its not a brick if it loads into the operating system.

Took about 35 minutes to do iPad Air and iPhone 6 most of it 'Preparing Update". Everything seems ok.

Everything is working fine for me.

Done no problems. About 13 minutes all together over wifi.

I have pictures that I want to delete but keep showing back up. I don't want to store all the photos that I want to delete. How do you permanently delete a photo!

They should be in the deleted album in your photos app. just hit select/edit then delete all or pick and choose.

Installed and 3 cards added to Apple Pay. I like that Chase uses the same card design as my physical card has. Now Sorcerer Mickey is in my Passbook ready to unleash the magic that is Apple Pay! Sent from the iMore App

Oh, and Touch ID and cellular connectivity work fine! Sent from the iMore App

Camera roll is not available if iCloud Photo Library is used. Sent from the iMore App

Camera Roll is there for me and I have iCloud Photo Library enabled.

I cannot see 2G, 3G or 4G/LTE on my iphone 5, im using ios 8.1 Sent from the iMore App

Perhaps a setting was flipped by doing the update (i.e., how it seems with any update, they turn on bluetooth).

Same thing here with an iPhone 6 Sent from the iMore App

IOS 8.1 installed and Apple pay ready to go on my phone!!!!! Now, where to go try it? ;-P Sent from the iMore App

FYI, my Panera isn't ready yet as their CC readers have not yet been updated.....

Anyone able to add a card using the camera? I've only tried one but it will not capture the card. I realize I can do it manually, but iSight supposed to work!

My Capital one is the only one approved so far

waoo finally all photos on iCloud, open beta.iCloud.com to see all pictures, Apple pay is ready but where i can pay... no one here accept apple pay yet ? send sms also by my Mac thats great.
Batter . faster & now need to check how is battery life, no bugs yet

Seems to fix a lot of lag issues with my 5c (crap) I'm planing on upgrading to the 6, anyways much smother interface but uploaded 1k+ photos seems to be taking forever one photo every 20 min and I have 32mgps wifi right now :/ Sent from the iMore App

My iPad Mini 1 update just failed, but I think I lost the wifi connection at Panera so it was probably that......

CC recognition using the camera worked flawless on all four cards I tried, BUT, not a single card is supported yet by Apple Pay. Despite claiming that Chase Visa is supported, it doesn't support the Chase Amazon Visa card. It also doesn't support my Ally Bank Mastercard debit card, or my Bank of America Visa travel card. Really bummed :( Sent from the iMore App

My Bank of America MC and my Citibank Visa went in without a hitch. I'm sure there will be some wrinkles with this since its the first day, but I was actually blown away by how easy it was to scan in the cards and get it all working.

Sadly, it does not appear to have fixed the numerous keyboard bugs. But I'm excited to get SMS handoff for sure!

Sadly not a single credit or debit card I have is supported by Apple Pay. Apple needs to get a major push on to get this into more banks and card issuers. For one of the largest banks based in the Southeast not to be on-board with this is not good!

Downloading to both iPhone and iPad Mini now. Living on the edge.

Perfectly smooth update. No problems so far. I rushed down to Walgreens and bought something with Apple Pay. Really cool!

No problems w/ the upgrade on my first edition Mini or my 6+ iPhone. Only one of my credit/debit cards works currently on Apple Pay. Off to Walgreens!... Sent from the iMore App

Did you see any performance improvements on your gen 1 Mini?

I have already downloaded and installed the software updates here in Italy. No problem at all it runs very smooth and i didn't encounter some problems, Finished for just 20 minutes my iPad Air and my iPhone 5, thanks to Apple. Sent from the iMore App

This is unbelievable apple didnt do any thing about bsod on ipad air again wtf is going on with apple?!

Just did a very speedy update on my iPhone 5s. Super smooth. SMS handoff is very cool. Wow factor will go away fast, but because it is so natural....

One question I have.....is it me or did the system font change?

So if Im viewing my photos via iCloud on my Mac and I delete a picture does it delete it from my phone and vice versa?

Never mind answered my own question. It does delete it both ways

What's the answer, I'm curious. Plus I"m so confused between Camera Roll , my photo stream and iCloud Photo Library. Sent from the iMore App

Tried Pay for the first time at Panera Bread in Sunnyvale.
Worked perfectly. The pasta, however, wasn't quite up to par.
(Way past al dente to the point of being floppy, way too salty,
oddball presentation in a big bowl.)

Since updating to iOS 8.1 I can't watch any video in landscape mode. Anyone got any ideas. Sent from the iMore App

WTF. Attempting to update my ipad air forced it into a plug-into-itunes-and-restore mode. I mean, I'm not worried about loosing anything, but what a pain in the ass for what should have been an uneventful .1 update. Now I hesitate to update my phone...

Did the samething to me dog... It's bull shit. I thought all the beats that I made were lost.

It works great. Sent from the iMore App

I updated and now my carrier reads "Extended" and I am not sure why. I went to Settings > General > Reset > Reset Network Settings and it still reads "Extended." Using an iPhone 6+ on Verizon

Upgraded and was really looking forward to apple pay but soon realized that not a lot of cards i.e. banks have support for apple pay as of yet. So i was a little disappointed in that regard but overall update was smooth.

Freaking update bricked my iPad Air. It installed over the air but wouldn't install. After hitting the install button a couple times my screen went black and a red iTunes symbol with a white cord graphic appeared. I then plugged it into my computer and it said my iPad has to be restored. I'm pissed the blood clot off. Luckly I backed up my iPad last month or else all my music I made and samples I had on it would be lost.

That's not a "bricked" iPad. This just means you have to restore to factory settings. Once you do you can restore from a backup. You have your iPad backed up, right? The stuff you do in Beats is synced to the Beats server, so you would just log-in to your account and everything will be there.

Ok ive never had that happen in the past so I didn't know the term for it. I got everything up and running now thanks for the reply Sent from the iMore App

When there's updates like this, I make a point of saving a NEW backup (encrypted, so I have private date in there), and THEN update. For major releases (7, 8), I actually do a factory reset to the new OS, then restore from the just-made backup. Has worked nearly perfectly each time. (iPod Touch 5gen)
Get the best of iMore in in your inbox, every day!
Thank you for signing up to iMore. You will receive a verification email shortly.
There was a problem. Please refresh the page and try again.