Apple reportedly pulls AirPort Extreme and Time Capsule from U.S. stores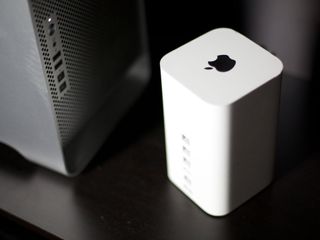 (Image credit: Rene Ritchie / iMore)
Apple may no longer be selling the AirPort Extreme and Time Capsule in U.S. retail stores, according to a new report. As first noted by MacRumors, shoppers at several Apple Stores have reported that the AirPort Extreme and Time Capsule are out of stock, and at least one support representative has confirmed that Apple pulled all stock from U.S. Stores.
Interestingly, the two products appear to still be available internationally — something the report speculates could be related to an upcoming FCC deadline of June 2 related to router software security rules. Likewise, the base stations are still available online for U.S. shoppers, as well as from third-party retailers.
Regardless, neither base station has been updated in some time. In fact, 2013's WWDC was the last time either product saw a refresh. As we are fast approaching this year's WWDC, it's easy to read into the timing of this. However, there haven't yet been any murmurings that a refresh is in the cards, so take that for what you will.
Home hub replacement coming soon?

Well that sucks cause I was actually thinking about getting the AirPort Extreme :(

Then go get one, you still can. Or wait for the replacement Sent from the iMore App

They all just had a software update this week, but I don't know what it consisted of.

https://support.apple.com/kb/DL1880?locale=en_US Just posted a couple of days ago

I think all of their base stations got an update. I saw an update notice for my Airport Express and Airport Extreme this morning.

Well that makes me wonder. I just bought one of the time capsules from Best Buy yesterday. Should I return it? Sent from the iMore App

It's up to you. I would expect that we'll know in a couple of weeks at WWDC if they are being replaced. What is Best Buy's timeframe for returns on things like that? Is it 14 or 30 days? I bought my Airport Extreme a few months ago so I'm going to stick with it.

There standard return policy is 15 days.

New software updates for both the TimeCapsule and AirPort product lines was pushed out today too. High priority. It has nothing to do with product refreshes and everything to do with security. My source says the shelf items are having their RTC Firmware updates before they're put back on shelves. Sent from the iMore App

Hmmm... I just bought one a few weeks ago at Best Buy. I hope they don't release a brand new one really soon, making me want it instead of the one I got. :-( I guess that's the chance you always take unless you buy something right when it comes out. And even then, it can be outdated the next week

There was a firmware update a couple days ago. Didn't see iMore report it (could've missed it). It aggravated me b/c of the way I found out. It cut off my WiFi... While I was watching a show on my iPad. I went to investigate on the app and saw my devices blinking orange, telling me to update. A little invasive. But now the devices are pulled completely? Kinda odd.

On June 2 the FCC is requiring that routers on the 5GHz band (which includes the Airport Extreme and Time Capsule) have to have software that prevents the routers from conflicting with Weather Radar. Any router that allows the software (called Dynamic Frequency Selection) to be disabled cannot be sold after June 2. Any router that allows firmware to be installed that might allow this is also banned.
Possibly the Airport Extremes don't have DFS or their DFS can be turned off. Linksys designed a whole new router to comply with these rules.

Yeah, I got my first-ever firmware update for my AirPort Express yesterday. I wonder if there's a connection?

As of this writing (5/28), both the Airport Extreme and Time Capsule remain available on the Online Store and showing reasonable (if ordered 5/28, Fastest delivery 6/1 or Free delivery 6/2) delivery times. ...Appears firmware update is being completed before the shipment.
Thank you for signing up to iMore. You will receive a verification email shortly.
There was a problem. Please refresh the page and try again.