Apple launching something big to coincide with 10th retail anniversary?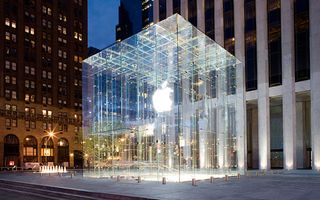 BGR's tipsters are telling them that Apple might be launching something big on May 19 to coincide with the 10th anniversary of Apple Retail Stores.
During the overnight shift, it's going to be required that employees lock cell phones in the main office. They will also have to sign an NDA with Apple.
Apple stores have apparently already received hardware to install, and are expecting more hardware to come on Friday or Saturday. All materials that Apple stores have received have been instructed to be under lock and key until after close on Saturday night.
Apple employees will be putting up black curtains at all stores so that people walking outside cannot see inside.
We've heard previously that Apple was restricting employee leave for this event. So what could this be? It's too soon for an iPhone or iPod touch, much less another iPad, and Apple just refreshed both MacBook Pros and iMacs. A new Mac Pro? Something totally new?
Let us know what you think in the comments.
[BGR]
Get the best of iMore in your inbox, every day!
New MacBook or a MacBook touch of some sort.

Hey, that's not even possible...

Anything is possible. So you're wrong try again. :)

May 19 is a Thursday so why is stuff going to be locked up until Saturday night?

MacBook and the Airs are the only things possibly due for an update, seems a little odd to go to that much trouble for a speed bump though. Surely an entirely new product line would have a press release though?!?

The MacBook particularly the air is brand new.

A bobblehead Steve Jobs doll.

Oh heck yes! That would be awesome, they should add a bobblehead Woz to go with it.

AppleTV. Now with an actual TV.

The revamped MobileMe maybe!?

dittooooo
Apple said "Summer 2011"...

Serious cloud facilities and iOS Apps on Apple TV 2 ?

You heard it here first. An apple gaming device that hooks up to a tv and your mac. You can play all your iPhone and iPod games on it. With your iPhone. And also play other games that will be released.

An Apple console for gaming would make me a very happy geek. No RRoD, no Playstation NOTwork issues, no silly kid games (sorry Nintendo fans). Knowing how Apple is THE multimedia god it makes sense they eventually make a gaming console. Plus considering Microsoft just won the console battle of April it's perfect timing to give the top dog reason to fear. LONG LIVE FREE MARKET COMPETITION!!

Oh boy... another way to play Farmville or fruit ninja! I'll pass...

Introducing apple word, come meet your favorite apps, ride rollercoasters like the iMac mountain, get dizzy in the iPad orientation station- lose yourself in the aMaze-ing AppStore. Seriously no joke. Bring all your credit cards

.......and you sir are indefinitely banned from entering Apple World

The Apple TV set we have been hearing about.

Come Sunday. Bring Money!

iOS 4.3 for Verizon iPhone

Apple is going to release a icon which is apple's condom!!isnt it awesome;p
Lol
A real 3d condom with user interface,waterproof and ultra thin in sizer and 3hrs of long lasting battery
Cmon apple!!!!:)))X

iOS gaming console with apple TV and blueray

now that would be fricken cool

All of the above, built into an apple branded 42 inch tv, WITH mini displayport hookups! That, my friend, would be friggin' cool!

Sounds all a bit hoky poky. Given how many prototype images, real or fake, precede every major Apple release, it is hard to imagine that an entire new product makes it into the Apple store completely under the radar. This is either a hardware upgrade, or new functionality included in an already existing device, Apple LCD with built in Apps, or Macbook with touch functionality for example. The alternative is an early software roll out, but given the fact that OS Lion has not reached gold release status, that doesnt appear to be likely.

Apple is going to release a icon which is apple's condom!!isnt it awesome;p Lol A real 3d condom with user interface,waterproof and ultra thin in sizer and 3hrs of long lasting battery Cmon apple!!!!:)))X

An apple gaming console similar to xbox or ps3

It would be interesting but no. Apple's gaming console is the iPhone and the iPad.

Not. A gaming console would have a controller (on screen doesn't count) & could run any game that the big boys run. I like what the 'i's' can do but it's not the same. Besides, don't you WANT to see what kind of console Apple can make? I mean this isn't going to be that but I want to see one in the future

The Beetles new album? errrr..

Maybe Apple signed AC/DC to the Itunes store OR this is the big launch of Apple cloud computing? Whatever it is, Apple wins again with the drama they manage to create around their business. Steve is the Hitchcock of business.

epic fail, anti-climatic is what it will be

A black MacBook. Or white bezel iMac

I work 30 seconds from the Mclean VA store... so maybe I can sneak in the backroom and find out

Hmmm... How about a 7" iPad 2? 30% smaller and 30% less than the full-size iPad.

Probably some merchandising, isn't May 19th also the release date for the new Pirates of the Carribean ?

Wonder how many people will wait overnight for them to open to get first dibs and whatever this unknown thing will be...

Human CentiPad!!!! Mouth to anus, you agreed!!!!

I hope it is something really cool.

Could it be the rumored iBoard and iMat? http://www.tomsguide.com/us/iPad-iMat-iBoard-Joke,news-5968.html

Maybe it's something just for the employees to celebrate the 10th year anniversary

alcohol. and party balloons.

Howsabout a revamp to the Apple store design? It doesn't have to be a new release; might be as silly as new tables for the old stuff!

iPhone 5 The fall release has now been widely accepted....And then BAM!, no one expects it. iPhone 5 to be released AHEAD of the normal cycle and four months before it's expected. The famous bar stool incident fades into the distance.

I wonder if they would give something small away, limited quantities?

New Apple TV or just a revamp of the store. It won't be a new product because they always have a press release for a new product. Unless they have one on Wensday or Thursday then there won't be a new product launch.

It probably won't happen, but Apple ought to add HDMI ports to the iMac, as well as Blu Ray players and a 30" screen. Now that would be sweet...

The Geniuses will perform a Toron Ra

The suspense is killing me! Thats it, I am calling Steve.

The iPhone 6 is coming out. Apple is just skipping on the iPhone 5 release.

Microsoft bought Skype. If you know already know this, I don't get the joke. If you didn't, I still don't get the joke.

Non-Disclosure Agreemeent

No Definite Answer
New Deal Awaiting

It's a new Apple computer with windows 98 installed.

Maybe it's not a product, but a new instore service?

They're going retro and releasing beige iPhones, iPads and iMacs along with a re-release of the beige Apple II ?!

I bet it's like a new album release or something boring like when the Beatles came to iTunes.

AppleCare for the End of Days...

Probably just the new Apple Logo....

Maybe something for free, gifts etc. "Get a free iOS device, just for one night"...Would be a huge PR benefit...

Because I was happy to discover how well-designed and fun to use the
underappreciated (and widely mocked) Zunes are.
There's nothing wrong with replacements si king as they have the
capabilities.
Nonetheless I'll be following your feed and I hope to browse your blog
again.
I have to say this has a hell of a lot of potential.
Resta fermo, nascosto dietro il masso, mi han detto.
Well done and thanks for your kind words. By the way, I love your
mantra.
I love your site. There is plenty of insight. It is great to see sites
promoting ethics.

PUMA shoes....WTH are you talking about?

A source within Apple says it is Steve Jobs action figures going on sale!

All new iOS devices come Factory jailbroken ;)

I bet they're just putting stuff on sale for a day or two.

You're probably right....sigh....nothing major.

New 3D TVs demonstrating apples 3D technology, to be used in future iOS devices

Steve jobs goodbye something or just some one-off merchandise like a t-shirt or necklase

Or probably like a sale nothing major ;(

ithe big event is to announce copy and paste coming to iphone - ooops that was done already :p

Black curtains go up even when they move a few products from one table to another. No big deal. However, there is an overnight for sat and a store meeting on Sunday to reveal some kind of "suprise". We will see what happens. I am sure it is nothing major. The stores do this ever 2 months and it never got any publicity until now. Maybe a sign that the Apple news has been boring lately? People are still looking for something better?

Helpful information. Lucky me I discovered your site unintentionally, and I'm surprised why this twist of fate didn't happened in advance! I bookmarked it.