Apple Retail Store to See 'Experts' in a Few Short Weeks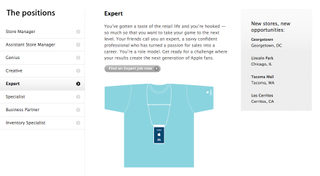 According to a source, AppleInsider says that within a few weeks the larger Apple Retail locations will have a new "Expert" position (opens in new tab). This position to fill that will serve as a roaming counterpart to existing "geniuses". According to the job description directly on Apple's site (opens in new tab) this position is not only available to current Apple employees who are seeking a promotion but with anyone outside of the company that is capable and has a good amount of retail experience
<
blockquote>"As an Expert, you're not new to retail; you've had years of experience learning about and selling great products, either at the Apple Retail Store or elsewhere. What sets you apart as an Expert is the longing to take your game up a notch, to commit to a life-changing career where the challenges—and rewards—are greater than ever before."
Interviews are rumored to begin this week, any of our reader's ready to send in their resume?
I don't get it.
It seems the difference between a Genius and an Expert is that the Expert gets to walk around the store and help people at the displays?
When do they unleash God Mode?

As far as terminology goes, I would expect a "genius" to know more than an "expert". And since the Apple stores are already staffed with "geniuses" that can't tell me which accessories are compatable with my iPhone 3GS, the addition of experts doesn't excite me.
On a related note, why is it so hard to know which accessories dock with each product? Are they deliberately trying to keep the information hidden to give the impression that more products play together than actually do? Is there a definitive guide anywhere that tells me whether an iPod dock will work with my iPhone? For even something as low-tech as a case, one "genius" told me old ones wouldn't fit. Another said it would. I asked her to prove it on her own phone before buying (she did).

Thanks for another excellent post. Where else could anybody get that type of information in such an ideal means of writing? I've a presentation next week, and I am on the look for such info.
Thank you for signing up to iMore. You will receive a verification email shortly.
There was a problem. Please refresh the page and try again.