Apple sending out emails to lucky WWDC lotto winners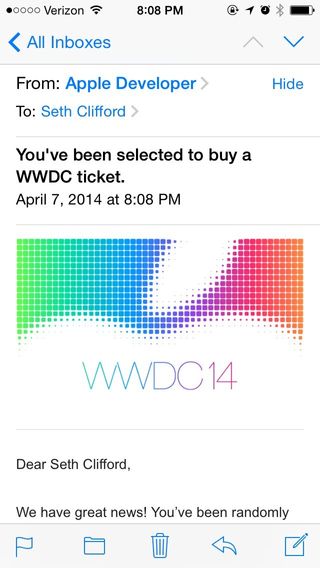 If you were among those waiting to see if you got chosen in the WWDC 2014 ticket lottery, you'll want to keep an eye on your email accounts. Apple has begun sending emails and notifying winners that they have the chance to purchase one of the $1,599 tickets to the event. WWDC 2014 kicks off Monday, June 2, 2014 at its traditional home, Moscone West in San Francisco, California.
Source: @sethclifford
I'm an RHCE and Electrical Engineer who loves gadgets of all kinds. You'll find my writings across Mobile Nations and you can hit me on Twitter if you want to say hey.
$1,599.00. Are you kidding me! Sent from the iMore App

Wish I had that kind of bread to throw around! I can't afford the flight there, let alone a ticket! Oh well, one day!!! Sent from the iMore App

They should webcast the whole thing live so devs can follow along. I know they post videos after the fact but live is more exciting, I guess. Sent from the iMore App

Damn 1,599.00?! Do you get a free iPad at the door? :P

Wasn't last years event live?

they do stream the events live, i was saving up to pay for the air fare and hotel (from the UK) but i didnt get a ticket :-(

If it says one of $1599 tickets. I think they meant the event capacity. Am I right? The $ was a typo or I'm a typo. Please clarify Sent from the iMore App

New Apple A day Keeps All previous I-phones Away!

Hey someone send me a picture saying that i won Macbook air and they told me to vist this website to pick up my gitf but i don't know if is true

Let's see if it's really true lol

They said I won and new ipone 6s. I wanna know if I did.

They said i was a lucky winner
Get the best of iMore in in your inbox, every day!
Thank you for signing up to iMore. You will receive a verification email shortly.
There was a problem. Please refresh the page and try again.