Apple highlights the perfect gifts for everyone this holiday season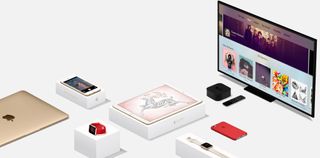 Apple has published a new website to provide some helpful pointers as to what you can purchase for friends and family this holiday season. The company highlights numerous products under gaming, photography, music, fitness, learning, and travel. While Apple's own products are included in the feature, there are a handful of third-party listings included for good measure.
So whether you're set to purchase an iPhone 6s Plus for someone special, or have an idea to load an Apple Music giftcard alongside Beats headphones for a music lover, Apple has some interesting listings available to really get the cogs turning. Take the learning category for example, which not only highlights the iPad, but also the Sphero SPRK for ultimate exploration.
There's also an added bonus when ordering through Apple. The company can even wrap everything up for you with its signature gift wrapping. No longer will you have to compete against that pesky roll of tape.
Check out Apple Gifts (opens in new tab)
As a music lover I treated myself to B&W headphones. Pricier than Beats, but as I said, Im a music lover. I do want to get my hands on an iPhone 6s Plus 64gb for my gf for xmas but it's highly unlikely since these babies cannot be found in my country. Stores here (there's no Apple store) have no more than 10 units per week (that's all iPhone models and colors included) and they're gone before they even arrive. Damn.

I already upgraded to the Air 2 and picked up an Apple Watch, so my stocking will more than likely be empty. Although I might look at the Apple TV......
But if anyone else is on the fence regarding an Apple Watch, I just saw the Black Friday ad and you get a $100 Target gift card with the purchase of any Apple Watch. Pretty sweet deal if you ask me. Sent from the iMore App
Thank you for signing up to iMore. You will receive a verification email shortly.
There was a problem. Please refresh the page and try again.