Apple iPhone, iPad Software Update servers down - Start your iOS 4.2 rumors?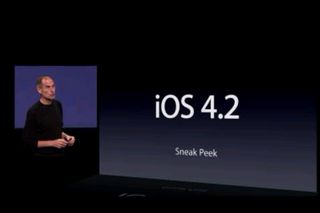 Looks like the Apple software update servers are acting very oddly this morning. They are sporadically going down, then back up. Could this mean iOS 4.2 is imminent? As we near the end of November, it isn't unreasonable to think that Apple is getting close to releasing iOS 4.2. As of now, I've had the update servers tell me twice the update servers couldn't be contacted. Once it told me my software is up to date. We'll keep checking!
And a friendly reminder to jailbreakers, make sure you save your SHSH blobs and don't get too update button happy. If you'd like to keep your jailbreak, make sure you don't upgrade to iOS 4.2 until a jailbreak released.
(http://www.macrumors.com/2010/11/18/ios-software-update-down-ios-4-2-imminent/)]
iMore senior editor from 2011 to 2015.
Please please please please... :) My iPad is tired of being caged...

I second that my iPad needs to be let loose.

I just want my alarm to go off at the right time.

Cross your fingers for custom SMS tones. I've had about all I can take of tri-tone and the new tones are abhorrent.

I had that happen last night around 12:00 AM EST. Did it three or four times before it finally sadly said No Updates...

more excited for the updated Cydia, really

I've had iOS 4.2 GM1 for iPad for a couple of weeks now. I'm interested so see if my iPad will update from the Apple server when the general release version of 4.2 is available.

oh please! I am so tired of all this speculation. Why won't Apple just give us a specific date? This is driving me nuts!

It was more likely related to the just-released Safari updates. iDevices are updated thru iTunes not thru Software Update.

@Matt That's for sure! The clock on the iPad is the biggest kink!

@Matt just reset your alarms. PROBLEMS SOLVED. Honestly people need to research they're problems before they complain.

Can It be going down from all the people with iPhone/iPods and iPads that keep checking for updates, it could just be overwhelmed.

Personally i am only waiting for AirPlay Video Update to my AppleTv. I am already running 4.2 GM on my phone and iPad ;-)

@Chris
Done, didn't solve it.

For the the love of god. Please give me what I desire

"Can It be going down from all the people with iPhone/iPods and iPads that keep checking for updates, it could just be overwhelmed."
NO IT CAN'T! Software Update has nothing to do woth iOS. I wish the author of this piece would have the guts to admit her idle speculation was based on lock of knowledge.

Sorry Ally, guess I bit too. I'll forgive you ;-)

@ryszar you are an idiot. The server is over loaded cuz people like you keep hitting "Check for updates".

@ryszar Man, people are really offended when you make a suggestion, If so they whats the point of having a blog like this . . . . FOR ALL THE KNOW-IT-ALLS?
Then again maybe it's just iOS 4.2 IMMINENT RELEASE Making people crazy.

Had this issue with iTunes open on two computers last night. Thought it might have been my Internet.

so the server always seemd to time out. the one time it went through and actually completed the download, my iphone is now frozen and i can't restore it. is apple getting tech advice from microsoft?

Apple Me Service is terrible...unreliable at best. Please repair.

Good stuff is always a good stuff. ThanksiPhone Software
Get the best of iMore in in your inbox, every day!
Thank you for signing up to iMore. You will receive a verification email shortly.
There was a problem. Please refresh the page and try again.