Apple starts dressing Moscone West, shows exactly what we were expecting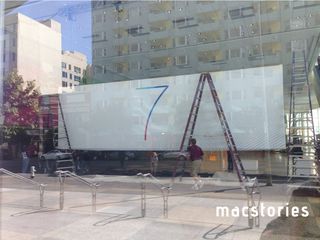 iOS 7, right? Apple has started dressing the Moscone West with this years banners, and the latest one shows us exactly what we expect to see. After all, 7 comes right after 6. If indeed this is the logo for the new version of iOS -- noticed by Macstories -- it's definitely a more simple, elegant affair than years previously.
The show kicks off on Monday morning, so over the weekend Moscone is going to get a lot more banners. There's a couple more for you to take a look at below, and we'll keep adding to this post as any new and interesting ones appear. What do you guys think about this years design?
Source: Macstories
Editor at iMore, part time racing driver, full time British guy. Follow him on Twitter and Google+
I've seen it alleged that the font for that is "Helvetica Neue Ultra Light" so you can make your own sexy "7"s... :)

You, sir, are correct. You can have my internets for the day.

Yes, but in that case no matter the typeface, you could make your own sexy. The key for Apple is the fact that they had the balls to create a billboard using only this 7. That's good, and brave design. I'm putting that choice down to Jony. And both those facts make the idea of the design of is 7 very exciting indeed.

who'd have thought a single number, could look so damn good.

It's a work of art. http://9to5mac.com/#jp-carousel-274246

While I'm relatively sure it's related to iOS 7 (and we'll all know Monday), it could signify other things, such as 7 announcements, 7 "tent pole" features of iOS...just speculating.

No. It's signifying iOS 7. Just like the signs there the last few years.

I confess I'm incredibly curious about what we're going to see. I love my iPhone, but iOS has been getting a little boring. A UI overhaul, even if it's only in the front end, would be awesome. I guess we'll find out!

So excited but hopefully won't be let down. Too bad my son has an appointment at 11 on Monday morning which means I won't be able to just sit and take part in the live blog.

Forget the live blog. Watch the keynote in HD the next day on Apple.com either AirPlayed to your Apple TV or directly on your Apple TV - if that temporary app appears.

that box with rounded corners says smart watch to me!

You mean the same box with rounded corners that has been the standard app icon shape forever? ;-)

I, for one, am really looking forward to the re-release of Macintosh System 7. It's retro!

I am happy we will be getting a refresh soon.

It could be 7th generation iphone with ios 7. Now the numbering is aligned back.

No iPhone coming at WWDC.

I think this is highly suggestive of what iOS 7 might look like, all the graphics on the displays are in the shape of app icons. Why would they do that? Also why are the icons so simple and 2 dimensional? Suggestive of the flat simple user interface rumored before? I think so.

Just 7 more years, and Siri will totally be out of Beta.

Though the announcement of a new iOS version may be exciting, there's still the mystery of which devices will be supported with the release of iOS 7...

And you may not find that out until Sep.
Get the best of iMore in in your inbox, every day!
Thank you for signing up to iMore. You will receive a verification email shortly.
There was a problem. Please refresh the page and try again.