Apple Watch FAQ: All your questions answered!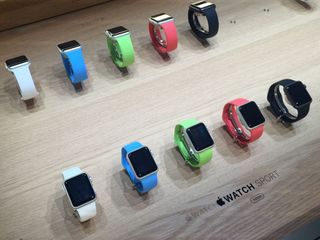 Whether it's what the Apple Watch can do, how you'll be able to wear it, where you'll be able to buy it, how it works when you're not around your phone, or anything else you can imagine, iMore is here to answer anything you might want to know.
Whether you're considering getting a Watch, curious about Apple's newest gadget, or just want to try one on in stores, here's everything you need to know about the Apple Watch.
The basics
What is this Apple Watch everyone is talking about?
The Apple Watch is essentially a small computer you can wear on your wrist that provides time keeping, communications, health and fitness, remote control, and mobile payments functionality.
So Apple Watch is basically an iPhone for your wrist?
Ha! No. Apple Watch runs a variation of iOS called Watch OS which is both more compact and specially adapted for the watch.
Yes, Watch OS. Internally it's BackBoard and FrontBoard, just like iOS, but with a Carousel instead of Springboard for managing and launching apps. It also has unique features like watch face switching, a Friends system with new ways to communicate like sketch and tap, and more.
Do I need an iPhone to use an Apple Watch?
Yes, to use an Apple Watch, you'll need an iPhone 5 or later running iOS 8.2 or later. If you have an older iPhone, you won't be able to pair the Watch and take advantage of the majority of its features.
Does that mean I can't use an iPad or iPod touch with an Apple Watch?
Sadly, no. You can't pair an Apple Watch with an iPad or iPod touch. At least not yet.
Buying an Apple Watch
When can I buy an Apple Watch?
If you live in Australia, Canada, China, France, Germany, Hong Kong, Japan, U.K., or the U.S. — right now! You can order via Apple Online.
If you're not sure which one you want to order, you can try one on at Apple Retail, Galeries Lafayette in Paris, Isetan in Tokyo and Selfridges in London, Colette in Paris, Dover Street Market in London and Tokyo, Maxfield in Los Angeles and The Corner in Berlin.
Apple Watch Edition will only be available for try on at select retailers, likely major Apple Retail flagship stores and the special stores-within-stores listed above.
How much does the Apple Watch cost?
Pricing for each collection depends on what style and band you're picking up. The Sport starts at $349; the Watch starts at $549 and goes up to $1099; and the Edition starts at $10,000 and goes up to $17,000. Here's the breakdown:
38mm Apple Watch Sport: $349
42mm Apple Watch Sport: $399
38mm Apple Watch with sport band: $549
42mm Apple Watch with sport band: $599
38mm Apple Watch with classic buckle: $649
38mm Apple Watch with Milanese loop: $649
42mm Apple Watch with classic buckle: $699
42mm Apple Watch with Milanese loop: $699
42mm Apple Watch with leather loop: $699
38mm Apple Watch with modern buckle: $749
38mm Apple Watch with link bracelet: $949
42mm Apple Watch with link bracelet: $999
38mm Apple Watch with black link bracelet: $1049
42mm Apple Watch with black link bracelet: $1099
38mm Apple Watch Edition with sport band: $10,000
42mm Apple Watch Edition with sport band: $12,000
42mm Apple Watch Edition with classic buckle: $15,000
38mm Apple Watch Edition with modern buckle: $17,000
What comes with an Apple Watch when you buy it?
When you purchase an Apple Watch, you'll get the Watch case (body) itself, its corresponding band (or, in the case of the Sport models, two bands — small and large), a magnetic charging cable, USB power adapter, and a quick start booklet. If you purchase an Edition, you'll also get a case that doubles as a magnetic charging dock.
Apple Watch hardware
What kinds of Apple Watches can I buy?
The Apple Watch comes in three different collections based on the material of the case:
Apple Watch Sport (7000 Series aluminum or anodized aluminum with ion-x glass)
Apple Watch (316L stainless steel or diamond-like carbon coated stainless steel with sapphire crystal)
Apple Watch Edition (18 karat yellow or rose gold with sapphire crystal)
Each collection also includes a specific set of bands paired with each of the case sizes and materials.
Are there any differences between the Watch models aside from what they're made out of?
Nope! The only difference is the material used to make the case and to protect the display and sensors.
How big is the Apple Watch?
Unlike traditional watches, which measure case size horizontally, Apple is measuring the Apple Watch vertically. Officially, the come in 38mm and 42mm sizes. Full sizing breaks down as follows:
38.6mm high, 33.3mm wide, 10.5mm deep
42mm high, 35.9mm wide, 10.mm deep
Weight varies by size and material:
38mm Apple Watch Sport (aluminum): 25g
38mm Apple Watch (stainless steel): 40g
38mm Apple Watch Edition (rose gold): 54g
38mm Apple Watch Edition (yellow gold): 55g
42mm Apple Watch Sport (aluminum): 30g
42mm Apple Watch (stainless steel): 50g
42mm Apple Watch Edition (rose gold): 67g
42mm Apple Watch Edition (yellow gold): 69g
How can I tell which size is right for me?
As a lady with fairly petite wrists, I actually found both the 38mm and 42mm acceptably-sized, though I slightly prefer the 38mm. Rene, who has bigger wrists, felt the same way but slightly preferred the 42mm option. People with particularly small or large wrists may have to get one size or another purely for fit, but many people in the middle will be able to choose based solely on which look they prefer.
Is the Apple Watch hypoallergenic? Can I wear it if I have a nickel allergy?
Apple Watch has been made to the highest standards, so if you're okay with other watches made of similar materials, you should be okay with the Apple Watch. Apple has released the following information on skin sensitivity and allergies:
There are a variety of band options, from rubber to leather to metal, and the back of the Apple Watch is primarily ion-x glass or sapphire crystal, but when it comes to allergies it's always best to be cautious and check with your healthcare professional
Can I shower or go swimming with the Apple Watch?
Apple's CEO, Tim Cook, said he routinely showers in his Apple Watch (though he also said he doesn't dive with it.)
The Watch is officially water-resistant per the IPX7 under IEC standard 60529: This means you can get it wet and exercise with it and you should be fine, but submersion under three feet for more than thirty minutes isn't recommended. So, I'd strongly caution against swimming.
It's also worth noting that Apple's leather bands are not water resistant, so if you want to exercise with your Watch, you may want to use a Sport Band.
What kinds of sensors does the Watch have?
Every Apple Watch, regardless of collection, comes equipped with a variety of sensors, including:
a heart rate sensor (for measuring your heart rate during activities)
accelerometer & gyroscope (for measuring steps, standing and sitting, and stairs climbed)
ambient light sensor (for saving the battery and keeping your screen dim when appropriate)
What kind of screen does the Watch have?
All models have a Retina display. The Sport's screen is covered in Ion-X glass; the Watch and Edition models have a sapphire crystal display. Though Apple has not confirmed it, all Apple Watch displays are widely believed to be OLED (organic light-emitting diode) which are more energy efficient and offer deeper blacks than LCD panels.
38mm: 340x272 pixels
42mm: 390x312 pixels
What processor is in the Watch?
The Apple Watch has a computer-on-a-chip called the Apple S1. Nothing much is known about it yet, but rumor has it it performs somewhere in between an Apple A4 and Apple A5 (iPhone 4 and iPhone 4s).
It has them! The Apple Watch includes:
Bluetooth 4.0 Low Energy (LE) for discovering and pairing
Wi-Fi 802.11b/g/n 2.4GHz for fast data transfer and race-to-sleep
NFC for Apple Pay
Wi-Fi? Does that mean I can surf the web?
Alas, no. Wi-Fi can only be used by the system to move data between your Apple Watch and iPhone. It can't be used for browsing the web, or by developers to access the internet directly. Wi-Fi burns power and Apple isn't letting anything burn power that's outside its control, at least for now.
NFC? Does that mean I can tap all the things?
Alas, also no. NFC is currently only enabled for Apple Pay. Developers don't have access to it either. At least not yet.
How much storage does the Apple Watch have? How many GBs!
8 of the GBs! Although different amounts are partitioned for different things. For example, you'll be able to store up to 2 GB of offline music playlists, and up to 75 MB of offline photos. These can be accessed at any time, with or without an iPhone.
The remainder of the Apple Watch's 8 GB of storage, not including the WatchOS itself, will be available for apps.
How long will the battery last?
Apple's current tests suggest an average battery life of 18 hours for the 38mm, with the 42mm model offering slightly better (though unmentioned) averages.
Apple's Battery Information page (opens in new tab) provides more detailed breakdowns of how that battery life translates when using the Watch for specific applications, like running, audio playback, talk time, and more.
18 hours
3 hours talk time
6.5 hours audio playback
6.5 hours workout use
48 hours time check
72 hours power reserve (time only)
In general, though, the company generally recommends charging it once a night.
How long will it take to charge the Apple Watch?
The Watch charges up pretty fast, however, if you've accidentally forgotten to do so.
1.5 hours to 80%
2.5 hours to 100%
How do I charge the Watch?
The Apple Watch charges through induction. That means it doesn't need to have an exposed port just for charging.
When you purchase a Watch, it comes with a magnetic charging cable; plug one end into the wall or a USB socket, and the other end magnetically snaps onto the back of the Watch.
Can you upgrade the hardware inside the Watch?
Apple hasn't said one way or the other, but unfortunately, we're guessing not so much.
Apple Watch bands
Which bands come with which watch collections?
Each collection has a specific set of bands designed for it, which means you may only be able to pick certain bands when purchasing your watch to start.
The Apple Watch Sport collection includes:
38mm white sport band
38mm blue sport band
38mm green sport band
38mm pink sport band
38mm black sport band
42mm white sport band
42mm blue sport band
42mm green sport band
42mm pink sport band
42mm black sport band
The Apple Watch collection includes:
38mm white sport band
38mm black sport band
38mm classic buckle
38mm modern buckle
38mm Milanese loop
38mm steel link bracelet
42mm white sport band
42mm black sport band
42mm classic buckle
42mm leather loop
42mm Milanese loop
42mm steel link bracelet
The Apple Watch Edition collection includes:
38mm white sport band
38mm black sport band
38mm modern buckle
42mm white sport band
42mm black sport band
42mm classic buckle
Are Apple Watch bands interchangeable?
Yes! All bands are interchangeable within the same size range. In other words, all 38mm bands will fit all 38mm cases, and all 42mm bands will fit all 42mm cases, but 32mm bands will not fit 42mm cases or vice-versa.
Will I be able to buy Apple Watch bands separately?
Mostly. You'll be able to buy all Apple Watch bands included in the Sport and Watch collections separately, but Apple Watch Edition bands don't currently seem like they'll be available separately.
How much will the individual Apple Watch bands cost?
Pricing will vary depending on the material used in the band and closure. Here are the current prices listed on Apple's online store.
Sport bands: $49
Classic buckle: $149
Milanese loop: $149
Leather loop: $149
Modern buckle: $249
Link bracelet: $449
Is it true I get two Apple Watch Sport bands in the box, so tradesies?
No. You get three pieces in the box. You get one piece with the pin and two pieces with the holes. That lets you pick the right size for your wrist.
As to trading, if you want to trade the half-band you're not using for the half-band someone else isn't using, and go full on two-tone, have at it!
Small to medium, which fits 130mm-180mm
Medium to large, which fits 150mm-200mm
For loops and link bracelets, one size fits all, and for modern and classic buckles, you need to buy small, medium, or large separately.
What size do Apple Watch bands come in?
Apple Watch bands range in length from 125mm to 215mm.
38mm sport band: 130-180mm, 150-200mm
38mm modern Buckle: 135-150mm, 145-165mm, 160-180mm
38mm classic buckle: 125-200mm
38mm Milanese loop: 130-180mm
38mm link bracelet: 135-195mm
42mm sport band: 140-185mm, 160-210mm
42mm leather loop: 150-185mm, 180-210mm
42mm classic buckle: 145-215mm
42mm Milanese loop: 150-200mm
42mm link bracelet: 140-205mm
Apple Watch Sport band weights:
38mm black sport band: 37g
38mm pink sport band: 42g
38mm green sport band: 43g
38mm blue sport band: 44g
38mm white sport band: 47g
42mm black sport band: 37g
42mm pink sport band: 42g
42mm green sport band: 43g
42mm blue sport band: 44g
42mm white sport band: 47g
Apple Watch band weights:
38mm classic buckle: 16g
38mm modern buckle: 23g/23g/24g
38mm Milanese loop: 33g
38mm black sport band: 37g
38mm white sport band: 47g
38mm steel link bracelet: 65g
42mm classic buckle: 19g
42mm leather loop: 30g/33g
42mm black sport band: 40g
42mm white sport band: 51g
42mm Milanese loop: 41g
42mm steel link bracelet: 75g
Apple Watch Edition band weights:
38mm black sport band: 38g
38mm modern buckle: 40g/40g/41g
38mm white sport band: 48g
42mm classic buckle: [20g]
42mm black sport band: 42g
42mm white sport band: 53g
That's complicated! Is there an easier way to compare?
There is! We've got complete buyers guides for all the Apple Watch collections and their various band style and color options:
Also, Rob Griffiths, The Many Tricks co-founder, put together a great spreadsheet of Watch and band sizes as well as weights.
The Apple Watch and the iPhone
Do I need any special software to sync Apple Watch?
Nope! The Apple Watch app is installed by default on an iPhone 5 or later running iOS 8.2 or later.
How do you pair a Watch with your iPhone?
Open up the Apple Watch app on your iPhone, select the My Watch tab, and tap Start Pairing. You iPhone camera will come on. Then just line up with your Apple Watch screen and you're on your way.
How far away can I be from my iPhone before it disconnects?
Traditional Bluetooth range is around 30-50 feet, but your Apple Watch has an advantage if your phone is connected to Wi-Fi. When you connect to a Wi-Fi network, your Watch will remain in contact with your phone anywhere in the building where you're covered by that network. For example, you can be upstairs in your bedroom and take a call while your phone is downstairs on the couch.
Can you pair multiple Apple Watches with the same iPhone?
Right now you can only pair one iPhone with one Apple Watch. If you want to pair with a second Apple Watch, you need to unpair the first watch — at which point a backup will be made to preserve its state — and then pair again with the second watch.
Can you use an Apple Watch with multiple iPhones?
Same as above. If you want to pair an Apple Watch with a different iPhone, you have to unpair the first, then pair again with the second.
Please tell me you'll be able to adjust settings on the iPhone instead of having to tap around on the Apple Watch forever?
Never fear: That's what the built-in Apple Watch app is for. Once paired, you'll be able to adjust your notifications, taptic feedback, and all sorts of other settings goodies.
What if my iPhone isn't around? Will my Apple Watch be useless?
Nope. Even though the Watch doesn't have access to a data connection, you'll still be able to do a fair amount with the device. Timekeeping, for one, will continue to work as advertised, and you'll be able to set alarms and timers, see your calendar details, and more.
You'll also still be able to groove along to any music playlists you've stored on your device (up to 2GB) and continue tracking your fitness — your heartbeat, step counts, stairs climbed, and stand-sit ratio is all stored locally while you're away from your iPhone, and will be uploaded to the Health app as soon as you're within pairing distance again. You won't be able to track distance or specific routes, however, as the Watch has no GPS receiver.
Even Apple Pay works while you're away from your iPhone: The Watch stores your Apple Pay cards as unique tokens on the device; when you activate Apple Pay near an NFC reader, the Watch uses the terminal to transmit and confirm your payment. The same goes with Passbook: Any gift cards, boarding passes, or loyalty cards you've added on your iPhone are automatically synced with the Watch. You don't have to worry about having your iPhone on you if you pick up Starbucks after a run, for example.
Now, there are still some apps that won't be functional when your iPhone is away, including messaging, Mail, Phone, Maps, Camera Remote, Weather, and Stocks. These all rely on either active data connections or GPS signals, neither of which an Apple Watch can do without an iPhone. Siri, too, will likely be MIA, as it requires a data connection to process commands. You'll also only be able to access music and photos stored on your device; your other photos are safe and sound, but inaccessible until you once again connect to your phone.
Third-party apps remain a bit of a mystery at this point: There are some apps that may be able to function offline, but as Watch apps are currently Handoff connections with your iPhone, it remains to be seen as to just what those apps can do.
Will the Apple Watch drain my iPhone's battery?
The Apple Watch uses Bluetooth 4.0 LE (Low Energy) to keep any battery drainage to a minimum. However, any time a radio is on and broadcasting, it does use power.
How will I update the software on my Apple Watch?
Apple hasn't addressed how Watch OS software updates will be handled on the Apple Watch, but it's not hard to imagine they'll be staged through the iPhone's Apple Watch app and then pushed across over the paired connection.
Interacting with the Watch
How do you control an Apple Watch?
The Apple Watch has two physical buttons — the Digital Crown and the side button — along with a variety of gestures on the device itself.
Using the Digital Crown, you can scroll through lists or zoom in and out on the home screen, maps, photos, and more. Pressing the Crown once will send you to the home screen; pressing and holding activates Siri; a double-press switches between your watch face and the last app you used; and a triple-press activates accessibility features (if you have them turned on).
The side button is primarily designed as a quick shortcut to pull up your favorite contacts: Press once to bring up your Friends area to quickly communicate with your buddies. A press and hold turns the Watch off, much like the iPhone's On/Off switch; and a double-press activates Apple Pay.
You'll also be able to tap, swipe, and Force Touch the Watch's screen. Tapping and swiping works just like it does on an iPhone; Force Touch is a special deeper press — feeling much like a click on a trackpad — that activates contextual menus within the Watch's various applications.
Can I use Siri on the Apple Watch?
Yes! Just hold down the digital crown the way you would the Home button on your iPhone, and Siri will pop right up. Better yet, simply raise your wrist and say: "Hey, Siri!"
Does the Apple Watch include Accessibility features?
Absolutely! Although Apple hasn't listed specific features yet, we've seen early indications of VoiceOver, Zoom, Grayscale, Bold, Reduce Motion, Mono Audio, and more.
The Apple Watch as a watch
So how well does the Watch work as, well, a watch?
Pretty well, actually! Apple maintains that the watch is accurate to +/- 50 milliseconds of the global time standard; when connected to the iPhone, the Watch constantly checks against the standard to make sure it's keeping time accurately.
How many different watch faces are there?
There are nine different faces available at launch, including Chronograph, Color, Modular, Utility, Mickey Mouse, Simple, Motion, Solar, and Astronomy. Each has their own distinctive take on the watch face, and all can be customized with digital complications.
Wait, customizations and complications?
Yes! Some Watch faces include customizations that you can perform, for example, changing the color.
In addition, you have the option of adding any of Apple's pre-built "complications" to your watch face, which include alarm alerts, the current moon phase, a timer, any upcoming calendar events, stocks, weather, your current activity, stopwatch, a world clock, and the day's sunrise/sunset.
Some Watch faces have room for more complications than others.
Can I still use the watch if my battery's low?
Absolutely. If you want to save your remaining drips of battery power solely for watch usage, you can enter Power Reserve mode. When your battery hits a certain percentage, the Watch will do this automatically; otherwise, you'll be able to enable it manually.
The Apple Watch and fitness
How do the fitness monitors work?
The Apple Watch monitors your heartbeat, steps, movement, and distance using the Heart Rate sensor on its rear casing, the built-in Accelerometer, and Wi-Fi and GPS from your iPhone.
How does Apple Watch know when I need to stand or sit?
The sit/stand formula for the Apple Watch is calculated around standing at least once an hour while you're active and awake. If you've stood or moved around for at least one minute in twelve different hours of the day, you'll complete the Stand ring on the Watch's Activity tracker.
Will Apple Watch be good for non-running activities?
The Heart Rate monitor will help you track your non-step-based activities — including things like swimming, biking, weight lifting, and even (I hope) roller derby — and suggest caloric burn goals for the future.
The Apple Watch can also work with cardio equipment like rowing machines.
Can the Watch track my fitness even when I leave my iPhone behind?
It can! All the Watch's fitness data is stored locally until you meet back up with your iPhone. The only thing the Watch won't be able to track is distance, as that requires your phone's GPS chip.
Can third-party apps use the Watch's fitness data?
Only if you give them permission.
The Apple Watch and communication
What are these crazy new ways you can communicate with the Apple Watch?
Though you'll be able to send good old-fashioned text and audio messages to your iPhone contacts through the Apple Watch, you'll also be able to send quick sketches, custom taps, customizable emoji, or even your heartbeat to your other Apple Watch-wearing friends.
Can just anyone send me their heartbeat? That's creepy.
Just like on iMessage, they'll need to have you as a contact to do so.
Can I send sketches or taps to people without an Apple Watch?
Not as far as Apple has announced.
Will the messages I send be stored anywhere?
Traditional text and audio messages, yes. They'll be stored the same way messages are stored on your iPhone. Taps, heartbeats, emoji, and sketches look to be Snapchat-style — send and forget.
Can I make phone calls on the Apple Watch, like in sci-fi?
Also yes! There's a phone app on your Apple Watch just like your iPhone. It works similarly to Continuity's call relay feature on the iPad — transiting the call from your Watch, through your iPhone, and onto your carrier's network.
For comfort and battery life reasons, however, you'll want to keep Apple Watch calls brief and handoff anything longer to your iPhone.
The Apple Watch and remote control
Wait, I can use the Apple Watch as a remote control?
Indeed! The Apple Watch comes with built-in apps to control music on your iPhone, to take pictures remotely on your iPhone, and even control your Apple TV and iTunes on your desktop
How does remote picture taking work?
With the Apple Watch, you can remotely access the viewfinder on your iPhone's iSight camera. That means you can put your iPhone somewhere, see what it sees, and take the perfect picture — even from afar. That could be for a selfie, group photo, or just to get what would otherwise be an impossible shot. You can even set a time lapse, right from your wrist.
Just like the Remote app for iPhone and iPad that's already in the App Store!
What about HomeKit and home automation?
That too! With Siri, Apple's personal digital assistant, and HomeKit, the company's accessory interface framework, you'll be able to do everything from opening and closing doors to setting lights to changing the temperature and more. And all with a word.
There's already a BMW car remote, Pacemaker DJ, and an AMPLIFi remote for speakers and and guitar amps on Apple's App Store for Watch page (opens in new tab), and Apple demonstrated a garage door opener and closer with remote monitoring on stage.
Apple Watch and Apple Pay
How do I use Apple Pay with the Watch? It doesn't have Touch ID!
Though the Watch itself doesn't have Touch ID, it borrows your iPhone's Touch ID authentication or password-protection to initially unlock itself for Apple Pay.
When you first strap the Watch to your wrist, you enter in your passcode or unlock your phone with Touch ID. The Watch is then unlocked and authorized for Apple Pay and stays that way until you break skin contact (i.e. remove the Watch). The same sensors that can read heart rate can tell if the Watch is removed.
Once removed, you'll have to re-enter a passcode or authenticate on your phone to reconnect your access to Apple Pay.
As long as you've authorized the Watch, all you have to do is double-press its side button to bring up the Apple Pay interface, then bring it close enough to an NFC reader to pay for your item.
Unlike an iPhone, you need to press a button so that you don't accidentally pay for things by bringing your wrist too close to NFC terminals; the iPhone has the Touch ID sensor to confirm, but the Watch is automatically set up to confirm as long as you have the Apple Pay interface open.
Do I have to have an iPhone 6 or 6 Plus to use Apple Pay?
Nope. You'll be able to use Apple Pay on the Watch when it's paired with an iPhone 5, 5c, 5s, 6, or 6 Plus.
What else can I do besides Apple Pay?
Apple Pay is the only digital wallet option, but third-party apps are already working on making other digital key options. The Alarm.com app will not only let you monitor a live feed of your home from your Apple Watch but also do things like open or close your garage door, even when you're far from home. There are already iPhone apps that let you not only lock or unlock your front door, but allow access from afar on an as-needed basis.
The Starwood Hotel & Resorts app — think W and Aloft — not only lets you check in and find your room, right from the Apple Watch, but it lets you open the door as well. No, it's not using some private NFC access, it's just using some very, very clever technology to make sure when your watch gets close to your door, it unlocks for you and you alone. Starwood may be the first, but it probably won't be the last. Hospitality could be big for Apple Watch.
In a recent interview, Apple CEO, Tim Cook, said Apple Watch could replace car keys and the "clumsy, large fobs" that are used in many current vehicles.
How will the Apple Watch protect my privacy and security?
Like the iPhone and iPad, the Apple Watch uses a variant of iOS, with all the security protections that iOS offers. When it comes to authentication, as noted above, breaking skin contact disables the Watch; you'll have to enter a passcode to reenable it.
The Watch's tethered connection with your iPhone also means that, if lost, it won't retain a data connection, nor access to any of your personal accounts — your social networks, mail, et cetera.
The Apple Watch and apps
What apps come pre-installed on the Apple Watch?
The Apple Watch comes with the following built-in apps: Messages, Phone, Mail, Calendar, Activity, Workout, Maps, Passbook, Siri, Music, Camera Remote, (Apple TV/iTunes) Remote, Weather, Stocks, Photos, Alarm, Stopwatch, Timer, World Clock and Settings.
Are third-party apps be available? Is there be an Apple Watch App Store?
Yes and yes! 3,500 Apple Watch apps launched on April 24 and more are being added all the time.
The current version of the WatchKit supports looks (interactive notifications), glances (widgets), and WatchKit apps (remote views) but Apple has said full-blown, native Apple Watch apps will be coming later this year. (Our guess is WWDC 2015.
How do I find Apple Watch apps?
iOS 8.2 for iPhone includes an Apple Watch app. The Apple Watch app includes an Apple Watch App Store. You can use it just like you use the regular App Store to check out featured apps and to browse the complete catalog.
How can I download apps to my Apple Watch?
Also with the Apple Watch app! Once you find an app you like in the Apple Watch App Store, you can download and install it. The app itself will go on your iPhone and the Watch-specific functionality will be sent to your Apple Watch — that includes Glances and WatchKit apps.
How can I remove apps from my Watch?
You can delete them from your Apple Watch by holding down on the icon and then tapping the X, just like your iPhone, or through the Apple Watch app for iPhone.
Apple Watch and accessories
What kinds of accessories will I be able to buy?
After launch, you'll be able to buy Apple band accessories (opens in new tab) along with spare 1m and 2m charging cables for $29 and $39, respectively.
There are also plenty of third parties currently building decorative charging stands for the Watch, some of which may be available in April or May.
Will Apple release a set of wireless headphones for the Watch?
There's been no indication as of yet, though Apple's Beats brand currently offers a set of $200 wireless in-ear headphones (opens in new tab).
Will I be able to buy third-party bands?
Too early to say, though I think it's telling that Apple has already dedicated a section of its online store to Bands (opens in new tab), just as it does for cases and other popular third-party accessories.
Other questions?
Any other questions about the Apple Watch? Sound off in the comments, and we'll try our best to answer them for you.
Originally published March 18, 2015. Rene Ritchie, Ally Kazmucha, and Peter Cohen contributed to this gigantic 5800-words-and-counting document.
Get the best of iMore in in your inbox, every day!
Serenity was formerly the Managing Editor at iMore, and now works for Apple. She's been talking, writing about, and tinkering with Apple products since she was old enough to double-click. In her spare time, she sketches, sings, and in her secret superhero life, plays roller derby. Follow her on Twitter @settern.
Cool. Lots and lots of information. :-) I would only add a caution against buying the 42mm watch. MOST users overall (male or female) are going to have wrists that have the best fit with the 38mm watch even though most users report being interested in the 42mm one. A Watch is not supposed to take up the entire top of your wrist, but instead leave a small space on the top and bottom for the hinges and strap attachments. This is especially crucial if you are thinking of getting the link bracelet which needs even more room. Look at the picture underneath "Interacting with the Watch." If the straps go "straight down" from the edge of the watch like that, the watch is simply much too large for your wrist. Aside from looking like ass, it won't sit on your wrist as securely as a properly fitted watch will. All five of the "Apple Watch on a wrist" images in this article show a watch that is sized too large for the wrist. All of them.

It's worth noting that every image in this article you're referring to is using the 42mm Watch, too, on both Rene and my wrists. Yeah, I think it's slightly too large from a style/comfort point. But some people crave the bigger screen. (I, however, am not one of them. 38mm for me, please!)

When talking about bands, you should note that the only thing that separates the $10,000 edition from the $15,000 one (and $12,000 42mm edition from the $17,000 one) is a simple leather band with a gold buckle. $5,000 for a leather band (solid gold watch bracelets can be had for less). That's arguably the most artificially inflated price for a leather watch band in history.

Oh yeah. It's pretty absurd. The only reason to go for it is to have the gold accents vs the steel accents. Silly.

Is Rene getting the 42mm?

The 42mm is similar in size to the Pebble v1 (40.5mm if you don't cound the little "H" parts that holds the band, 50 if you do). Fits fine on my (190mm) wrist. I'll have about 15mm on top and bottom for that "small space". This is why they are letting people try them on two weeks before they can be purchased.

How much would the finish on the watch and the band clash if the Sport is paired with one of the stainless steel bands, say, the Milanese loop? Thx

The Sport with the Milanese is actually surprisingly gorgeous. It clashes a bit more with the Modern/Classic Buckle and the Link Bracelet.

My understanding was that the Apple Watch wouldn't be able to use Apple Pay without an iPhone 6 because the iPhones 5 and 5S lack the "Secure Element" for storing credit card information. Is the Secure Enclave in the 5/5S good enough after all? Since the 5/5S still doesn't have anywhere to put credit cards, any ideas how this will be managed?

I wish someone (Apple maybe?) would clear this point up. There are a great deal of us that found the iPhone 5s and the 6 and 6 plus so underwhelming that we are still using the 5. The iPhone 5 doesn't have fingerprint scanning either, so it's even more problematic. I'm prepared for Apple to just announce seconds before launch that they were wrong or lying about not having to buy the iPhone 6 to make it work. It's not like they haven't done it before, it's just a matter of how long we have to wait for the inevitable "walk back" on features.

As I understand it there's nothing particularly secure about TouchID. It's main security benefit was to encourage the use of a passcode to the many who previously found it too much of a bother, and perhaps to encourage the use of a longer (or alphanumeric) one for those who were already using a 4-digit one. Also based on my understanding, an iPhone that's actually locked with a passcode is more secure with TouchID disabled than enabled.

Im not sure sure about that. The way this was executed was deemed safe by banks as well. Below is more info on it but basically the print(s) are stored as math in a secure chip that none of the apps or iOS has direct access to. https://support.apple.com/en-us/HT204587 "Touch ID doesn't store any images of your fingerprint. It stores only a mathematical representation of your fingerprint." "The chip in your device also includes an advanced security architecture called the Secure Enclave which was developed to protect passcode and fingerprint data. Fingerprint data is encrypted and protected with a key available only to the Secure Enclave. Fingerprint data is used only by the Secure Enclave to verify that your fingerprint matches the enrolled fingerprint data. The Secure Enclave is walled off from the rest of the chip and the rest of iOS. Therefore, iOS and other apps never access your fingerprint data, it's never stored on Apple servers, and it's never backed up to iCloud or anywhere else. Only Touch ID uses it, and it can't be used to match against other fingerprint databases."

I'm pretty sure the apple watch has the secure element. Sent from the iMore App

Julian is right, to the best of my knowledge: The Watch itself has a secure element, which is how you'll be able to add cards, etc on an iPhone. The data is stored directly on the Watch, rather than on your 5/5c/5s. (I don't know this 100 percent for sure, but I'm 99 percent positive based on conversations with Apple reps. I'll try and get more information soon.)

Hey do you have any pictures of yourself wearing the watch? And if you do, what size is your wrist? My wrist is 140 and I'm really uncertain which size I should get. Sent from the iMore App

The Apple watch has wifi (802.11b/g/n) which means it has a connection to the "internet " during the last Apple event they said you can take phone calls out of Bluetooth range using wifi. You should be able to use apps on wifi as well....would make sense. 42 mm is a good size btw. i bought a fake apple watch from gear best (http://www.gearbest.com/smart-watches/pp_136652.html) and have been using it more almost 2 months...and can definitely say it is the perfect size watch and would not want a 38 mm also this comment: "How far away can I be from my iPhone before it disconnects? Traditional Bluetooth range is around 30-50 feet, but your Apple Watch has an advantage if your phone is connected to Wi-Fi. When you connect to a Wi-Fi network, your Watch will remain in contact with your phone anywhere in the building where you're covered by that network. For example, you can be upstairs in your bedroom and take a call while your phone is downstairs on the couch." seems to conflict this one "What can't you do with an Apple Watch? The Apple Watch requires your iPhone be in proximity distance so that it can piggyback off its internet connection; without an iPhone, the Watch can't access any online activities. Even with an iPhone, your Watch won't be able to do any Go Go Gadget wizardry like FaceTime — there's no front-facing camera in the Apple Watch. (And holding your wrist up to your face for prolonged periods of time is exhausting. We don't recommend it.)"

I would argue that most of the time when you are "out and about" with your phone, you are not on a Wi-Fi network though. So the picking up a call on Wi-Fi would typically work at home or the office but not when you are out and using cell data. On the other hand though, if you are "out and about" you will have both your phone and your watch on your person, so there is rarely if ever going to be a case where you don't have one or the other.

Sorry if that was unclear! Proximity distance includes Wi-Fi range; I was referring to, say, leaving your iPhone at home and going on a run. You can't use the phone call feature if your iPhone's been left behind.

What I would really like to know is if you can leave your phone at home connected to wifi (in my case) and since my work has wifi and is only a mile away will I receive phone calls on my Apple watch or does it have to be the SAME WIFI network connection. Whoever knows this wins the internet for the day! Sent from the iMore App

I have similar matter, my 6 Plus is too big and to take it comfortably for jogging, but I have very tiny mobile hot spot, will my Watch get notifications when on mobile WiFi away from iPhone itself?

Has to be on the same wifi network. Also based on my understanding of how enterprise and public wifi hotspots are configured, it may not work at those either - only at home.

I know Apple talked about this feature of being on 'same wifi' to make calls. But it doesn't seem to work (yet?) even if the phone is on a charger. I hope they add this feature in!

UPDATE ON 'same wifi'. It is confirmed working - phone calls and all! BUT you cannot have your wifi in bridge mode. You must use DHCP for this to work. You can even turn bluetooth off on phone and still make calls, messages etc. Works great!

The FAQ contradicts itself regarding using the watch on the same Wi-Fi network, while the paired iPhone is out of Bluetooth range. Per the keynote it is definitely possible.

Out of range = meaning the same Wi-Fi network, not just Bluetooth. Sorry if that was unclear!

The watch is off when it's not on you

So I'm looking to get an apple watch but biggest configuration seems to be the the 42mm watch with stainless steel strap which Fits 140 to 205 mm wrists. My wrists are actually bigger. Does this mean I can't get an apple watch?

We're checking with Apple on this. I can't imagine you won't be able to wear the watch just because you have bigger wrists, though.

Is there any information on how to make a reservation appointment or when it will be possible to make reservation. I keep checking on line and asked in my local Apple Store over the weekend but no one seems to know anything Sent from the iMore App

We'll put up an article as soon as we have specifics. We've got rumors right now, but nothing solid.

I have yet to see a reliable comment/review that mentions whether or not one can read the display in sunlight. I doubt the friendly folks at my local Apple store are going to be real keen on my asking to take one outside the mall to check the display. Rather than load music onto the Watch I'd prefer to leave it on my phone. Can the Watch control the playback and volume of the iPhone?

The screen is a high quality OLED so other than electronic paper, there doesn't exist a better display technology for using outside in direct sunlight. You may find it acceptable or not, but there really isn't anything better or different they could have done.

Yeah, I imagine it'll be the same as trying to read an iPhone or iPad in sunlight — doable at high brightness, not super-fun if you're wearing sunglasses.

Great article - thanks. Question... Let's say I would like to get the black case stainless steel version NOT with the link bracelet but the leather loop - possible? Or are they offering JUST the combinations that are shown in the Apple Store - meaning my only option is to buy the black case steel with the link bracelet?

Have the same question/concern. Want the black steel but don't want to spend the extra $500 for the Black link band.

In theory watches are just being sold in their collections, with extra bands sold separately, but we'll have to wait and see until they go on sale to find out.

I, too, would like to know when I will be able to make a reservation appointment. I'm going to buy the dark Sport but I want to see how the different sizes fit before making the decision.

Can the Apple Watch be rotated 180 degrees so the digital crown is more accessible for people who wear a watch on the right hand (lefties and weirdos like me who just prefer a watch on the right wrist).

Yes, and the straps are reversible as well.

So if the watch has wi-fi, then can it connect to a network and send/receive data even when my iPhone isn't on the same subnet? While the watch currently requires a nearby paired iPhone for all 3rd party app functionality, Apple has said that native watch apps will be available later this year, and it seems like a number of built-in apps (Messages, Siri, Weather to name a few) would be useful with a wi-fi connection but without the phone.

We're checking with Apple. We've been told two different things (Wi-Fi just for iPhone Handoff, and there is a separate Wi-Fi network), so we want to clarify. Not sure as of yet.

One question with the Apple Watch how many alarms can you set because I use 5 alarms on my regular watch for now until apple Watch every day Sent from the iMore App

I imagine as many as you can set on the iPhone.

I'm planning to buy the link bracelet watch, does anyone know how the watch will be sized? Will links be able to be removed?

The watch is likely in the largest size in the box. Apple's website says you can remove links from the band without tools.

The link bracelet comes in two sizes, both of which can be adjusted by removing links. Not all the links can be removed though, just the ones that are all the same size. The links that are closer to the watch itself, are all differing sizes and cannot be taken out. On the small watch (38mm) there are 6 of these links, there may be more on the larger one, it's hard to tell for certain from Apple's materials. The links appear to be 10mm in size, so adjustments can only be made in 10mm increments, and uniform, or symmetric adjustments can therefore only be made in 20mm increments. To adjust it to 165mm for instance, you'd have to take out two links on one side, and one on the other, making the clasp move over 10mm, which given the width of the clasp might be problematic. The clasp is very large (wider than the Watch itself), so while the bracelet on the 38mm watch can theoretically (according to the website) go down to as small a wrist as 135mm, it won't look any good that way. The clasp will be *wider* than any wrist below about 165mm and sort of "stick out the sides" on smaller wrists. You'd also have to take out all 6 of the removable links on the small (38mm watch) band to get it that small in any case. Even if you have wrists that are average for a male (175mm), the larger 42mm watch will "sorta fit" but probably not look very good. I would definitely recommend getting the smaller 38mm watch one for any wrists under 170mm myself.

What type of tracking does the watch have if lost or stolen. Will "find my iphone" locate the location?

Great question! We're looking into it.

Any news on this? I presume they could come up with something. It obviously won't be as accurate as the devices with cellular assisted GPS. I imagine it wouldn't be impossible to create an opt-in bluetooth/wifi mesh network "on the lookout" for lost devices. Sent from the iMore App

How about interoperability with Android and Windows Phone?

TBD, but I'm guessing unlikely at launch, especially since Watch apps are piggybacking off the iPhone.

Most folks are saying no, that the Watch is intended to attract more folks to switch, not to exist as a stand alone item.

Big thanks. This is an incredible article. Well done and thank you!

Great article, I have a question. I am wanting to create a custom face app. Fully functionable retro Casio calculator watch. Here is a mockup artwork. https://fbcdn-photos-e-a.akamaihd.net/hphotos-ak-xpa1/v/t1.0-0/11081191_... What are the development options, can I write something in Swift? Or what do you suggest ? Also looking at a Roller Derby jam timer app.

I would download that one. Nice work.

I am so looking forward to third party watch faces. I don't like any of Apple's. Apple's are well done, but they are almost all analogue (Ugh!), and the few that aren't don't appeal to me. I can see how the Jellyfish/Butterfly thing is clever, but it's not something I would wear. If someone could make it look like the Commodore watch (without the logo) from the 1980's that would be awesome.

I'm still confused on how the passcode works with Apple Watch. If you have a passcode enabled on the watch and its paired with an iPhone, is the watch going to ask for a passcode every time you want to do something on it that's not just a quick glance or is the passcode only for when the watch becomes unpaired with the phone? I hope it's the latter because it'll become annoying really quick if we're back to the days of having to enter a passcode every time to unlock a device.

You will only need to input a passcode when you put it on. It will be good until you take it off.

Is there any indication if you are in Messages on an iPhone that the person who replied is using an Apple Watch?
Or is this unknown...

I would doubt that unless you get a voice message or something that you now only the watch can do.

This is too much cash to spend on this watch....let me take that back, I could maybe see the 349 level but that is as far as I will go. The spirit of Beats lives here.

Go visit some site that sells high end sports watches and then come back.

So the question is can the Apple Watch be used to track distances without iPhone? I read somewhere that they use your stride distance or gait to measure the distance without the iphone. Im confused!!

Any guess as to whether Apple might, after the initial Watch frenzy, follow up with their own "fitness band"? I haven't worn a watch in ~15 years and don't really want to start again, but I would be interested in having the "Watch's" sensors collect data and communicate it to the phone. (So, sort of like the Watch, sans UI)

I would recommend removing the comment about tracking heart rate during swimming. Nothing I have read suggests that the watch is waterproofed at a rating that would allow this.

I does have a rating that it can be under a 1 meter of water for 30 minutes so that should work.

Do realize that IPX7 means 30 minutes of static submersion. Swimming would subject the watch to higher dynamic pressures which could potentially lead to issues. I've experimented with an optical HR strap underwater. It worked pretty well for breaststroke but unfortunately not so much for crawl which is what I tend to swim for most of the time.

Wonder if there is a battery level indicator available somewhere?

Hi
Great piece
Being a truck driver i was wondering i you knew if you can disable the auto display when you move your wrist? I would prefer to be able to tap the screen to activate when i need to see it. I don't mind when notifications come in and i auto displays but i can see the battery not lasting very long in my job if it keeps coming on when i am steering.

one question that wasn't answered was what time of day will these pre-orders start? is it midnight pacific time or will they do like they did with the ipad air 2 and start at 10 am pacific?

I too, am wondering about this. Any news regarding this Serenity?

I'm wondering if it's possible to comment on the display quality between the Sport and Collection models. Did it look like they are using the same panel (besides the sapphire/glass)? Were colors as vibrant on each model? I remember being disappointed by the iPad rMini's display quality in comparison to the iPad Air with the whole color gamut issue. Thanks!

As others I am certainly interested in the fitness and hand offs, I was really hoping for more information and in depth review of how the apple watch works with and without the phone, it'd be nice to run on the treadmill and still get all the data and quickly know that i don't have to change a ton of setting to run outdoors as I do now, turn GPS on Turn it off, turn my Schotche HB monitor on and off its almost so annoying that I don't bother. So on to my question, I am an IT Manager and I have Wifi coverage through out the plant, if i leave my phone at my desk I know they said I can receive handoffs calls, email ect but what about GPS, mapping and shared wifi needed for other apps or glances will the phone have to be directly connected or will it still knows its within the same wifi range and use the phones resources?

Will we able to use our bluetooth headset connected to the iPhone to listen/talk to calls made/received from the Apple Watch?

If you get a new phone, will you need to do a whole new pairing with your watch or will you be able to back it up from your previous device?

This is by far the definitive article on the Apple Watch. Great job.

Are there any options for those of us with larger wrists? It's funny when I read the discussion about 38 vs. 42mm. My wrist is 235mm and the largest Apple band is meant for a 215mm wrist.

Bands pricing... ridiculous. I'll wait for 3rd party manufacturers for bands, but I'm going to get the Sport model. Sent from the iMore App

Apple Watch is supposed to store your Apple Pay info in a secure enclave within the watch until the connection with your wrist is broken. No one has specified exactly how tight the watch needs to be on your wrist to maintain that contact. Most men that wear a watch allow for a little play in the band. Enough that if they shake their wrist, there is some back and forth movement. This allows for airflow and all day comfort. Will wearing the Apple Watch in the same manor cause you to have to re-verify with touch ID on your phone all the time? I can't imagine having to wear a watch so tight that it doesn't move at all.

Any idea the size christy turlington wears? That would be a good comparison given her "in use" pictures are all over the apple site. Sent from the iMore App

Does the reported depth include the protruding bump for the heart rate sensor?
.
How does it feel with the bump pushing into your wrist?
.
How tight does the band need to be to get an accurate heart rate / "keep skin contact" for authentication.
.
Does the reported width include the Digital Crown? Sent from the iMore App

Can I use my Bluetooth headset and  Watch at the same time? --when out for a jog? Sent from the iMore App

Yes, you can (and leave your iPhone at home). Assuming you have music stored on the watch, of course. Sent from the iMore App

Okay good.
I want the mapping/GPS from the iPhone, health info from the  Watch and my Bluetooth'd music.
I want everything. And for $400, I don't want to have any caveats. Sent from the iMore App

Established companies such as Spigen and Luvvitt are allowing orders and pre-orders of watchface "cases" on Amazon. http://www.amazon.com/gp/product/B00UVSNKWQ/ref=as_li_tl?ie=UTF8&camp=17...
http://www.amazon.com/gp/product/B00V9P88BI/ref=as_li_tl?ie=UTF8&camp=17...

Just to clarify, when you take off the watch and wish to put it back on, you need to enter a code to use it. Not just for Apple Pay right? Once the Watch is paired to the phone, it can't be paired to another one (If stolen) unless the code is put in? Thank you!

wondering if there will larger band available for purchase by apple or third party vendors?
ex: my wrist measures 240mm (9 1/2")
maybe only option is to buy the buckle type face and put on my own band ??

Does anyone have info on the reliability of the Milanese band? I'm wanting to get that one, but have never had one before and am wanting to know how it holds up.....especially for someone thats in the maintenance field.

Hi Ren. Can you add an AppleCare section to the FAQ? Eventually once the pricing, etc. is known. In the meantime, here's an interesting question about AppleCare for the Watch that I would like answered: Will AppleCare cover only the initial band that you order with your watch? Or will it cover any additional watch bands you buy during the AppleCare coverage period? Example: I want the 42 mm stainless steel with both the black sport band for everyday wearing and the Milanese loop for formal occasions. My plan was to buy the watch with the sport band now, given that it would be my "everyday" band, and I would buy the Milanese loop once it's available as an accessory (doing so would also defer $100 of the Watch cost later, the difference in the cost of these 2 bands). But if I get AppleCare and it would only cover the sport band that came with my order, then my out-of-pocket replacement cost for the Milanese loop would be $149. In that case, the smart strategy would be to order the Watch with the most expensive band one desires, so that it is covered under AppleCare, rather than a less expensive band. Of course if AppleCare covers all bands purchased, not just the initial one, then such a strategy isn't required. Think you can find this out by Thursday night? ;)

From what I've understood.. they really gave some serious thought about the Apple secure pay and the way it links to the phone and user's body. However, I do not how many would be willing to trust the system to that extent. Another thought that just flew by: what about people that have 3D-secure enabled on their Credit Card? I do not know how it would work, but it seems like a big hassle to me.

Here are some cool health apps coming soon for the Apple Watch http://thinkapps.com/blog/development/apple-watch-health-apps-healthkit/

Just one thing that is in you article. You said that the bands are interchangeable. When I went to the Apple Store for my appointment I asked if they could put the Black Leather band on the sport watch and they said "Sorry but the Apple Watch bands cant be put on the Apple Watch sport because the magnets don't line up.". I would like to know if this is the case or they were telling me false information. Thanks!

thanks you for putting so much info on iwatch here! this is extremely useful. I have a question regarding heart rate monitor and third party apps like mapmyrun/Myfitnesspal/RunKeeper. I use these apps for my running. How can get the iwatch heart rate info into the mapmyrun app?

Questuon: I tend to use Maps alot. Siri isn't so great in recognizing addresses I speak but voice is only way to input directions in Apple Watch. Is it possible to map an address in your iPhone and hand it off to your apple watch?

Just tried it on another's apple watch. I can confirm that you can hand off apple maps from the iPhone to the Apple Watch..

I used my iPad charger to charge my Apple Watch (42mm stainless steel) last night and it only took 23 min to go from 31% to 100%. I turned my watch on at 9 AM and at 12 AM I still had 31% battery left. I wasn't trying to conserve battery all day, but I also wasn't using it heavily. It's what I would consider normal use. So the battery estimates that Apple provided at fairly accurate and maybe slightly conservative. I have however noticed the battery on my iPhone 6 Plus draining faster than normal. I still can get a full days use out of it but instead of having 30-40% left at the end of the day I hit the 20% low battery warning around 12 AM. Apparently there is a known issue with the Apple Watch affecting the iPhone battery life that Apple is working on a fix for. Sent from the iMore App

The back of the Apple Watch is primarily neither sapphire nor ion x-glass - as the FAQ states. The Sport is "primarily" a composite (the part that's not also aluminum) and the Watch and Edition are primarily a ceramic material with small sapphire lenses for the sensors. Just a note.

On "what can the apple watch do WITHOUT an iphone" please change from "you can not track distances" to "you can track distances ran with the "workout" app!!
I just ran 2.7 miles and it works without an iphone! Another request for change is:
Under,
Can the Watch track my fitness even when I leave my iPhone behind?
You said it cant but as I explained above with the stock "workout" app u can.
Thanks

Outstanding article, with lots of useful information. I'm not interested in a smartwatch, but now I know where to send anyone I know who IS interested in the  Watch, because this is THE definitive article on it. Thank you for all your hard work in putting this together.

Is there any info on how far away from the phone you can be for the watch to remain connected?

Yes it's about 30 to 50 feets but if your phone is on a wifi network you can be wherever you want in the building

I have a question:
If i pair my apple watch with my mom's iphone, will i be able to put my email on it?

I can't find a way to turn off the phone in my watch so that my car, connected to my iPhone, will answer. The Watch pre-empts the car from answering. I thought putting it into sleep mode or do not disturb would work, but that also puts the phone asleep, so no calls will come through at all. I really don't want to answer my Watch when the phone rings in the car. It's much safer to push the button on the steering wheel and talk through the car speakers and mike. Anybody had any luck with that?

I got a call while in the car yesterday, so I covered the ringing Watch, and then I was able to answer using the car's system. Hope this helps anybody else that comes across this problem. I hope Apple comes up with a way to turn off the Watch by itself before I get into the car, though.

Can a watch pair with several iphones? If yes, can it save the data of the previous one?

My wrist size is 215.9 mm. Is there a band that will fit my wrist?, I have seen the classic buckle list up to 215, but will it close properly? I've no stores in my island to check this out. Please help me out I'm looking to have an apple watch as soon as I get an answer on this.

My dad is having a hard time remembering when to take medication and when to eat. My mom has taken it upon herself to remind of of when he need to do everything. It has put a lot of stress on her. I'm trying to think of a way that he can take on some of the responsibility himself. I was thinking if he wore an apple watch and I could set 50 thousand alarms to either vibrate or go off that it would help remind him of what he needs to do. If my mom buys him the watch he won't wear it....but if Lisa and I give it to him as a GIFT he will wear it. What are your thoughts?

I'm switching carriers in a couple of weeks. If I back my phone up, will have I have to set up my watch all over again or will I just need to pair it with the new phone?

As I know, the Nixon 51-30 with overweight people, reasonable price, suitable for students, students and ordinary workers .The Here you can see a detailed assessment of the it: https://www.youtube.com/watch?v=Zwwt8GSWb9U

Hi I just got the new Apple watch and there's a lot of things I don't know how to use some of the Apps what I would like to know where do you go to see your heartbeat per minute let's all i need to know for now
Thanks

yes I was wondering what setting I use so I can hear who's calling

Hi, I am thinking about getting the Apple Watch Sport and I have Cateye Strada software I use when I use my spin cycle. Will I be able to sync that data to my Apple Watch? I have the app on my iPhone and it syncs nicely. Thank you! Shirley

The one question I have about an Apple Watch is, does it automatically change times for each time zone when driving across the states or does it have to be set manually for each time zone?
Thank you for signing up to iMore. You will receive a verification email shortly.
There was a problem. Please refresh the page and try again.