Apple Watch Weather Complication problems finally fixed by watchOS 10.1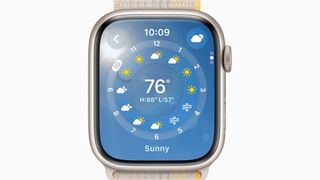 (Image credit: Apple)
watchOS 10.1 is now available and fixes one of Apple Watch's biggest bugs. If you've been caught in the rain recently because your Apple Watch doesn't provide accurate, timely weather reports, you're now safe from the storm.
Until now, the weather complication on watchOS 10, a function to give you a quick idea of what the local weather looks like, has not worked for many. As we reported back in September, this has been a problem since the arrival of watchOS10 alongside the Watch Series 9 and Watch Ultra 2.
If you were looking to fix this problem, you could change location settings or reset the device, but this was only a temporary solution. Now, you can fix the issue for good by installing watchOS 10.1 on your smartwatch.
Growing Pains – iMore's take
This was a bit of a disappointing problem to run into for many who just purchased a brand-new Apple Watch. Given the price, one would expect simple functions like weather updates to operate straight out of the box. This is not the only product that has had issues this year with the iPhone 15 seeing some overheating and screenburn. Screenburn has been fixed with iOS 17.1 and no one on the iMore team has suffered major overheating since launch but, when you're paying upwards of $1000 for a new device, these problems start to become a little less acceptable.
However, problems are certainly to be expected with new devices as they reach a market much bigger and more varied than any testing environment can really capture. I've not regretted upgrading to an iPhone 15 Pro Max from an iPhone 12 but I can't help but feel like a beta tester in my first month with the device – ready to report the next issue as it comes in. Those picking up the device as a Christmas present or birthday gift will likely have a much better first month than early adopters, even if the new Watches and iPhones are excellent iterations of a winning formula.
More from iMore
Master your iPhone in minutes
iMore offers spot-on advice and guidance from our team of experts, with decades of Apple device experience to lean on. Learn more with iMore!
James is a staff writer and general Jack of all trades at iMore. With news, features, reviews, and guides under his belt, he has always liked Apple for its unique branding and distinctive style. Originally buying a Macbook for music and video production, he has since gone on to join the Apple ecosystem with as many devices as he can fit on his person.
With a degree in Law and Media and being a little too young to move onto the next step of his law career, James started writing from his bedroom about games, movies, tech, and anything else he could think of. Within months, this turned into a fully-fledged career as a freelance journalist. Before joining iMore, he was a staff writer at Gfinity and saw himself published at sites like TechRadar, NME, and Eurogamer.
As his extensive portfolio implies, James was predominantly a games journalist before joining iMore and brings with him a unique perspective on Apple itself. When not working, he is trying to catch up with the movies and albums of the year, as well as finally finishing the Yakuza series. If you like Midwest emo music or pretentious indie games that will make you cry, he'll talk your ear off.
This should have never been an issue. I'd argue the weather complication is one of the most used complications. It is on my Watch.

Reply

This should have never been an issue. I'd argue the weather complication is one of the most used complications. It is on my Watch.

Mine too. However, the first thing I look at is the battery %.

Reply