Why I don't regret upgrading to the iPhone 15 Pro Max from an iPhone 12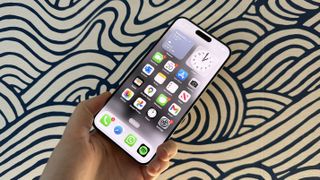 (Image credit: Gerald Lynch / Future / Apple)
iPhones are luxury products. To think the device I hold in my hands every day, walk to the shops with, and use to talk to my little brother as he absent-mindedly plays Fortnite is $1,199 can feel rather astounding sometimes.
After being unlucky enough to mess up two different pre-orders, but lucky enough to afford a nice phone contract that I pay off monthly, I've gotten quite a lot of joy out of my first month with the device.
There are the obvious noticeable upgrades from my old iPhone 12. From the faster chip and bigger screen, but my first few weeks were spent getting used to the sheer volume of differences it makes to everything I do on it.
As someone who probably spends too much time looking at a screen, it makes it very easy to skip out on responsibilities and curl up playing some tycoon game I delete in a day.
The upgrades present in the iPhone 15 Pro Max have managed to worm their way into every facet of my digital life and that's not just me justifying to my partner why I need to spend over $1000 over two years on a device that makes everyday life marginally better. Though it helps.
Refreshing
My new iPhone 15 Pro Max looks incredibly crisp thanks to a fantastic display capable of running at 120Hz thanks to its ProMotion feature.
There are, of course, other phones out there with better displays in a technical sense, running at higher Hz and with more brightness. But the iPhone Pro line, with its Super Retina XDR OLED display, allows all those colors to shine and combines with impressive software to get the most out of it.
The iPhone 12 still looks pretty good as the screen is bright and vibrant but it's blown away by the screen size and depth of color present in my iPhone 15 Pro Max.
But this does enunciate how far behind the market the standard iPhone 15 feels with a 60Hz screen — something that's matched by my iPhone 12. Once you have moved up to a Pro iPhone, it will feel like a major downgrade going to the standard line even if its chip is better. Hopefully, the iPhone 16 will buck this trend by giving the base models a 120Hz display as well.
Into the action
I initially saw the Action Button as a bit of a gimmick but muscle memory has kicked in and I get real use out of it now. To put it simply, the Action Button replaces the mute switch and can now be programmed to activate Shazam, the flashlight, and many more with a single click. Though it is iconic in its own way, I almost never used the mute button on my iPhone 12. I have always been far more likely to enable silent mode in the Control Center due to how easy it is to do so being able to program something new there has given me a reason to test it out.
As I write music and articles, I find myself constantly thinking of ideas that are good to take down for later. For this reason, my favorite use of the Action Button so far is for Voice Memos. If I have my guitar on me, I don't need to hold the phone up to unlock, then go through my apps, and click on the right one. I can simply hold the button down and start playing.
Better Storage
Outside of the device aging and my phone contract ending, the puny 64GB of storage present in my iPhone 12 constantly got in my way while I was using it. As part of the smart storage functions, apps would regularly delete themselves while I slept and this became a bit of a frustration near the end of its life.
Practically any modern mobile game takes a sizable chunk of that storage up and even just using it to take pictures will fill it up pretty quickly. With the iPhone 12, it took just a year for me to feel like I had to upgrade my cloud storage plan which isn't much for a modern phone.
The iPhone 15 Pro Max comes with 256GB of storage in the base model, which explains the price increase, and this is sizable enough to contain the entirety of my iPhone 12 with enough room for all those games I couldn't download until now. It doesn't help that games like Resident Evil Village, Assassin's Creed Mirage, and Death Stranding will all need significantly more space than your average mobile game.
Gaming and the future
What makes the iPhone 15 Pro Max so exciting to me is what that A17 Pro chip means for the future of the phone. I've always loved games but have never quite gravitated toward mobile gaming, partially because many of the games don't quite compare to a console or PC experience.
There are some great experiences on there but they don't happen every month like one might find in a more traditional gaming package. With Resident Evil Village on the way on October 30th, it plans on finally delivering a console-like experience on the go. Up until now, the only game that came close was Genshin Impact, which looks fantastic but is a little less demanding.
I hope this succeeds, not only because I love Resident Evil but because I want more traditional game developers to see the potential of mobile gaming. The A17 Pro chip present in the iPhone 15 Pro phones is capable of running ray tracing on-device, without the need for a cloud service — an incredibly impressive feat.
With my iPhone 12, I have a phone that, whilst still quite powerful, constantly shows its age. With the iPhone 15 Pro Max, I have a phone that will only get better over the next few years.
Master your iPhone in minutes
iMore offers spot-on advice and guidance from our team of experts, with decades of Apple device experience to lean on. Learn more with iMore!
James is a staff writer and general Jack of all trades at iMore. With news, features, reviews, and guides under his belt, he has always liked Apple for its unique branding and distinctive style. Originally buying a Macbook for music and video production, he has since gone on to join the Apple ecosystem with as many devices as he can fit on his person.
With a degree in Law and Media and being a little too young to move onto the next step of his law career, James started writing from his bedroom about games, movies, tech, and anything else he could think of. Within months, this turned into a fully-fledged career as a freelance journalist. Before joining iMore, he was a staff writer at Gfinity and saw himself published at sites like TechRadar, NME, and Eurogamer.
As his extensive portfolio implies, James was predominantly a games journalist before joining iMore and brings with him a unique perspective on Apple itself. When not working, he is trying to catch up with the movies and albums of the year, as well as finally finishing the Yakuza series. If you like Midwest emo music or pretentious indie games that will make you cry, he'll talk your ear off.