One day before Apple results, analysts try and peg iBooks textbook sales at 350,000 in 3 days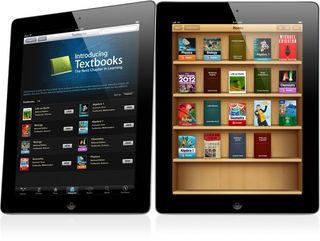 Never ones to wait on official Apple numbers, which could be coming as soon as Apple's Q1 2012 results call tomorrow, analysts are already trying to peg Apple's foray into the digital textbook market at 350,000 education-centric iBooks in the first 3 days. AllThingsD quotes reports:
Global Equities Research, apparently, won't discuss how they get those numbers, but we're fairly certain they're not sitting on the server pipe counting pulses of light. So wei
Likewise, iBooks Author, a tool used to create eBooks for the iPad, reportedly sold through 90,000 downloads from the Mac App Store during the same period. This indicates Apple has picked up on the interests of both eBook creators and consumers alike.
Leanna, a math teacher, speculates that this is only the beginning for Apple in the education textbook market, and these initial numbers seem to lend credence to that idea.
Source: AllThingsD
Andrew Wray is a Salt Lake City, Utah based writer who focuses on news, how-tos, and jailbreak. Andrew also enjoys running, spending time with his daughter, and jamming out on his guitar. He works in a management position for Unisys Technical Services, a subsidiary of Unisys Corporation.
I'm sorry, if iBooks Author is free, why does it say "sold"? Shouldn't it be "downloaded"?

SHAMESUNG AND THE GANG OF 6 ARE ALSO DEVELOPING SAME TECHNOLOGY WITH IGOOGLECOPY DESIGN WHICH THEY BELIEVED WILL BE BETTER THAN WHAT APPLE HAD. THEN, THEY WILL DECLARE FOUL THAT APPLE COPIED THEIRS.

Really fantastic write-up. My partner and i only just came on your blog site and also favored to say that i have really really liked reading your web site blogposts. Anyway I am going to become subscribing in your feed and also I really hope an individual write-up yet again soon enough.
Get the best of iMore in in your inbox, every day!
Thank you for signing up to iMore. You will receive a verification email shortly.
There was a problem. Please refresh the page and try again.