Apple's online store goes offline ahead of iPhone 6s pre-orders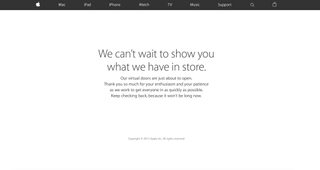 In a few hours, the iPhone 6s and iPhone 6s Plus pre-orders are set to go live, and, as is customary for such events, Apple's online store has gone down in preparation. The store should be back up right at 12:01 a.m. Pacific, just in time for clamoring buyers to put in their pre-orders.
If you're still mulling over which model you should pick up, be sure to check out our rundown on what to consider for each size, color, and storage option available.
Get More iPhone
(opens in new tab)
All of Apple.com is offline for me now. Go figure.

i got the error: Access Denied You don't have permission to access "http://www.apple.com/" on this server.
Reference #18.f171cb8.1442031564.5273404

Me too that was scary I felt like I committed a crime lol. Geez  a friendly we'll be right back would have sufficed lmao.

It's down for me as well. The iPhone app won't work either. Sent from the iMore App

I forgot that the store reopens at 12:01 pacific. I used to live on the west coast, so I'm not used to having to wait until 3:01 eastern. Rookie mistake! Sent from the iMore App

Just placed my order for the 6s Plus 64 GB in Rose Gold through the app. Yay! Confirmation email says it delivers on 9/25. Had originally tried on the AT&T web site, which allowed me to go through the ordering process before midnight, but it showed a delivery date sometime mid-late October so I didn't complete the order. Glad I followed others' advice and used the Apple Store app.
Good luck everyone!

And once again... 3:01am comes, goes, and apple.com still offline...

Finally. Got my 128 space gray 6s+ from apple.com with 9/25 ship date, and my wife's 64 rose gold 6s from att.com with 9/24(!) ship date. I'm going back to bed...

my order went through on the app store app. took a few min though.

As of 12:11 PST, still showing the "wait what we have in store" page, but rest of Apple website is working. Already pre-ordered my iPhone 6s Plus through my Verizon account online. I was actually able to complete the order BEFORE midnight PST. Imagine my surprise and delight!

Web still down. But, got my unlocked 128gb gold 6s plus reserved for sept 25 pickup via the iPhone apple store app just now!

3:07 ... I'm in via the iPhone Apple Store app ... and I'm done! iPhone 6s Plus 64Gb Space Grey. Delivery between Sep25 and Sep29.

got it!!!!!!!!!!! @3:08 via the Apple Store app/mobile website!!!

Took 13 min. Kept having issues pulling up AT&T account details during checkout. Got my 6s Plus 128gb on lock for the 25th tho! \m/ Sent from the iMore App

Att let me in at 2:55 et. Shipping 9/24

Nice. When I was on AT&T it said ship on 10/23

I wish they would have said the reservation for the new Apple Upgrade system was different than preorders... Still got my appointment for 8am on launch date at my Apple Store. Now the long wait until iOS 9 drops and the longer wait for Sept 25th ;) Sent from the iMore App

Placed an order for iPhone 6S 64GB Space Gray via Apple Store at 8:04 a.m. London time Sent from the iMore App

Got mine ordered at 8:05 UK time. Delivers 25/9. I had to use the app because the website was still down. Even when it came back up the preorders weren't live. Sent from the iMore App

Placed my order with Verizon at about 0255 eastern. 64GB Space Grey 6S Plus

Got a iPhone 6s in Silver and Rose Gold (both 64 GB). SUCCESS!

Placed order through the app at 3:10 9/25 shipping date.

No confirmation email yet that is weird Sent from the iMore App

Had to use the apple store app on my iPad to order. Still waiting for the confirmation emails.
Website still not accepting orders 45 minutes later...

I just checked at 8:30 am eastern you can still preorder the 64 and 128 gb models with a 9/25 delivery date. That may be a bad sign for Apple as usually a popular release will be back ordered within an hour or so of preorders.

Brand New Unlocked Original Apple iphone 6 16gb, 64gb and 128GB , White , Black, Silver and Gold Whatsapp CHAT or Call : 00254703285513 Apple iphone 6s plus and 6s Apple iphone 6 plus and 6 Gold 500usd Samsung Galaxy S6 edge and Samsung Galaxy S6 cost 450usd Blackberry Passport
Blackberry porsche design p9981 Black / silver
Blackberry porsche design p9981 Gold
Blackberry porsche design p9982 Email: faisa.hassan01@hotmail.com
Whatsapp CHAT or Call : +254703285513
Skype : faisa.hassan102
Thank you for signing up to iMore. You will receive a verification email shortly.
There was a problem. Please refresh the page and try again.