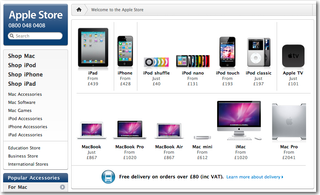 Today, the UK see a rise in their VAT from 17.5% to 20%. This morning, Apple's Online Store went down and when it reopened, it showed the new prices, with the new VAT.
Check after the break for a list of the new prices for the iPad, iPhone, iPods and the AppleTV.
iPad
16GB - £439
32GB - £510
64GB - £612
iPad 3G
16GB - £541
32GB - £612
64GB - £714
iPhone 3GS
iPhone 4
iPod Touch
8GB - £193
32GB - £254
64GB - £336
iPod Nano
iPod Shuffle
iPod Classic
AppleTV
Free Shipping now only applies to orders over £80 instead of £78. Not much difference, and you'll probably end up more than £80 at Apple anyway.
Do these prices still make it compelling for you to buy from Apple? What do you think about the new prices? Leave your thoughts in the comments below
Writer for iMore, YouTube Vlogger, and Host for [TEChBrits]
I say that you are more than will come to cone the US and buy your apple devices for cheeper if you want.

I dare say that if it was cheaper to fly across the Atlantic to buy an iPad than to buy one locally in the UK, Great Britain would have a serious economic issue. I doubt that's the case yet.
But if you just happen to be in the US for other reasons, sounds like a good idea, but do you have declare electronics that you bring with you from overseas in the UK?

I noticed higher prices at the Bestbuy the other day. Airport express went from $99 to $109 and 1T Time Capsule went from $299 to $329. Their prices used to be the same as the Apple store. So I've been expecting to see an increase here also. I hope I'm wrong.

And what were the old prices?
In Switzerland, the VAT was raised from 7.9% to 8% on 1.1.11, but I haven't checked if that affected Apple's (or other shops') prices.
But compared to the US, everything is very expensive in the UK and Switzerland anyway. I bought my last iPod (before the iPhone) on eBay from someone in the US.

It just makes no sense to me?!!?
Apple Dev Connection - $99 - £59
Apple TV - $99 - £99 -> Now £101
Most other Apple products are about right UK -> US wise, its just Apple TV! It's the only thing stopping me buying it!
FFS, the pricing is a joke. I understand we have had the VAT increase, but come one, the mark up on Apple TV is a joke!

It should at least be about £70!
But as always the UK gets shafted by a US company who cant work out conversion rates. Mmmmm just like MS and their xbox live points :p
Sorry, i gave up smoking on new years so i am a little grumpy recently lol :D

INFLUENCEUK and others. I always used to think we got shafted in the uk by the funny exchange rate used by US companies. i.e $499 translates to £499 etc, but i then realised rightly or wrongly, US prices are quoted at net prices without taking tax into consideration. To this you got to add the 20% VAT which makes it more of a comparison.

Yeah its not about exchange rates with companies, its about profit! no company will let a country benefit they will always be hindered by the country of source, thats a rule that applies to 99% of international retail. sometimes it can work in ones favour though.

Its a huge rip off no matter how you look at it. But if you have money to burn, then it doesnt matter.

It is the best time to make some plans for the longer term and it is time to be happy. I've read this publish and if I may I want to counsel you few fascinating things or tips. Perhaps you can write next articles relating to this article. I wish to read more issues about it!
Get the best of iMore in in your inbox, every day!
Thank you for signing up to iMore. You will receive a verification email shortly.
There was a problem. Please refresh the page and try again.