Best Halloween wallpapers for iPhone and iPad 2022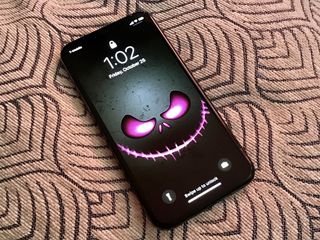 (Image credit: iMore)
Halloween is arguably the most magical time of year. I mean sure, Christmas is great and everything, but when else do you get to dress up like a goblin and scream at people for candy? (Note: if you are over the age of 18 and doing this, you might get arrested, but all's fair in love and candy, y'know?)
If you're dressing yourself up this Halloween, it's fair to say that you should also be dressing up your iPhone or iPad with some spooky backgrounds, too! Here are the best Halloween wallpapers available for your iPhone and iPad!
1. Pusheen and Halloween = Spoopy and adorbs
Why you can trust iMore Our expert reviewers spend hours testing and comparing products and services so you can choose the best for you. Find out more about how we test.
2. Ghosts, pumpkins, mummies, oh my!
3. Think Halloween
4. Chibi peeping pumpkin
5. Happy Haunts materialize
6. Do you dare enter this haunted house?
7. Jack-o-lanterns everywhere
8. All hail the Pumpkin King!
9. A spooky pattern
10. Get your jack-o-lantern on!
11. The Rocky Horror Vampire Show
12. YES. NO. GOODBYE.
13. The classic Halloween/Christmas/Nightmare combo
14. But first, let me take a scream-fie.
15. Black is in
16. Mickey Bats!
17. A splash of spooky Disney cuteness
18. Mickey is all dressed up for the spooks!
19. Minnie is too, if you prefer the feminine touch.
20. Who doesn't love The Haunted Mansion?
21. Amuck!
22. I smell children...
23. I put a spell on you!
24. Mickey's No-So-Scary Halloween
25. Jack and Sally, a perfect match
26. You've just crossed over into...the Twilight Zone!
Your favorite Halloween wallpapers and activities?
These are just some of the best Halloween wallpapers for iPhone that we've found so far. What spooky wallpaper are you donning on your new iPhone 12 right now? Are you going to spend Halloween playing some of the best Halloween games on Nintendo Switch? Or do you have a killer Halloween party planned? Or are you going to be handing out/scarfing down candy by the mouthful while watching the best horror movies?
Let us know your spooky, scary, Halloween plans in the comments below!
Updated October 2020: Added 12 new wallpaper choices. These are still what we think are the best Halloween wallpapers for iPhone.