Best Holiday Bands for Apple Watch of 2017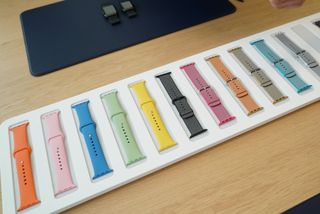 If you're looking to show off your holiday spirit but don't want to put up an entire smelly evergreen tree or break your neck wrapping lights around your house, then why not opt for a super fantastic, super festive holiday Apple Watch band!
Here are the best Apple Watch bands to get you into the festivities!
Why you can trust iMore Our expert reviewers spend hours testing and comparing products and services so you can choose the best for you. Find out more about how we test.
First $180 Apple Watch melon-pink, star studded Coach band (opens in new tab) I see tonight... Wish I may... Wish I might... Look like a total fashion-forward elf on Christmas night...
2. SHINE BRIGHT LIKE A DIAMONDDDD 💎
Or shine bright like this $16 gold, glittery, Apple Watch band (opens in new tab)!
3. Nothing says 'holiday season' like gingerbread men
So this Gingerbread man Apple Watch band (opens in new tab) for $52 will match perfectly, no?
4. Forget red and green, go blue and white
(opens in new tab)

instead!
This band (opens in new tab) is perfect for someone who prefers to celebrate the cold, beauty, and snow (opens in new tab) that comes with the holidays rather than a specific holiday itself.
Oh, and it's only $22!
Seriously, this will look perfect with your black Apple Watch — plus the band (opens in new tab) is super well made and will cost you around $52.
Keep it classy n' sassy with this formal holiday party-appropriate Apple Watch band (opens in new tab) for $19.
That's it. I don't have much else to say. That's how awesome this band is (opens in new tab) (but it will cost you $180).
8. Hermès Double Tour ain't got nothin' on the glittery double tour
(opens in new tab)

!
Seriously. Just look at how shiny and magnificent (opens in new tab) this $18 band is.
Also, how cool is this band's gold rhombus buckle design (opens in new tab)? And for only $30? You'll be the goldest/glitziest dude at your family party for sure.
I'll give you 30 seconds to think of something more Christmas-y (opens in new tab) that isn't this $52 band.
Wait... that is the saying, right... ?
Well, whatever: this red glittery Apple Watch band (opens in new tab) is just as good as gold.
12. Vintage, handmade, and super detailed.
It's like an old family Christmas sweater that's been passed down through the years, except it's stitched watch band (opens in new tab)!
How are you showing off your holiday style?
Are you someone who decks out their iPhone and Apple Watch in festive gear, or do you prefer to show off your holiday spirits in another way?
Let us know how you're celebrating the ho-ho-holidays in the comments below!
Get the best of iMore in in your inbox, every day!
Cella writes for iMore on social and photography. She's a true crime enthusiast, bestselling horror author, lipstick collector, buzzkill, and Sicilian. Follow her on Twitter and Instagram: @hellorousseau
Hi Cella, nice overview. did you notice that the picture of nr 5 and 10 are the same? It looks like they are exactly the same band.
Thank you for signing up to iMore. You will receive a verification email shortly.
There was a problem. Please refresh the page and try again.