Best MacBook Skins & Decals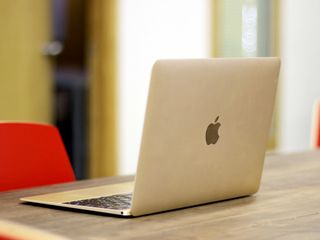 (Image credit: iMore)
Skins and decals are a great way to change up the look of your (somewhat boring-looking) MacBook so that it reflects your individual style. If you're obsessed with bright patterns, a specific TV show, cats, minimalist patterns, or the latest social media trend, there's totally a decal or skin to match your quirky, unique fashion sense!
Some are full skins that cover your MacBook entirely, while some of the others just cover the keyboard. It all depends on what you're looking for and what suits your tastes best.
Here are a few options to consider as you hunt for the perfect decal for you and your MacBook!
(opens in new tab)
Blue Gold Marble Vinyl Macbook skin
If you've been on Instagram in the last year, you'll know how big marble has gotten. It's on everything from phone cases to headphones to t-shirts – and now it can be on your MacBook with these stunning marble covers from RealSkins!Designed as a removable vinyl, so no residue ruins your computer, the Marble MacBook skin is ultra, super thin and can be applied by simply pressing the skin onto the top of your MacBook. Though the vinyl itself isn't super protective, it's bound to save your MacBook from minor scratches and light day-to-day wear.You can order your $15 skin for the lid and the bottom portion of your MacBook on it's own, or you could customize your keyboard with a similar matching pattern if you're really into customizing your MacBook!
(opens in new tab)
If you're looking for a wide variety of skin and decal options that come in everything from wood to metal to leather to carbon fiber, then dbrand skins for MacBook are a great option to consider!Variety and quality is key with dbrand; each skin is made with a 3M vinyl so that there's no risk of adhesive being left on your computer if you pull it off, while the skin promises to fit snugly and precisely to your MacBook.You can even pick out a customized trackpad skin to go along with your decal! These particular skins will cost you between $20 to $25 depending on the type of skin you want and the type of MacBook you want it for.
(opens in new tab)
Snow White Apple MacBook Vinyl Decal Sticker
If you're a fan of Disney Princesses and a simple, minimalist look for your laptop, then why not smush the two together and pick up the Snow White Apple MacBook Vinyl Decal Sticker for $5?This sticker is made with a high-quality material that is easy to apply directly to your MacBook without messing up the alignment. It's quite the durable sticker, as the decal itself is dust-proof, waterproof, and oil-proof,If you're not a big fan of Snow White (but c'mon, Snow White? Apple? Huh? Huuuuuuhhhh? Wink wink, nudge nudge), you can always pick another Disney Princess like Ariel (opens in new tab) from the Little Mermaid, Jasmine (opens in new tab) from Aladdin, Belle (opens in new tab) from Beauty and the Beast, or even Maleficent (opens in new tab) from Sleeping Beauty.
(opens in new tab)
iCasso 3D wall vinyl art skin
If you want a skin that covers your entire MacBook, this iCasso 3D wall design is one stylish option for you.It's made for 13.3-inch MacBook Pros, with the exception of the MacBook Pro 13.3-inch retina, so before buying, make sure that your MacBook is not the 13.3-inch retina version.This skin is quite thin, less than 0.1mm, and weighs less than 5 ounces, so it won't add any weight or heft to your MacBook. While thin, it offers decent protection from scratches, and it is waterproof and oil-proof too. No more endless wiping to get rid of unsightly fingerprints and other marks.The final positive point about this skin is that if you ever want to remove it, it leaves no sticky film or residue of any kind behind. Oh! And the price. You can pick up this particular vinyl art skin for $8.
(opens in new tab)
Keep your MacBook looking as fresh as a lush green forest with this Leaves MacBook skin from SkinGears!Handmade, durable, and highly-rated online, this laptop decal comes in three matching leafy pieces, including a top, button, and a keyboard piece. The skin is designed to resist scratches and dust, so it adds a slight layer of protection to your MacBook.The Green Leaves skin only comes in one color, but the vibrant greens of the decal's leaves are bound to catch the attention of every passionate plant lover for $15.
(opens in new tab)
All-inside ombre keyboard skins
Add some color to your MacBook's keyboard with this keyboard decal from All-inside. It comes in a variety of ombre (gradient) colors to suit your tastes.There are a wide assortment of sizes that fit 13- to 17-inch MacBooks of any type, and, weighing in at about half an ounce, it won't bulk up your MacBook — and at $7, that's pretty awesome!The decal is made from flexible, non-slip silicone, so your fingers have something to grip as you type. While most people don't have any problems typing with the decal on, it should be noted that it may take a little getting used to before you're typing with your usual speed and accuracy.Finally, the decal itself is removable and washable at any time, so you can peel it right off and clean/disinfect it any time without damaging it or your MacBook's keyboard.
(opens in new tab)
Allytech silicone keyboard skin
If you want a patterned look for your MacBook's keyboard, check out this keyboard cover from Allytech.It fits most MacBook sizes of any variety, from 13 to 17 inches. It will also fit the iMac Wireless Keyboard, and, like All-inside's ombre keyboard cover, this one is also made of high-quality silicone that maintains the tactility you need for fast and accurate typing. You may just have to type on it for a while to get used to its feel.At 2.6 ounces, it's a bit heavy for a keyboard skin, but it is also removable and washable. This keyboard sticker is another attractive option for protecting your keyboard from damage due to spills and the wear and tear that comes from repeated typing.You can pick up the Allytech silicone keyboard skin for around $8.
(opens in new tab)
Star Wars Rebel Alliance vinyl decal/sticker
Somebody has to save our skins. (Leia Organa)If you're someone who's a big fan of Star Wars, minimalism, and you MacBook, then take a peek at the Star Wars Rebel Alliance vinyl decal/stickers from Macstickerscom's Etsy shop!Not only does this little design fit perfectly over the apple on the front of your MacBook, making it look like you rep true rebellion pride, but if you prefer to show your love for the dark side, you can also pick up a Darth Vader vinyl decal (opens in new tab) or the Galactic Empire crest (opens in new tab).These little stickers are super easy to apply to your MacBook, measures at about 2.36 inches wide, and leaves no residue behind if you change your mind on it in the future. The best part? They're only around $5, so you won't be breaking the bank to make your MacBook look ballin'.
(opens in new tab)
Watercolor Dropped MacBook skin
If you're someone who's super creative and artistic, or if you've been tasked for shopping for someone who's a painter or just simply loves all things bright and colorful, then the Watercolor Dropped MacBook skin from MixedDecal might be a MacBook accessory option to keep in mind.With the Watercolor Dropped MacBook skin, you can transform your keyboard into a water color-y, rainbow mess (we mean that in the best way possible!) You can even customize your MacBook to match the lid/cover to your keyboard, giving you a consistent rainbow theme throughout.These particular decals last around 3-5 years, so they can withstand a reasonable amount of wear-and-tear. You can apparently also install the decal without any air bubbles, but we assume that it's tricky to get things smooth and even on the keyboard side... Just remember to make sure everything is wiped down and clean before you install your Watercolor Dropped MacBook skin!You can pick up the Watercolor Dropped MacBook skin for $20.
What MacBook skin is your favorite?!
You can always trust iMore. Our team of Apple experts have years of experience testing all kinds of tech and gadgets, so you can be sure our recommendations and criticisms are accurate and helpful. Find out more about how we test.
Is there a MacBook skin that you're in love with? Have a decal you can't get enough of? Let us know in the comments below!
○ MacBook review
○ MacBook buyers guide
○ MacBook news
○ MacBook forums
○ Buy at Apple (opens in new tab)

Get the best of iMore in your inbox, every day!
Cella writes for iMore on social and photography. She's a true crime enthusiast, bestselling horror author, lipstick collector, buzzkill, and Sicilian. Follow her on Twitter and Instagram: @hellorousseau