Best Sleeves for the 12-inch MacBook in 2022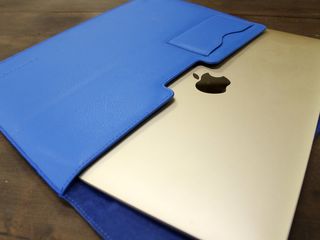 If you carry your MacBook around with you wherever you go, you'll want a sleeve to protect it from getting banged up, scratched, or totally annihilated. Sleeves are a fantastic option because they don't add any bulk or weight, but still keep your MacBook safe!
There are dozens of options to consider — including an all-new one from Apple — while searching for the perfect 12-inch MacBook sleeve, but here are our currents favs!
(opens in new tab)
Apple Leather Sleeve for 12‑inch MacBook
At the exact same moment, Apple started selling iPhone X the Cupertino company also snuck another brand-new product into the store: The Leather Sleeve for 12‑inch MacBook.Apple has been making cases for iPhone and iPad for years but now you can get first-party leather for your MacBook as well. It's available in a rich saddle brown that will look great with space gray or gold, and a deep midnight blue that will really make silver or rose gold sing.Crafted from high-quality European leather with a soft microfiber lining, you can order it now for $149.
(opens in new tab)
Keep your MacBook secure (and looking sharp!) with this handmade felt MacBook sleeve from TopFelt.Designed with durable, environmentally friendly materials, the TopFelt MacBook sleeve is a lightweight and fashion-forward option to consider. With an additional front pouch, you can store your charger, Apple pen, wallet, and more, making it the perfect no-stress laptop accessory.If you're not a huge fan of the light gray that seems to be everywhere these days, then check out the TopFelt's other vibrant colors like dark gray, yellow, green, purple, and a shade called Mei Red that honestly just looks hot pink for around $28.
(opens in new tab)
If you're looking for a modern, minimalist, super stylish case (that could also potentially double as a large clutch for a night out), then the HarLex leather envelope's unique design might be great for you and your MacBook!While the envelope is not a super protective or padded case by any means, the high-quality leather will protect from any immediate scrapes or scratches the outside world wants to throw at it.A metal snap keeps your laptop from sliding out of the case, while the outside leather is tanned with a vegetable oil for a polished, glossy finish for around $115.
(opens in new tab)
With a soft flannel inside and a durable felt outside, the Inateck MacBook sleeve is guaranteed to keep your MacBook safe and snuggly.The Inateck is designed with environmentally friendly materials and comes with two compartments – one for your MacBook, and a second for any accessories, books, magazines, etc. The flannel lining of the laptop case is also mold-proof and protects your laptop from falls.The Inateck only comes in gray, but it will fit your 12-inch MacBook like a dream for around $12.
(opens in new tab)
Snugg MacBook 12-inch case
With its PU leather outer panels and nubuck interior, the Snugg MacBook 12 sleeve (opens in new tab) is strong and durable while remaining lightweight and easy to carry around. It offers good protection from scratches and scrapes and is also splash-proof.No more worrying about that expensive MacBook getting wet in the rain with this awesome $10 case!The Snugg's magnetic element keeps your MacBook secure inside the case and is easy to open and close. There's even a slot under the flap to hold business cards and it comes in several beautiful colors to suit any taste.
(opens in new tab)
Omoton Wallet Sleeve case for 12-inch MacBooks
The Omoton Wallet sleeve for 12-inch MacBooks (opens in new tab) offers excellent protection from scratches, dings, and water while remaining extremely thin and light. And at under $15, this sleeve provides good value at an inexpensive price-point.Its synthetic leather outer and soft polycarbonate fiber inner form a tight sheath that protects your MacBook from scratches and keeps the rain out. It has a strong fastener that automatically locks in place, preventing your MacBook from accidentally slipping out.There's even a 9-degree stand so that you can prop your MacBook up slightly for a more comfortable typing and reading experience. You can pick up the Omoton Wallet Sleeve case for 12-inch MacBooks for around $11.
(opens in new tab)
Twelve South BookBook for 12-inch MacBooks
Twelve South's BookBook (opens in new tab) is a totally fresh way to protect and conceal your 12-inch MacBook. It makes it look like a real vintage hardcover book — you can even store it in a bookshelf and no one would even know that it's really a laptop.Handcrafted with genuine leather outer panels, reinforced corners, and a cushioned spine, the interior is velvety soft and indeed puts the book in MacBook.There are two styles available: Classic and Rutledge. A special technique is used for the Rutledge that lays one color over another, following the grain of the leather. Once the color is laid down, some elements of it are removed. For this reason, no two Rutledge editions will be exactly alike.You can pick up this MacBook case for around $80.
If you're looking for a durable, rugged, well-made sleeve for your 12-inch MacBook, then take a peek at the Dash Sleeve from Waterfield.This incredibly lightweight and compact sleeve is designed with a soft, cushiony interior to protect your MacBook from scratches, dirt, and grime of the outside world, while the outside is made from a textile coated, water-resistant material that's built to absorb any impact that your MacBook takes.The Waterfield Dash Sleeve is secured with an elastic top band so your MacBook doesn't slide out of it when you're carrying it around, and a rear zipper-close mesh pocket for additional wires and accessories.You can pick up the Dash Sleeve for around $89 in blue, green, gray, and red.
(opens in new tab)
Lacdo 12-inch laptop sleeve
If you want a sleeve for your MacBook that can withstand a little rain, the Lacdo 12-inch laptop sleeve has got you covered.This simple sleeve has one zipper and is made from a water-repellent fabric, meaning it can take a light drizzle or the occasional splash and you won't have to worry about your MacBook getting wet. Plus, the plushy fabric also insolates your MacBook and will help protect it from the odd small bump or minor drop.You can pick up the Lacdo 12-inch laptop sleeve in black, blue, or gray for about $14.
Your favorite?
Why you can trust iMore Our expert reviewers spend hours testing and comparing products and services so you can choose the best for you. Find out more about how we test.
Is there a MacBook sleeve that you love (that we might have accidentally missed on this list? If so, our bad...)
Let us know in the comments below!
Updated May 2018: We've updated the pricing on all product mentioned, and added the water-resistant Lacdo laptop sleeve to our list!
○ MacBook review
○ MacBook buyers guide
○ MacBook news
○ MacBook forums
○ Buy at Apple (opens in new tab)

Get the best of iMore in in your inbox, every day!
Cella writes for iMore on social and photography. She's a true crime enthusiast, bestselling horror author, lipstick collector, buzzkill, and Sicilian. Follow her on Twitter and Instagram: @hellorousseau
I have this felt sleeve and love it for my iPad (and it's on the cheap):
http://www.amazon.com/Inateck-Sleeve-Carrying-Protector-TPB-IA/dp/B00MVF... I highly recommend there laptop sleeves as well (if like me you have a soft spot for felt).

If you are looking for high end leather goods Pad and Quill would be my choice! https://www.imore.com/e?link=https2F2Fr.cfm%3F... Sent from the iMore App

I have been using laptop sleeves from Waterfield Designs (some know them as SF Bags) for several years and been impressed with the quality and durability. https://www.sfbags.com Check them out!

I second Waterfield (sfbags.com) sleeves and bags. I've purchased several tablet and laptop sleeves, as well as a variety of accessories including wallets. They're quality is top notch and their customer support is fantastic. Highly recommended. Sent from the iMore App

AcmeMade makes exceptional sleeves. I had one for my MacBook Air 11" and just bought the new version for the MacBook. Highly recommend.

That felt sleeve from Inateck looks light and useful
Thank you for signing up to iMore. You will receive a verification email shortly.
There was a problem. Please refresh the page and try again.