Best seat cushion for your office chair 2022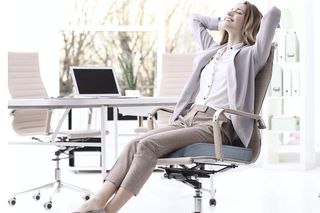 (Image credit: Amazon)
If you spend a lot of time sitting for work (like I do), you want your seat to be as comfortable as possible. I love my Oak Hollow Aloria Series Office Chair, but if you're not looking to spend big money on an ergonomic office chair, the next best thing is a good cushion. Whether you're working from home, sitting in an office chair, a car or truck, or any kind of seat at all, the best office chair cushion can make your day more enjoyable and keep away those aches and pains. Here are some of our favorites.
Which is the best office chair cushion?
It's always a good idea to speak with your physician or other medical professional if you're dealing with any sort of specific pain or medical issues. If you do know you need a seat cushion, there are many choices here and something for just about everyone. Which one you'll choose will depend on which features you need. If you want premium high-density memory foam plus gel, our pick is the ComfiLife Gel Enhanced Seat Cushion. The memory foam is durable, comfortable, and long-lasting while the gel keeps it from feeling too hot. A soft, machine-washable velour cover makes it easy to keep clean. Non-slip rubber dots on the bottom means it won't slide out of your chair as you shift around.
The carrying handle makes it easy to move from seat to seat and it's perfectly sized for a work chair or use in a wheelchair. You can even use it outdoors, but the cover isn't waterproof, so save it for dry weather. The U-shaped cutout for your tailbone is specifically designed to maximize comfort and support while reducing pressure on your tailbone. The ComfiLife Gel Enhanced Seat Cushion can also improve your posture and may relieve sciatica, lower back pain, and other spinal issues. You get a money-back guarantee and a lifetime warranty with your purchase.
Need a seat cushion and a back cushion as well? The SOFTaCARE Seat Cushion and Lumbar Support Pillow have got your back. The back cushion has two straps that fit over your office chair, while the seat cushion has a non-slip rubber bottom to keep it in place. Choose from two colors, Dark Gray or Black.
What other options do I have?
However, a comfy seat cushion may not offer enough back support, especially if you're spending eight hours or more per day seated in the office. If what you need is more than a cushion, then you might consider upgrading to an ergonomic office chair. A good quality chair can enhance your all-over comfort level. Ergonomic thrones are often fairly pricey though, so if you're looking to save money you could combine one of the cushions we've selected with something from our guide of cheap office chairs on a budget.
Also consider, if you're able, using a standing desk. I use one so I'm not sitting all day. Not only can I stand, stretch, and boogie (yes, I dance around a little when no one's watching) while I work, but sometimes I place a desk treadmill underneath for even more healthy movement.