2016 MacBook 12-inch torn down, here's what was found inside!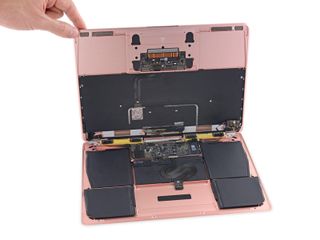 Apple's refreshed 12-inch Retina MacBook has been carefully torn apart, revealing the upgraded internals that makes everything work like magic.
Here's some of the take away from iFixit:
Bottom line, this year's MacBook is exactly like last year's MacBook — except in the ways Apple's made it better.
Stick with the Pro, it's a better buy.

Or the MacBook Air which is also better value before Apple discontinues the MacBook Air line on favour of the underpowered MacBook. Sent from the iMore App

I love my 2015 MacBook. It's my daily driver. It usurped my 2011 17 inch macbook pro that I had upgraded with an SSD and 16 GBs of ram. I'm a rails developer and the macbook works perfectly for running my rails dev tools and local dev instances. The only issue I have ever had was when I ran gotomeeting, a rails server while screensharing to present what I had built. I have yet to have the same issue while screen sharing with google+.

I also have a 2015 model and a 2015 Macbook Pro and I love both. I take both of them with me on the go. Macbook will be used in quick situations when I have limited space and I don't need the power of the Pro and I'll use the Pro for the opposite. Road trips, at a hotel where I can have it on a desk, etc. My Macbook Pro is also my main system at home as well until I can get back from a deployment next year and replace the crappy windows system with an iMac.

This is without a doubt the ugliest Mac on the inside.
Thank you for signing up to iMore. You will receive a verification email shortly.
There was a problem. Please refresh the page and try again.