Could Apple be preparing to take the gaming world by storm in 2022?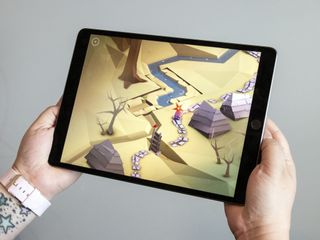 (Image credit: iMore)
The idea of gaming on Apple devices has long been an afterthought. You don't often hear the term "Mac gaming" said in any serious context and it can often be the butt of a joke in tech circles. Both consumers and developers don't often seek out the best Mac for the purpose of gaming, but what if that's changing?
Recently, I wrote about how the iPad mini 6 is the best mobile gaming device I've ever used, and it got me thinking about the rest of Apple's product line up, and just how well-positioned the company is to make a splash in a new market.
With just how powerful Apple's M1 chips have made Macs, the continued success of Apple Arcade, and the new Apple tech rumored, Apple could take on the gaming world in 2022 and beyond.
All of Apple's devices are super powerful
All of Apple's flagship devices are very powerful. The A15 Bionic that powers the iPhone 13 lineup and the latest iPad mini 6 are super capable of running a plethora of great games, thanks to an App Store that's filled with amazing titles, and Apple's own Apple Arcade service.
It's not even just the company's hardware that's got me thinking Apple might be gaming a gaming push. We've also seen Apple open up its software to make gamers' lives a little easier in recent years. Some of the best game controllers for iPhone, iPad, and Mac are the controllers you may have sitting around your house anyway since you can use PS4, Xbox, and PS5 controllers on your Apple devices no problem. This didn't always use to be the case, and I remember needing a particular MFi controller to play games on my iPad only a few short years ago.
Of course, when it comes to the Mac, you have the M1, M1 Pro, and M1 Max, all of which have been providing crazy performance enhancements to Macs since last year. Speaking from first-hand experience, I have done more gaming on my iMac (2021) than any other Mac I have ever owned, and it's not just small titles either. I've been playing Baldur's Gate III on my M1 iMac and have been loving every minute of it. The gameplay has been mostly smooth, and I haven't encountered any significant problems while playing the game — especially since Larian Studios has released a few updates now that superficially increase performance on the M1 chips.
Now, it isn't a completely flawless experience — the frame rate isn't quite as high as it could be on a decked-out PC, but you can play on the highest visual settings on an M1 Mac with 16GB of RAM. Remember, that's only the M1; I would have to imagine the M1 Pro and M1 Max on the MacBook Pro models would be able to deliver an even smoother experience.
As I have been playing Baldur's Gate III, various indie titles, and a ton of Apple Arcade games on my iMac (2021), it's made me realize that I can say the phrase "Mac gaming" with a straight face. I have to imagine this is only the beginning.
Apple's headset to focus on gaming
My optimism for gaming on Apple devices is not just centered around the current powerhouse devices they have been putting out lately, but also on rumors about what's coming next.
We've been hearing a ton of buzz about Apple's VR/AR headset recently, including the fact that one of its major focuses will be gaming. VR gaming has been the hot new gaming craze now that it has finally become cheap enough for mere mortals to get their hands on.
I'm really curious to see what Apple does with the "Apple Glasses" (or whatever it ends up being called) because Apple doesn't enter a new market lightly. The Apple Watch, AirPods, and AirTag all shook up the market when they launched. Will Apple Arcade be extending to VR games? Will Apple be securing the same titles that we see on other gaming headsets like Oculus/Meta? Could Apple be planning its own Metaverse? The options seem endless, and it's really exciting to guess what Apple has planned for the future.
It won't be an easy road, but Apple is up to the task
Now, I understand that Apple can't just snap its fingers and all of a sudden be competing with Sony, Microsoft, and the other gaming giants of the world. After many years of gaming on Apple devices being mostly an afterthought, it's going to take some real effort to attract both developers and consumers if Apple wants to make a splash in the gaming world. But, Apple does have a couple of advantages.
First, Apple Arcade has been going strong now for a couple of years and has produced some of the best mobile games ever — even awesome indie titles like The Pathless have already made their way onto the service. So, it's not like Apple is starting from square one when it comes to developer relations. Not only that, but with the addition of cloud gaming services, like xCloud and Stadia, it's not like Apple doesn't have the option to heavily promote their hardware (especially iPads) as being the perfect way to experience those services.
And, second, Apple has a ton of money. It's probably one of the best-positioned companies to make a big splash in almost any market it decides to enter. Maybe Apple buys up a few game studios and starts making games specifically for its products? Is there any indication that's going to happen? Not so much, but it could happen; Apple has the resources if they want to take a leap of faith. Heck, maybe all it takes is Apple to design a special gaming edition of the iPad or iPhone that has a few extra features, like a fan to help with cooling, that will make the already fantastic hardware even better for gaming.
One thing is for sure, the future is wide open with possibilities, and while I'm going to try not to set my expectations too high, I'm so excited to see what Apple has in store for gaming in 2022 and beyond.
Luke Filipowicz has been a writer at iMore, covering Apple for nearly a decade now. He writes a lot about Apple Watch and iPad but covers the iPhone and Mac as well. He often describes himself as an "Apple user on a budget" and firmly believes that great technology can be affordable if you know where to look. Luke also heads up the iMore Show — a weekly podcast focusing on Apple news, rumors, and products but likes to have some fun along the way.
Luke knows he spends more time on Twitter than he probably should, so feel free to follow him or give him a shout on social media @LukeFilipowicz.
I really want this to happen. I love my Nintendo Switch but I always have an Apple device with me. And the cost of games on Nintendo is ridiculous compared to Apple. A perfect example is Actraiser Renaissance. $20 on the App Store and $30 for Switch. There are a lot of Other factors to playing this game and enjoying it outside of cost but frankly if Apple and Nintendo would team up they would kill it in the gaming market.

You think Apple wants to team up with anyone? You have got to be kidding. Apple has already proven that they are a bully. Just look at the app store mess, especially when it comes to monetization. Apple doesn't even let other types of monetization on their app store. Not to mention Apple only supports their Metal API's. Its Apple and ONLY Apples monetization, and graphics API's. Apple even went against the judges decision to allow developers to add links in their apps on their app store. Putting that aside Apple still limits bluetooth on iOS. Also Apple still doesn't allow certain types of apps on iOS, including cloud game streaming apps, or other apps that could run other apps inside of an iOS app. When it comes to AR/VR then Apple still doesn't have anything to show for. Where as other platforms are full on supporting anything to do with AR/VR/MR(XR) hardware and software. This is where Android and Windows have the advantage of AR/VR/MR(XR) hardware and software. You want to use a pair of AR glasses today with Android, then no problem. Android users can use AR glasses today, and can purchase them for as little as $599 USD from Verizon. They are called NReal Light, and you need a flagship type Android smartphone with a USB-C port (a port that Apple still fully doesn't support, and NO iPhones have). Apples lightning port is way too slow, old, and still has very poor support. Apple and Tim years ago were all about AR, but since none of them used AR or VR at that time, Apple then changed their tune and included VR as well. They had to because VR is where the major gaming will come from, because AR alone doesn't support the immersive experience that VR brings to the table, especially when it comes to gaming, or other experiences. Its VR, or MR(XR) that will bring to the world the best gaming experiences around. Just look at the $299 Oculus Quest 2, which was initially sold as a VR headset. However since it first launched it now offers AR as well as VR, and users can use their hands to control things like navigation around the UI, and even play some games with their hands now. You can bypass the controllers that come with the Quest 2 if you want. I remember call of duty when I first saw that years ago. I thought how real looking that game was. Now with VR/MR that game not only looks more real, but that game play has been brought to the next level, with a game called Onward, especially since users can just put on a VR/MR headset, and move their head around, instead of the older and slower method where users have to pan around using their controller. Using a VR/MR headset actually gives those users an unfair advantage in those types of games, compared to users that have to stick to using a monitor/TV, and to only using a controller. VR/MR doesn't just up those type of games, but really changes the dynamic of those types of games. That is why Apple has had to back track on VR, and say that they are going to support VR and AR by coming out with a MR(XR) headset that will have cameras in front as well. Its the only way a VR/MR headset can track controllers, or hands and fingers in real time. Apple is big on privacy, but if Apples headset has cameras on front, then it doesn't look good for Apple. Apple is afraid of putting cameras on their headsets or glasses, but there is no getting around that fact. Cameras are needed in order to do the fastest and best hand and finger tracking around. Look at that $299 USD Quest 2, which offers really great tracking for only that price point. Plus the games and VR platforms that it supports is second to none, especially at that price point. I already know the next level in not only gaming, but everything else is going to come from MR(XR) headsets/glasses, and Android already offers that today. Even Qualcomm recently has released a gaming developer kit with Razer, but it also supports AR/VR headsets and glasses as well, and it supports AAA platforms, and titles.

Apple already provides a gaming platform and does well in this space. But if you're talking getting ipads and MacBooks playing numerous triple A games (a la x box), my understanding (limited) is Apple's choice of Metal API for use with the GPU means devs have to write each game anew to also work with Apple, specifically now for Apple Silicon. Few do that as Apple is too small of the market and doesn't have much "hoc gamers" in that market. But I believe WoW does, for example.
So Apple buying a few AAA game studios seems a good way to go, but wouldn't it be better for $$$ incentives to AAA game devs to write in Metal? (Or Apple creating a conversion and compile suite - this one I'm totally guessing is possible). When using a Pro Max MB Pro with a game in native Apple supported code/API, it's an excellent gamer laptop. Frame rate excellence. But few of those games exist. At that point it runs via Rosetta and can see obviously degraded quality.

Apple arcade is pathetic. If not for getting it free through the cell carrier, there is nothing on it that makes me go "I need to have this." Maybe a few years later we will get some actual real games instead of the re-released versions of free games from years ago.

Literally Apple operates opposite of how console makers operate their business. You honestly think they will be ready to sell their hardware at a loss to hopefully make up for it in Software? I'm this case, they can't even go the PC route unless you're ready to throw $6K on a Mac Pro that's prohibitively expensive to 97% of the market. I swear the blatant fanboyism on this site sometimes is something else. Sure some mobile games are nice especially as quick time wasters on a train or lunch break, but you can thank that freemium trash from ever letting mobile gaming be taken seriously.
Thank you for signing up to iMore. You will receive a verification email shortly.
There was a problem. Please refresh the page and try again.