How to track Santa on Google Maps with your iPhone or iPad.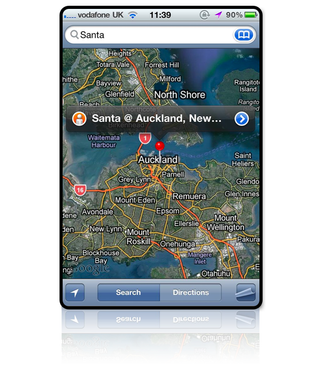 Want to know how to track Santa on your iPhone or iPad with Google Maps? It's Christmas Time, and what's one of the joys of Christmas? Having 'Santa' fall down your chimney and leave your presents under the tree, but where is he, exactly?
You can track him on your iPhone/iPad thanks to NORAD.
Launch Google Maps
Search "Santa"
Bonus Tip: If you click no the blue arrow at the location and click on the link, you will see a photo of the location.
It's as simple as that. Santa's location updates every 5 minutes, Now you can follow Santa as he delivers around the world this Christmas on your iPhone or iPad.
[NORAD]
Writer for iMore, YouTube Vlogger, and Host for [TEChBrits]
Awesome tip! My daughter and nieces are loving this right now!

Correct me if I'm wrong, but I think you don't need to click the blue arrow then look for a link to view the location; all you have to do is click on the orange circle on the other end.
Merry Christmas everybody

Does not work for me. Search Santa and it just brings up apt co
Plexes

Won't work for me either. Can't get any of them to work.

Works just fine on my Droid Incredible!

Works great on my Droid X. Works on my iPod Touch as well.
Get the best of iMore in in your inbox, every day!
Thank you for signing up to iMore. You will receive a verification email shortly.
There was a problem. Please refresh the page and try again.