Daylight savings brings annoying alarm clock bug. Software fix on the way.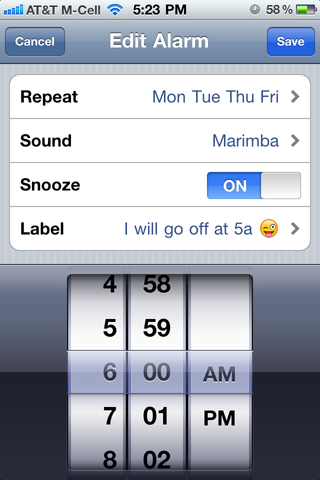 iPhone users living in southern Australia were supposed to get an extra hour of sleep with the change to daylight savings on October 3, but didn't because the alarms on their iPhones went off an hour early. Apple knows about the bug and it should be fixed in the next update.
This is a very strange glitch because the iPhone's clock correctly updated with daylight savings, but the recurring alarm clock does not recognize the new time. However, a one-time alarm works just fine.
A representative from Apple Australia said that Apple is "aware of this issue and already developed a fix which will be available to customers in an upcoming software update." I expect this update will arrive before daylight savings goes into effect in the US in a few weeks.
In the meantime, users report that the best solution at the moment is to either set a new alarm every day or set your recurring alarm for an hour later than you want it to go off.
Any of our Australian readers experience this annoying bug?
Get the best of iMore in your inbox, every day!
Former app and photography editor at iMore, Leanna has since moved on to other endeavors. Mother, wife, mathamagician, even though she no longer writes for iMore you can still follow her on Twitter @llofte.
I won't be losing my jailbreak for this update, for sure.

I think u meant one hour late mate!! The problem is the other way around and caused many including myself to be late to work that day.. Thanks Steve!

Yes i am experiencing this issue, bit annoying but 'll. Live lol

Yep, but a little different for me. I have three recurring alarms. Two work a treat but one has that problem only after I travelled to another state (Qld) that doesn't have day light savings. When I returned home now that alarm is 1 hour late. Other 2 alarms still work perfectly. Weird huh?

i want to keep my 4.0.1 jailbroken, c'mon APPLE!!! PRODUCT TEST!!

@Nate since when...and where?

i have the same problem with my alarm clock on my 3Gs too. It''s goes on an hour or 3 hours early. it's SUCK!

it's "daylight saving", not "savings". You sound like the Russian in the DirecTV commercial - "Opulence. I has it. ... I jump in it."

No issues here.
By the way, and this is a minor nit to pick, it's "Daylight Saving Time" not "Savings" as is commonly used.

Hope this gets resloved before it affects Europe. Dont want to wake up an hour early for no reason!!

At least it isn't tagging all SMS messages as 2016 in the date ....

Great another 500mb update to fix annoying clock issue

@Elementbt since Monday. Google is your friend or www.greenpois0n.com if you're impatient like me :)
Saving/s? Care factor 0

Same problem is happening in Brazil, which is going into DST next weekend. Since October 3rd, all users leaving their alarm with the repeat option on are getting this annoying surprise. And are usually getting late thanks to their iPhones.

Wow love how Australians are more interested in the spelling error than the actual topic here...lol.
Anyway yes, very annoying bug!!!
If alarm was set before the time change, then it was 1hour late. If set after the time change, then it's 1 hour early.

I'm in Melbourne, Australia and we had different phones doing different things with this bug. In summary, only iOS 4.1 is affected. I run iOS 4.0.1 on my phone and the problem isn't there. It's already fixed in iOS 4.2 beta and the up and coming iOS 4.1.1. Sounds like someone screwed up a timezone file here :-)

I think the article is a bit wrong, when the clocks go forward you lose an hours sleep (as you lose an hour), but for some bizarre reason the iPhone alarms go off an hour early - not an hour late as mentioned by some! (At least on mine) which means you lose yet another hour. I was pretty dumbfounded waking up at 5am on Monday morning.

I have this problem on a jailbroken iphone 3G with iOS 4.1 here in Brazil. In my case, the alarm sounds one hour later (our DST starts on Oct. 17th).

I live in Sydney, Australia and my iPhone 3GS goes off an hour early, it is extremely annoying! It does make sense since we put the clocks forward an hour so technically the alarm is going off at the same time not including daylight saving. It's odd as no one else in my office (who I add are all iPhone users) have experienced this issue. Needless to say that my iPhone did automatically update when daylight saving came into place!

I never had a problem with mine, came with 4.1 firmware, havnt jailbroken it, havnt restored it or upgrade and didn't have a problem

Just happened in Brazil. We entered daylight saving time my recurrent alarm went off an hour early. Very annoying. Not only did I have one fewer hour because daylight saving, but the alarm went off even one hour earlier! I went to the gym to the gym to meet my personal trainer and of course he wasn't there.

Same problem with my iphone 3g, only difference I'm on Chile not Australia. My alarm is ringing one hour before.

Well I'm in Australia and the recurring alarm on my 3GS 4.1 goes off one hour late... Fun.

I'm in Melbourne, Australia and my alarm keeps going off an hour before. Great to hear that one-time alarm works fine. I think I'll try that and enjoy not being worken up at 5:30 am.

Yep, I have this same problem. Cannot wait for an update to fix this!

I have used my alarm the first time this morning since the 15th Oct and the alarm went off an hour early. Before the 15th no problem but since then I updated software to 4.1. As said in previous replied the non recurring alarm went off at the right time but the recurring alarms were the one affected.
I have seen many comments but does anyone have a fix other than setting the alarm and hour later than required.
Oh by the way I live in Country NSW and had to get up at 4am and the alarm went off at 3am so not happy that this has occurred.

It does say daylight saving to the idiots above
And I also have this problem, a little annoying but not to bad :P

Thank God! I thought I just had a bum phone. When, oh when, is the update coming? I'm sick to death of my phone not going off at the right time! Grrrrrrrr!!!!!!! >:0(

Oh my lord! Thank you thank you thank you! My stupid phone has been going off at 5am for a week, despite being set to 6am. I thought it might've been something to do with daylight savings (I'm in Melbourne too). Glad I googled! Soooo tiiired!!!!

This issue still exists and has hit my wife who got her nice new iPhone on Sat, set a repeating alarm yesterday (the daylight saving changed Sat night here in England), and her 6:40 alarm today went off at 7:40. Hopefully when she deletes and resets it today it will be OK until next spring?

Now British summertime is over & our clocks have gone back an hour our alarms are 1hr ahead meaning we're all l8 getting up. Come on Apple sort it out!!!!!

Issue still not fixed meaning my alarm failed to go off at all this morning!

It looks like Apple did not fix it. I set up my clock to 5am and the alarm on the iphone 4 went off at 6am. So I was late to work

Baah, Apple! Also in the UK and also late to work today because of the recurrent alarm going off frustratingly late. A word of warning would have been nice, pfft.

the same for me - Czech Republic, alarm is delayed one hour - set to 5am but rings at 6am. as it is the only alarm I use, it is quite disappointed...

Despite having several weeks warning, this was NOT fixed in time for Europe's end to DST. I woke up late this morning with my wife shouting "look at the time!".
I am not impressed. Since Apple knew about this, they should have fixed it or at least warned people. If I'd missed a flight rather than just a few minutes of work, I'd be absolutely furious.
I've had it with my iPhone.

Same happened with me yesterday in the UK alarm went off an hour late. Luckily I woke up when my partner got up so wasn't late for work. I deleted the alarm and set a new time and that didn't work this morning woke up an hour late again. It is just as well I have my own business so can get away with being late ... but apple this is not good enough they have to get it sorted out!

This is also happening to me in Canada. It's getting really annoying. I have my alarm set to go off at 5:10AM and it is going off every day at 4:10AM. SO I guess I will have to try to remember to set my alarm every day....

The same thing is happening to me in the US except my alarm is going off an hour earlier! Hope this bug will be fixed soon.

happened to me in Michigan this morning, time changed correctly, alarm went off an hour late. dammit!!

Mine as well if I set up 4:20am (I suppose to wake up at4:20am), but it will alarm at 3:20 am?
but noticed something if you set 6:00am above it trigger the alarm exactly.
I think I found the cure and now its working fine no more false alarm. I did my experiment like this: let your iphone battery 100% drained and let automatically shut off and leave it for two hours and then after two hours recharge your battery then power on' Presto!!
the alarm issue finally solved!! I fixed more than 10 iphone already with the alarm issue.

Hello, Neat post. There's an issue together with your site in web explorer, might check this? IE still is the market leader and a big part of folks will omit your excellent writing because of this problem.