Drone captures video of construction of Apple's Campus 2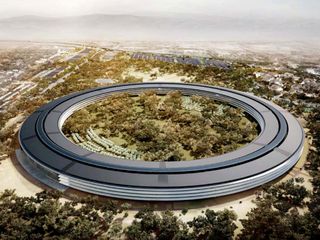 An enterprising Cupertino resident used a drone to capture footage of Apple's new Campus 2 facility under construction. The video shows shows us the site from a variety of angles, and as you can see, the drone actually gets fairly close to the site.
The video was shot using a DJI Phantom 2 Drone with a GoPro camera attached. It looks like they've made significant progress on the facility. Phase one of construction on Campus 2 is supposed to be completed by 2016.
What do you think of the video? Tell us below in the comments.
Source: on YouTube
Joseph Keller is the former Editor in Chief of iMore. An Apple user for almost 20 years, he spends his time learning the ins and outs of iOS and macOS, always finding ways of getting the most out of his iPhone, iPad, Apple Watch, and Mac.
Pretty cool. I don't agree with the drone snooping around private property though. I can see problems in the future especially when posting your videos to you tube. Having said that like any great Apple device looking forward to the finish campus. Sent from the iMore App

It looked to me as if they carefully didn't actually go over the property line at all.

Did you watch the video? The drone clearly DID go over the fence. Sent from the iMore App

I watched the whole video, it's not "clear," and even if it went over the property line a bit, by far the majority of it is merely hovering at the edge. In any case I was just trying to counter the paranoid, quasi-fascist comment from "khobia2." In fact, this drone flight is hardly more different than looking over the edge of a construction hoarding and to qualify it as some kind of invasion of private property is way beyond the pale.

You are an asshole. Because I stated my opinion my statement is quasi fascist. It is complete morons like you mister_grey that folk hate coming on blogs. And the thing went over the fence. Maybe someone should take a drone and hover over your backyard. Ignoramus. Sent from the iMore App

How about the four of you in your circle jerk, shake hands and quit the, "nah uh, yes you did!" You're acting like a bunch of BITCHES fighting about nothing. Who cares, I like the video and it was cool. And if Apple had an issue, in grand Apple fashion, I am sure there would have been a lawyer involve. Babies.

The thing is much larger than I thought it would be, and I knew it was going to be big. Is there any data on the square footage? I'd like to see that compared to other largest buildings in the world.

A true statement.
It is certainly larger than I expected also.

I think it would have been more appropriate if he strapped an iPhone on there to capture the video. But it is awesome to see this but I agree, these drones are going to be a huge privacy issue coming in the near future. Sent from the iMore App

What if the design of this gave clues to the design of the iWatch. It's been staring us in the face this whole time.

I guess we'll see.
So what you are saying is that it is going to be, round? LOL

Looks like the Death Star. Sent from the iMore App

Hey kid, I work for "The Company" and I've been authorized to offer you a job - You know, "The Company" - The one where, when you die, you just get an anonymous star on the wall for recognition of service. And just so you know, I'm only asking in order to be polite - We in fact got your fingerprints in the last several frames of your awesome video. Do give us a call, (a window with a phone number will pop up on your screen soon), and whether you do or not, we'll be seeing you on Tuesday morning. P.S.
Don't worry about getting busted by us, technically we have no jurisdiction in the USA, we just want your talents. P.S. 2
How about uploading to Vimeo next time, everything looks so much better there, don't you think?

Does anyone have a clue when the construction will be completed?

What this tells me is that I want one of those drones! Sent from the iMore App
Get the best of iMore in in your inbox, every day!
Thank you for signing up to iMore. You will receive a verification email shortly.
There was a problem. Please refresh the page and try again.