Comic: WWDC, the epicenter of the galaxy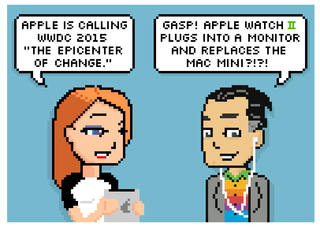 Ed: Welcome to this week's edition of The Pixel Project: a weekly comic from Diesel Sweeties' Rich Stevens on Apple, technology, and everything in-between. Today: The Epicenter of the Galaxy
Read more comics from the Pixel Project on iMore.com.
Pixel lover and cartoonist. Still have my original Apple IIgs. See more at clango.org or follow him on Twitter @rstevens.
Oh I get it. The app icon looks like a mac mini in the poster. The poster reflect iPhone app and watch app icons. Obviously this WWDC is going to make the watch more meaningful.

Yes, it does look like a Mac mini, or an Apple TV.

Or may the poster just shows iOS and apple watch icons and we are making everything else up.

I think it's a reference to Homekit. The new Apple TV will be the "epicenter" in your home (controlling lights, locks, appliances, ect). Sent from the iMore App

Airport Express, now available in 5 fun colors! Sent from the iMore App

As long as they have Bondi blue!
Get the best of iMore in in your inbox, every day!
Thank you for signing up to iMore. You will receive a verification email shortly.
There was a problem. Please refresh the page and try again.