European Carriers Not Happy about Apple's Proposed Built-In SIM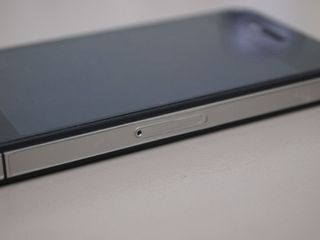 European carriers are reportedly warning Apple that if Apple goes ahead with plans for custom, built-in SIM cards for future generations of the iPhone. the carriers may refuse to subsidise the iPhone altogether.
The cost of the iPhone without a carrier subsidy is around $600 and estimations say that global sales may drop by around 12% if the phone isn't subsidised. Some of the carriers known to have concerns include:
Vodafone UK
France Telecom (Orange)
Spain Telefónica
Like Apple, all 3 of these carriers have refused to comment.
Robin Bienenstock, an analyst from Sanford C. Bernstein said that
What do you think about a possible built-in SIM? Would you still buy an iPhone without carrier subsidy?
Get the best of iMore in in your inbox, every day!
Writer for iMore, YouTube Vlogger, and Host for [TEChBrits]
Losing the ability to swap SIMs would be a huge step backwards for the consumer.

who likes it !??? it means no unlocking, no swap sims, nothing !!!!

i m with you Damon....
i also don'nt like it :( its bad idea :@
http://itunes.apple.com/us/app/turbo-scanner/id500454237?mt=8&at=10l3Vy http://itunes.apple.com/us/app/write-draw-notes-taker-sketchbook/id51783... http://itunes.apple.com/us/app/soundnote-notepad-voice-recorder/id535427...

Terrible idea, Apple. Then again, it probably wouldn't affect me too much because A) I live in the US, and B) I've always had to buy iPhones for at least $399.

Subsidies are supposed to be covered by the contract and ETFs. It's a stupid threat they'd never follow through on. I believe Apple's intent was that preconfigured SIMs would allow for remote activation, which I think would be a win for consumers. Carriers just don't want to lose customers having to come into stores where they can up-sell them. Of course, the SIM-swappers may not like it either, but I think they intended to have them preloaded for several carriers. Also, SIM card seating can be a problem, and I think Apple is trying to eliminate all removable parts.

I live in the largest democracy on this planet - India and love the way Indian mobile phone market is setup currently. Phone and service are mutually exclusive and I like for it to stay that way. If apple could top this move with making unlocked phones more popular, go Apple go...

Apple is all about change in support of a better basic user experience with their products - critics always try to bash Apple on the basis of "ego-centric over-control", but the products generally win out over time. Bottom line - I've learned over 3 decades to trust Apple and look forward to whatbthey do next!

They better make sure they are fully functional before they decide to do this. AT&T went through 3 sims trying to activate my iPhone 4.

this is a backward idea. this will severely limit how I use my phone when i travel abroad which i do often. the SIM isn't the most elegant solution is definitely the most flexible. i want to use cheap data when i'm abroad using local networks at local prices and not the £1-5/MB and up that is in place at the moment. it's crazy that you can't afford to use data in the places you need it most for help with directions / customs / prices etc. with apples new method even if i can find a local operator i now have to take my laptop to activate my phone ? brilliant !!!!!!!

its bad enough that apple used a micro sim so i cant switch smartphones when I want but now they want to build it in all together screw apple..

AT&T would have to rewrite internal policy just to accommodate this. They do not permit SIMs to be reactivated after being deactivated, thus rendering iPhones whose owners switched to some different SIM worthless.

No SIM, no iphone. I don't care about the subsidizing, I want a SIM. I travel overseas a lot and I need to use a local SIM.
No SIM = Android for me.

I needed to switch back to a Blackberry for work, and sold my iPhone 3G. I forgot how a NORMAL company operates. I opened my BB box, and inside was an extremely loooonnng wall charger. "Wow, now I can talk and charge at the SAME time?!!?". What a nice thoughtful idea, I wish every company did that. But wait, most do! In addition to a longer than 2 foot OEM cable which will only sync my iPhone, which breaks down at the joints, and costs 35 dollars to replace, I got… get this… a separate sync cable. "Wow Amazing". Yea it took a while to get use to using BB OS, and the physical keyboard, but it was well worth it. But at the same time I don't blame people who own an iPhone to love it. It's easy to do. Yet, at the same time, Apple's control over their products, like this built-in SIM, puts their freak control on to the max. It's almost paranoid.
Apple has their freak on.
When I had an iPhone I jailbroke, which solved most of my problems. But when I went back to a "phone", I forgot how a sane company which is not so anal about the control over their products. This is just absurd. Someone's living in their own world. Thankfully, I got out. I hope more people wake up, and shout blasphemy.

The whole idea about GSM is the SIM card. With a built-in SIM, you have to contact the carrier if you want to sell the phone so they can transfer it to a new customer. And what if there is a problem with the SIM? Then you need to bring the phone in to change it? And would I be able to transfer it to another carrier? No I don't like the idea at all.

No. When I travel from the States to Europe, I want the ability to drop in my local O2 sim, buy sone airtime at my nearest ATM and be on my way without the need to pay insane AT&T overseas roaming charges

@James T. Kirk
best thing about the BB is the extra sync cable - lol

The carrier subsidy on iPhone is weak anyway. I bought mine full price as it was cheaper over the long run.

My thought is Apple already has their mind madre up just like everyone complained about reprograming the rotation switch to a mute button. Steve pretty much pointed it out... It's apples way or the highway, you like it or you don't. I personally, like the way it is. I can't complain on my experience with AT&T and apple. If Im going to stay with a carrier and get a iPhone for lower price, I'm for it. $$$$ profit will reflect what apple will do next. If this marketing strategy doesn't pay out, they will figure something else out or revert to what brought success. Depending on what happens I think will influence the upgrade to iPhone 5 and 6 for existing customers. I still have another year with my iPhone 4 which will allow me to see how things play out and decide what others have had to say and experience for iPhone 5.

If they make iPhone with built in sim it will be the a big crap and it sales will drastically drop.In my country there were iPhone sales without official carrier,what will we do when built in sim iphones are made!? YES WE WILL BUY ANDROIDS!

Carriers deserve to be nothing more than pipes. In the US carriers collude with each other to keep monthly fees high.

Just want to say your article is as astounding. The clarity to your post is just nice and that i could think you are knowledgeable on this subject. Fine along with your permission let me to grab your RSS feed to stay updated with drawing close post. Thanks a million and please continue the rewarding work.
Thank you for signing up to iMore. You will receive a verification email shortly.
There was a problem. Please refresh the page and try again.