evasi0n 1.1 released with bug fixes for Weather app problems and reboot issues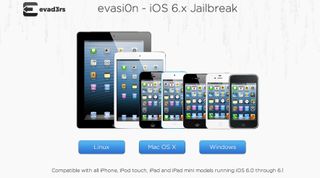 evasi0n has just been updated to version 1.1 to address issues some concerning long reboot times and problems that were causing the Weather app to crash. If you've already jailbroken on iOS 6 or 6.1, there's no need for you to do anything if you aren't having issues. If you, however, haven't jailbroken yet, you'll want to download the new version first.
Over on Twitter, planetbeing has pointed out that if you're already jailbroken, there isn't anything new that requires you to rerun evasi0n -
If you haven't already jailbroken but plan to do so, just make sure you download the updated version before performing the process. If you've already been to the evasi0n website, you may need to clear your internet cache to see the update or you can grab it from our downloads page linked below.
Source: evasi0n.com
Additional resources:
iMore senior editor from 2011 to 2015.
The same fixes and updates are available through Cydia, for those that are already jailbroken with evasi0n. As planetbeing tweeted: "There is nothing in evasi0n 1.1 that is not already in Cydia." Also, (at least in Firefox on Windows), instead of manually clearing any caches or anything in order to see the new version on the website, just press Ctrl+F5 while on the site.

So what's the fix here? I've completed the JB. I went to the site to download the update & it says I'm already JB. How does the weather app get fixed if I'm already jailbroken? Edit - Nevermind. I did the update(s) in Cydia. Phone rebooted & it's fixed.

Love my job, since I've been bringing in $5600… I sit at home, music playing while I work in front of my new iMac that I got now that I'm making it online.(Click Home information)
http://goo.gl/OA7MU

JailBreaking is an excacting science... We will continue to watch..and wait.
I'm somewhat shocked at the number of issues on the Evasion Q&A page.
Makes for informative reading,observation and discovery..watch..and wait..
That's the preference..

I'm watching, as well. Mine wasn't broken, so I didn't fix it... at least until all these kindhearted souls help me out by doing the testing for me. That means I stay on 5.x, for a while longer, but that's ok.

Also pretty shocked at the issues, I haven't noticed anything negative since I jb'd

Mine was a total flail! Not sure which update got me today as there are six apps as well as the evasion update in Cydia when i checked today...somewhere along the way I got stuck in safe mode after doing the Cydia update and no matter what I tried I couldn't come out of it! Big bummer! Despite following the recommendations including Using the crash log app I couldn't get it out of safe mode so I'm currently doing a restore and will have to jailbreak again and reload those apps! Too bad as the initial jailbreak Monday was very easy and so far everything was working better than I could've hoped! So be careful out there! :)

Most likely one of the JB apps you added is not yet compatible. Just add them one by one and see when the crash occurs. You may just have to wait for that JB app/tweak to be updated to meet your iOS requirements. Hope that helps.

I did an upgrade on cydia but the weather app crash has not fixed :(...the evasiOn version upgrade shows 0.2-3 that is currently installed...is this right?

I've a weird issue. Everything was working fine with the first version. Then this 'fix' came out in cydia, I did the update and now I don't have the weather app itself....!!

Same here. Weather is missing!

Mine isn't working. I have installed the UIkit that fixes the bug, but i have to uninstall the appsync. I don't have any other update to do. Edit: Ok, i've tried one thing, uninstalled the appsync and rebooted the device, that worked for me, but then i don't have the appcake installed, when i installed again it install the appsync again, after rebooted the device the weather app stop working again. The appsync is the problem.

As a Galaxy Note Owner.. I can honestly say, this is starting to sound like an "Android" forum. Thank You All.. for your candid input.. It serves as confirmation that I am not touching my 64gb iPad Mini with this quiant exercise in expression... Looks like Apple got it right the 1st Time. :-)

You may jb your iPad, i've allready did to mine and its cool, using the last version (1.1).

I've now jailbroken with 1.1 and everything is working well for me. I did turn off my passcode lock as suggested on the Evasi0n site. Can I turn it back on now that the process is done, or do I need to leave it off with this JB?

I did so and everything seems to stll be working okay. Was just worried because when I tried with 1.0 I had a passcode and ran into the reboot issue. Thanks!

I jailbroke with the original version of evasion before the updated 1.1 came out. Then i did all the cydia updates but the weather app is still not opening??? Any thoughts?

Look at planetbeing's Twitter timeline, there are some fixes explained. You probably have or had AppSync installed at some point, which prevents the fix from being applied. Or check JailbreakQA or reddit.

how would i sync my cracked apps to itunes if i remove appsync though? Isnt that needed?

Oh well, i rather have my jailbreak and appsync then the weather app. I can always download another weather app. Let me know if the fix ever comes out. Thanks
Thank you for signing up to iMore. You will receive a verification email shortly.
There was a problem. Please refresh the page and try again.